November 1, 2019 by Brayden Silva
WoodRoutersReviews is supported by its audience. When you purchase through links on our site, we may earn an affiliate commission.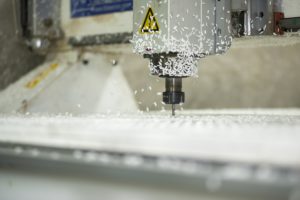 Computer Numerical Control or otherwise known as CNC is a method for automated 3D cutting and milling processes and the best CNC routers found in the market will give you the ability to produce first-grade work at the back of your home or in your garage. By making use of computers and coding software to direct an instructed cutting process, CNC routers always give its users precise and consistent work along with high productivity rates and exact reproduction. You can use a CNC router on woods, foams, plastics and other materials that are used to produce signboards, furniture, frames, decorations, and carvings.
Recently, it is now easier to find CNC routers which offer speed and precision at the same time for a price that can be afforded by any DIY enthusiast. In this article, we take a look at some of the best CNC routers you can find on the market.
1
The BobsCNC E3 CNC Router looks more like a homemade kit which would be really good for a newbie or an enthusiastic. The main material used in the production of this unit is wood. It has a large cutting area and each unit comes with a DEWALT 660 router. The gantry and cutting head runs on an SG20U support system. The control of the router is carried out by an Arduino-based microprocessor running Grbl motion-control software. The BobsCNC E3 CNC Router can be connected to a computer which is required to run the CNC router in Windows, Linus, as well as Mac.
The solid wood body has its benefits but it also has its negatives; it is impossible to flex from the bed to the gantry and users would end up constantly checking and tightening its components. On the other hand, wood is eco-friendly and it is easy to work with especially if you plan on making a lot of modifications.
Features
It has a rigid laser cut frame.
It runs on SG20U support rail system.
It makes use of GT2 belt drive both on the X and Y-axis.
The 5/16-18 nut on the Z-axis.
Pros
It is easy to assemble.
It has good customer service.
It is perfect for newbies and enthusiasts.
It is compatible with any OS.
It has a powerful engine.
Cons
Difficult to run accurately.
Does not include software.
It is constructed with wood.
2
The MYSWEET DIY CNC Router comes as a complete kit which includes all parts and it is mostly made out of aluminum with very few plastic components. Running on about 110 or 240 volts, this 3-axis CNC machine provides its users a very large work space. The cutting plate is made out of aluminum and the spindle which rotates up to 7000 RPM is regulated by 3 two-phase 1.3-amp stepper motors. Setting up this device is very easy and there is a lot of support online for it. Grbl controller software is included and the MYSWEET DIY CNC Router also gives it's users the choice of running a variety of programs for footpath creation.
Features
Purchasing the package can get you a free power supply before you check out.
It has a very large working area.
It has a high motor spindle which rotates from about 7,000 RPM to 9,000 RPM depending on your choice.
It can work on various platforms. It can work on Linus, Windows (XP, 7, 8, 10), and Mac.
It can carve on different materials such as soft metal, PCB, wood, plastic, PVC, and acrylic.
Pros
It is perfect for beginners.
It can be used on a variety of materials.
It is very easy to assemble.
It is compatible with a lot of Operating Systems.
Cons
Most key components are made out of plastic.
It is made for only small jobs.
3
The CNC Piranha XL Router offers an ample work surface and many of the distinctive features displayed by the best CNC routers in the market. It comes with a touchscreen controller along with auto-sensing and auto-edge capabilities. It also comes with the VCarve Desktop V9.0, the Virtual Zero workpiece mapping software, and the Vector 3D software packages.
The CNC Piranha XL Router can run anything the router can cut but it works best for wood, soft metals, plastic, and acrylic.
Features
Auto Edge and Rotational Sensing Technology with Virtual Zero exclusive software.
It features a touchscreen color graphic pendant controlled software package.
It is made in the USA.
Can support only windows.
Pros
It has a Touch screen controller.
It is built high quality and made in the United States.
High capabilities at a lower price.
Very easy to operate.
Cons
Not compatible with Mac.
Some instability may occur during use.
4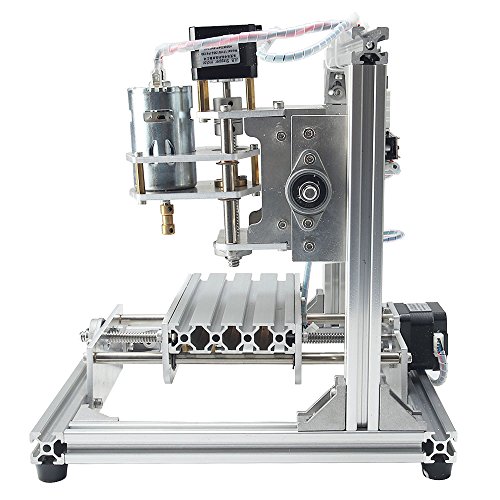 The Beauty Star DIY CNC Router is designed to serve the needs of most students and academic personnel who require one to learn or teach their projects. This device features a GRBL control system which can be used easily with your personal computers.
The Beauty Star DIY CNC Router package includes a stepper motor which provides users with accurate and smooth cutting as well as a spindle for cutting. In addition, this device can engrave on plastic, PVC, PCB, acrylic, plastic and other similar soft materials.
This product can be used for designs, crafts, advertisements signs, artwork, model making, etc. Unfortunately, it cannot be used by metals or hard surfaces.
Features
It has a large working area in which users can handle their projects comfortably.
It features a PVC frame with steel guide rods and linear bearings for reliability and turgidity.
Features an 11.92-pound machine which has a strong build.
The best size and specifications for students or a small shop.
Pros
It is very light and portable.
It can be used on various materials.
Comes with linear bearings and steel rods to enhance accuracy and turbidity.
Perfect for artworks and prototype designs.
Cons
Can handle small projects and light-duty jobs.
Cannot be assembled that easily.
5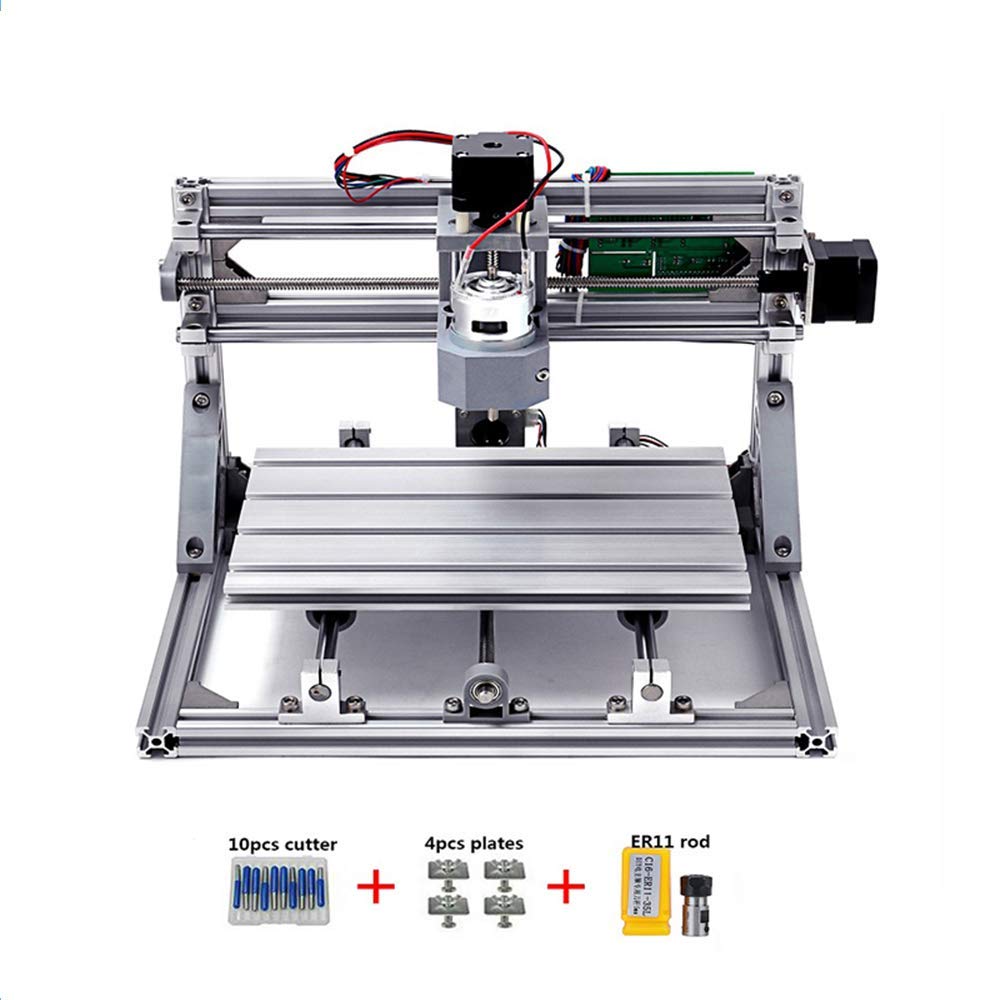 The Beauty Star DIY CNC Router kits 2418 is designed mostly for professionals. This CNC router kit requires self-assembly and expert operation. If you are a beginner who is looking for a device which engraved designs on materials and it is easy to use, this product is not for you.
On the other hand, if you are a professional who's looking for a heavy duty device which can handle the workload, you should go for this one. It has a very spacious work area, runs on the 2418 GRBL control and it also has a spindle which can achieve a speed of more than 7,000 RPM.
Features
Designed with aluminum and plastic for durability.
It can work on materials such as acrylic, wood, plastic, PCB, PVC and other similar materials.
It is one of the CNC routers that has one of the most straightforward instructions for assembling.
The Beauty Star DIY CNC Router kits 1310 is compatible in size, comes with GRBL control systems and a USB interface.
Pros
It is a nice complete kit which is worth the money.
It has straight forward instructions for assembly.
It has online support service.
The stepper motors and the controllers are good in quality.
Cons
It is not easy to operate therefore not suitable for newbies.
So parts are made out of plastic.
6
The MYSWEET DIY CNC Router Kit 3018 is quite lightweight compared to other CNC routers in the market. This DIY CNC router does a perfect job of cutting plastic and wood or any other material that looks like it. If you are new to CNC routers, you can go for this device.
The MYSWEET DIY CNC Router Kit 3018 has an integrated mainboard and custom software, the operation between the software and hardware of this router is seamless by design.
Features
Every purchase gets you a free power supply cord.
It utilizes the GRBL control software which can be used on windows XP, 7, 8, and 10 as well as Linus.
It can work on materials like plastic, wood, acrylic, PCB, PVC and other similar wood-like materials.
It features a full set of spare parts which is going to be assembled by its users.
Pros
It is perfect for beginners.
It has a seamless design.
It works on various materials.
You don't need to connect it to a computer during use.
Cons
It cannot work on soft metals.
It is a bit difficult to assemble.
7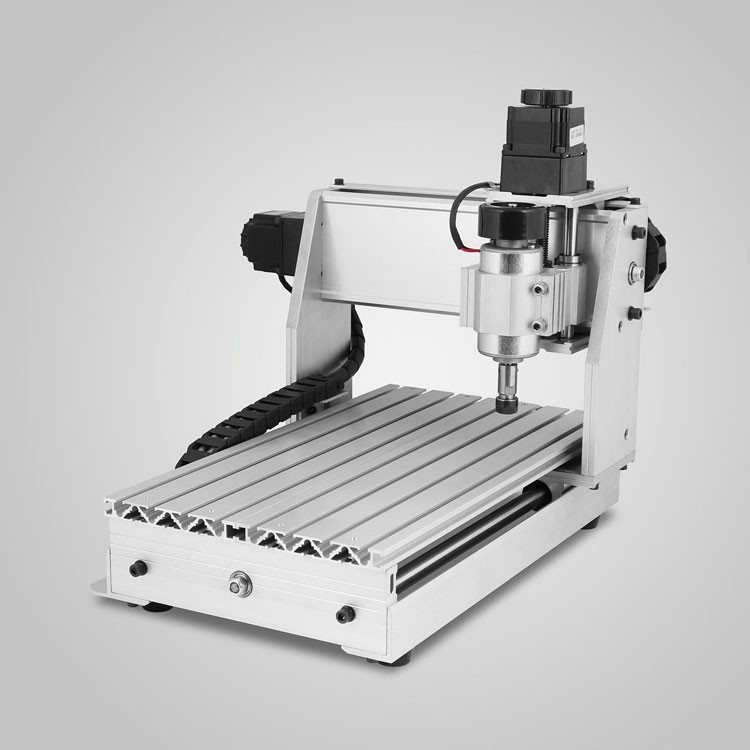 This is a multifunctional machine that is needed for art, research, industrial purposes, and teaching. It has a compact design making it get to this top 10 list of best CNC routers.
The spindle can run between 300 RPM to 8,000 RPM making this device needed for engraving on various materials to get a beautiful finish.
Weighing over 43.7 pounds, this machine comes with a 3D ability that lets it's users create prototypes, artworks, advertisement signs and much much more.
Features
Features a large work space in which you don't have to worry about the size of the project.
The VEVOR CNC Router 3020T has a very powerful motor which can produce spindle spins of up to 8,000RPM.
Can be used to engrave and carve on various materials such as stone, metal, wood, etc.
Features a durable design which makes the device last long.
Pros
It support breakpoint carvings.
It supports spindle switch control.
It supports customized keyboard carvings.
It can be used with spiral bits.
Cons
It cannot be used without a computer.
8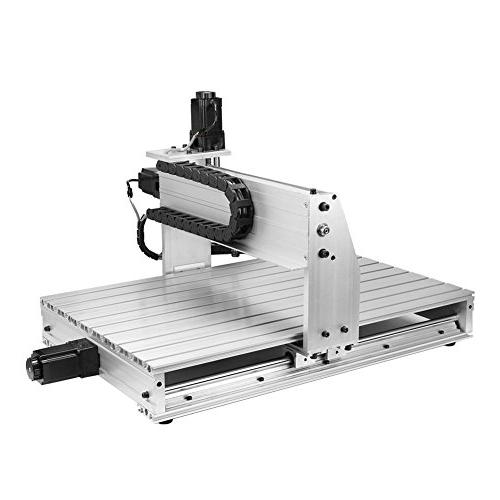 The Taishi Desktop CNC Router is constructed and designed with a solid 15mm aluminum alloy plate making it a rigid and stable device. The spindle can run up to 24,000 RPM making this device a very powerful tool for professional engraving and designs.
The Taishi Desktop CNC Router requires a desktop system running Mach 3 software to operate the unit.
The table and gantry is solidly built with a smooth motor operation and extremely low noise production.
Features
Simple installation and operation, strong and steady due to the aluminum alloy frame.
3D carving on native wood, softwood, PVC, plastic, acrylic, etc.
Can be controlled only by a desktop computer and not a laptop using the Mach 3 software which is easy and smart.
Pros
It has a good design and construction.
It is more accurate compared to most CNC routers.
It is incredibly quiet.
It is easy to assemble.
Cons
It is very heavy.
Requires only a desktop computer.
9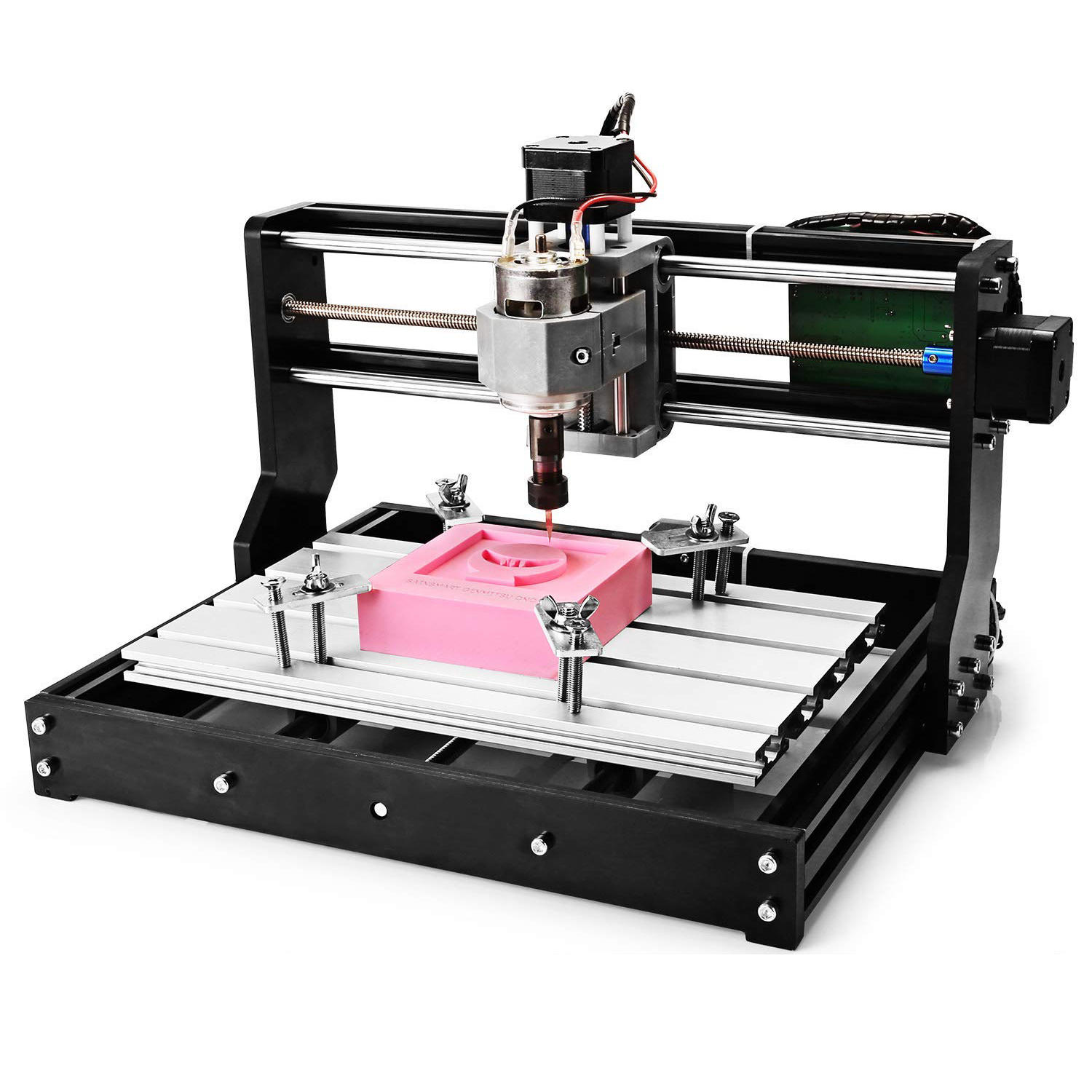 If you are eager in getting the best CNC with many specifications for a low price, you should get the MYSWEET DIY CNC Router Pro Kit 3018. This device features a GRBL control software that is supported from Windows XP to Windows 10. It has a smaller working area making this device the best small CNC router that is perfect for light-duty jobs. The spindle of this CNC router can reach speeds of up to 10,000 RPM with accuracy and precision.
Features
Features an upgraded version of the 3018 with better specifications and new features added both hardware and software.
Has online support in case of difficulty during use.
Can work on materials like plastic, wood, acrylic, PCB is any wood-like material available.
Pros
It comes with an offline controller.
Can be used without a computer independently.
Can work on various materials.
All the actions can be controlled by the offline controller.
Cons
The online and offline controller can't be used at the same time.
It is plastic.
It cannot engrave designs on metals or harder materials.
10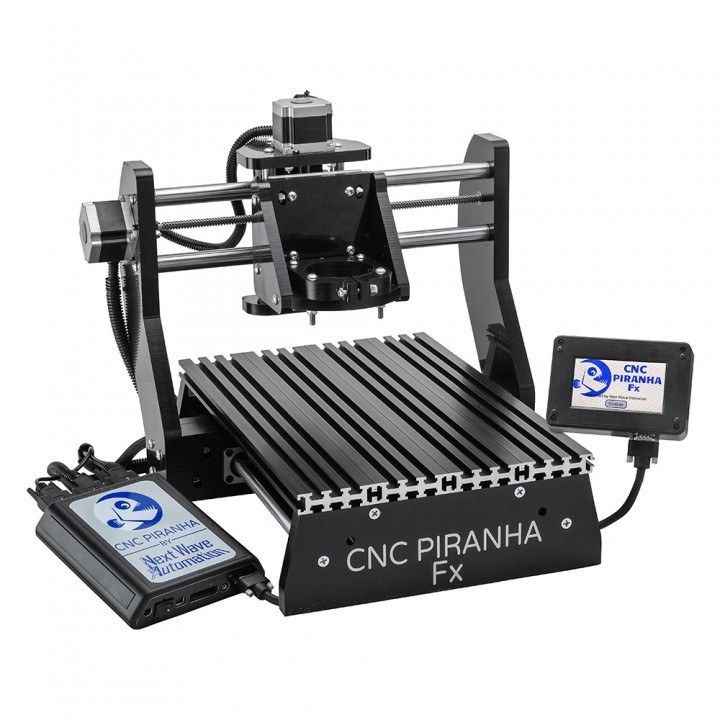 The CNC Piranha FX is known as the base model CNC device which is produced by the Next Wave Automation. It is a small unit but it has a manageable workspace which can contain light-duty jobs. This device supports the 3D Digital Duplicator touch probe which allows users to trace and duplicate object to the tiniest details.
The Piranha XL Router offers a touch screen control and all the features found in the XL model. This machine is basically a nice one but it is needed in simple applications.
Features
Features a good balance of capabilities compared to the price range.
Has a touch screen controller which makes operation easy and faster.
Supports the 3D digital duplicate touch probe.
Features specifications found in the high-end models.
Pros
Has a touch screen controller.
It is made in the united states.
Supports 3D duplication to the finest detail.
It is a good bargain compared to the capabilities and the price.
Cons
It is not rigid or strong.
It is not compatible with Mac OS.
CNC Router Buyer's Guide
CNC routers are coded machine guidance systems which are used to produce complex shapes. They are versatile in use. If you frequently need a tool to slice through thick sheets of metals, woods, plastic, and other thicker materials, then purchasing a high-quality Router is your primary goal.
Below are some of the features and specifications one has to consider before purchasing a new CNC Router.
Software compatibility
When buying a CNC router, software compatibility is one of the factors one should focus first on before they make the purchase. It is important you buy a CNC Router which the software is compatible with your laptop. These routers are designed to use with Mac, Windows and Linus OS. If your computer is running on Mac, consider going for routers that are compatible with Mac OS. With the aid of a software system, users can use their routers to create their designed shapes on their workpiece.
Capabilities of the Machine
The next question is for you to ask yourself "what will the machine be used for and what results do you intend in getting from it". Once you have known the answers to these questions correctly, you will be going down the path of buying that product which will match your taste. Sometimes users do blame the machine when the question falls on their choice of techniques, not with the product itself.
Size of Machine
One of the features you need to look into when purchasing a CNC router is the size which will be deduced by either what the functions of the machine are for or the size of your workspace. Industrial sized routers are often big and they do take a lot of spaces however benchtop CNC routers are smaller in size can it can be positioned comfortably On top of the work table.
It is also important to know that when it comes to power and versatility, the best small CNC router cannot be compared with industrial-sized ones.
Availability of Spare Parts
Buying the best CNC router means you are buying one in which the spare parts can be found easily. This is very important especially when any parts stops functioning and needs to be restored. The parts of the router that requires more replacement than other parts because of its sensitivity are the drill bits, router bits, and profile cutters.
Make sure that the model you are purchasing has spare parts from its manufacturers especially when you need them the most.
Drive System
There are only three drive systems that are found in the CNC router which includes lead screw, ball screw pinion, and rack. Ball screws are said to be the costliest because of their tendency to handle a lot of materials accurately.
Table Size
This is not only important for the CNC router but for other tools with tables, you plan on buying such as drill press table and cabinet table saw. The size of the router table should be big enough to take all the materials you are working on. Therefore, the size of your material should depend on the size of the machine you will purchase.
Motor System
The cutting speed and the torque of the CNC router are defined by the motor system. Routers with high motors can perform faster and stronger than the products with a low motor. This is a very important factor.
Spindle
The part of the motor that actually cuts with the support of a cutter is called the spindle. Most of the features of a spindle to watch out for are the Rotations per minute, the input power and the torque.
Spindle vs Router
A spindle CNC mechanism is more suitable for industrial applications and heavy-duty jobs. They are powered by 3-phase lines through an inverter. Due to this, they produce more power for cutting even at lower speeds than a router.
In addition, spindles possess precision bearings which make their cut accurate, beautiful and smoother. Also, some of the components were made out of strong solid materials to enhance durability. But spindles are very costly.
CNC routers, on the other hand, are cheap and most of them are designed to accept spindle kits so the upgrade can be done easily anytime. With everything said, it still depends on your main aim of buying it since they can handle small takes while spindle handles bigger heavy-duty projects.
Automatic Tool Changing System (ATC)
This factor is very important if your work requires you to combine with more than one device.
Every CNC router on this list is equipped with an ATC feature. With this function, you can change tools effectively and easily. This also
decreases the time wasted on delays and errors with the project
.
Vacuum
This is part of the CNC which holds the workpiece. Heavy substances can be held by only a strong vacuum. The ability of a vacuum to clench unto the material can be calculated by its pressure.
Software
CNC Routers work with a thorough integration with computer systems. The software of both your computer and the CNC router should be free of bugs. They should also be receiving a direct update from the main company who created it. Also, the most complex application needs advanced software to be used on the router.
Dust Collection System
This factor is important because it helps keep your environment clean and healthy from the debris created by your device. You should consider purchasing a CNC router which has a dust collection port. Also, check the capacity and functionality of the dust collection system.
Price-to-Quality Ratio
Price is one of the main factors that should be considered when purchasing any product no matter what. You should always aim for products that have much functionality and at the same time, aim within your budget. If the purpose of getting a CNC router is to handle small and simple jobs, you can then get a cheap router.
Ease of service
It is important to evaluate the type of maintenance that will be needed by the product and the ease at which it can be maintained. Some machines are designed to be set up and maintained by its users, others are not. However, most products come with a warranty so always confirm from the manufacturer or seller if the device comes with a warranty.
Frequently Asked Questions
Conclusion
As you can see, there is a vast range of quality products in the world of CNC routers, but they are very modest devices. You are spending money for a few features that will make operation easier and faster, but the cost is focused mainly on getting a sturdy build and solid operational characteristics that are compelled to produce accuracy and precision.
If you are a DIY enthusiast, there is a possibility that you would outgrow most of the lower-end machines, so our overall recommendation here is to learn and work with most machines as possible while saving for the best router you can get your hands on.