Last updated January 12, 2022
WoodRoutersReviews is supported by its audience. When you purchase through links on our site, we may earn an affiliate commission.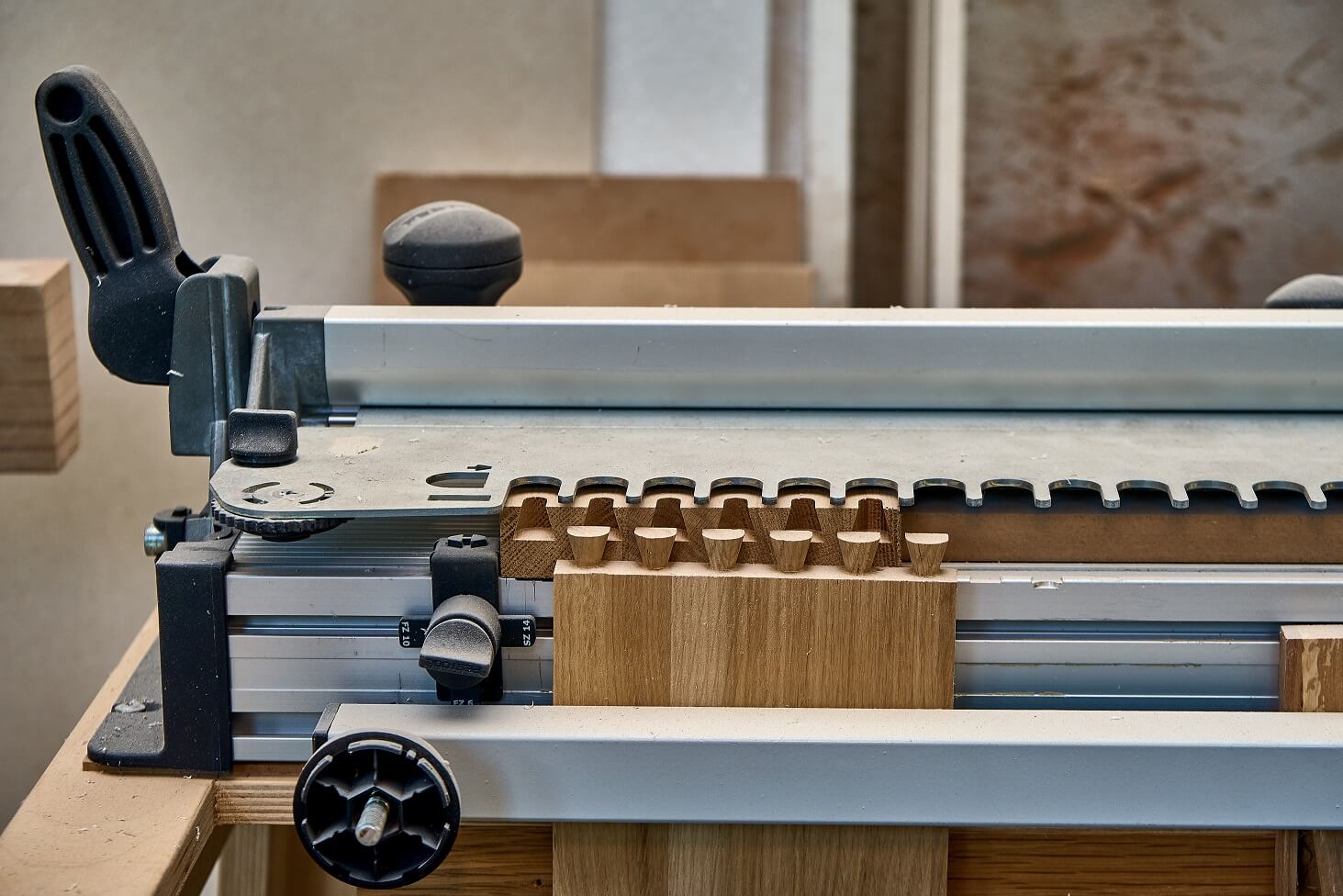 What is a dovetail? What is a dovetail jig? What is joinery work? So many questions, right? Don't worry; we will go through their answers in detail in the buying guide section.
For starters, we should understand that dovetail jigs are as essential for woodworking and drawer construction as medicines are for treating diseases.
Dovetail jig kits include not just a jig but also precision-designed templates and router bits from various high-standard techniques and machines. Sounds too confusing? Don't worry; all the dovetails jigs that we review here include detailed and simplistic guidelines that are understandable to everyone.
Buying Guide
What is a dovetail jig, and what is its working mechanism?
If you are entirely new to dovetail woodworking, then this is a common question that comes across you, doesn't it? A dovetail jig is a customized device that holds wood in place, usually vertically between a template and the jig itself. Plastic cam clamps and levers are the additives that can be tightened and hold the raw material in place.
The template is a precision CNC engineered tool, usually carved out of premium-grade aluminum and consists of pre-set or standard dovetail joint cutting slots. These slots provide precise, fine-finished, and repetitive cuts on your working wood, made by an ideal router.
Two pieces of precisely dovetailed woodwork fit perfectly with each other and are used as output for assembling drawers or cabinets.

Why is a dovetail jig needed?
Are you familiar with low-quality finished woodwork? Perhaps you are trying to create dovetail joints by manual methods or handheld tool cutting tools. What does it do?
You won't achieve your goal.
Instead, you will end up with low-quality results, inaccurate cuts, and wasted raw material.
Hazards to yourself and your working area.
Wood and other tools don't stay in one place, which is irritating.
Too much time is consumed.
What a dovetail jig does is holds your wood in one place, wherever you want. The bonus of precision-engineered templates featuring accurate measurements; aids you create high-quality dovetail cuts and other variants.
Yes, you're right; it not only prevents workplace hazards but also saves you raw material and reduces your losses. Something might take hours if you follow through on manual work will only take minutes when you utilize dovetail jigs.

Who needs a dovetail jig?
Are you someone who is looking to get into dovetail woodworking? Or are you someone who wants to break boundaries when it comes to expanding your carpentry or woodworking skills?
Maybe it is about creating a finely structured bookshelf or kitchen cabinet? If you have answered yes to any of these questions, then you are the one who needs a dovetail jig!

How to choose a perfect dovetail jig for yourself?
There are a few factors that we will go through, essential for choosing an ideal device for your woodworking needs. Let's move ahead, shall we?
Why is considering length important? The width of your dovetail joints will be determined as per the overall length of a jig. Standard jigs that do not go less than 12 inches in length are ideal for designing small furniture. But if you plan to work on large furniture pieces or woodworking, you might want to opt for a device that houses a larger length, like 24 inches.
If your work involves traveling, then choose a jig that will be smaller in size and low in weight. This will allow for ease of transport. Similarly, if most of your work requires extensive traveling and long routes, then opting for a wooden jig is a wise option as well; aluminum jigs can pack a lot of weight.
A frequently mentioned parameter when it comes to choosing jigs, isn't it? Again, the capacity of a dovetail jig is related to the device's length, affecting the width and thickness of wood used for woodworking. Dovetail jigs can usually be operated on a certain thickness of woods, ranging between 1/4 and 3/4 inch. Regardless, it would help if you opted for jigs with varying durability, clamp strength, template dimensions, and router bit effectiveness, as per your requirement.
Aluminum and steel finished jigs provide a durable design and last long, but the heavier weight is added in the cons department. Similarly, if you are looking for a lighter and cheaper option, then wooden jigs are perfect, but they miss out on the durability and shelf-life factor.The construct of the jig, template, router bits, clamps, and guides is fundamental. You do not want a template that will get easily damaged upon heavy dovetailing use, do you? Similarly, perfectly aligned clamps and template gauges are crucial, or the output is compromised in quality.
Routers are the tools that get into action and give you your desired dovetails joints or half-dovetails. These tools need components called router bits, which are of varying sizes, dimensions, and designs. An ideal dovetail jig kit should consist of at least 2 router bits for both dovetail and box joints. Should we add more? Yes? Well, router bits should be of universal size, compatible with your router make, or easily fitting into adapter guides.
Dovetail jigs are a significant investment, aren't they? Therefore, the ideal jig should reproduce not one or two but multiple types of joint cuts. Are you wondering what the different types of joints are? Let's list them: through dovetails, sliding dovetails, half-blind dovetails, variable dovetails, miniature dovetails, box-joints. Even if you are not looking for all types of joint cutting functions, you should know your requirement.
Editor's Pick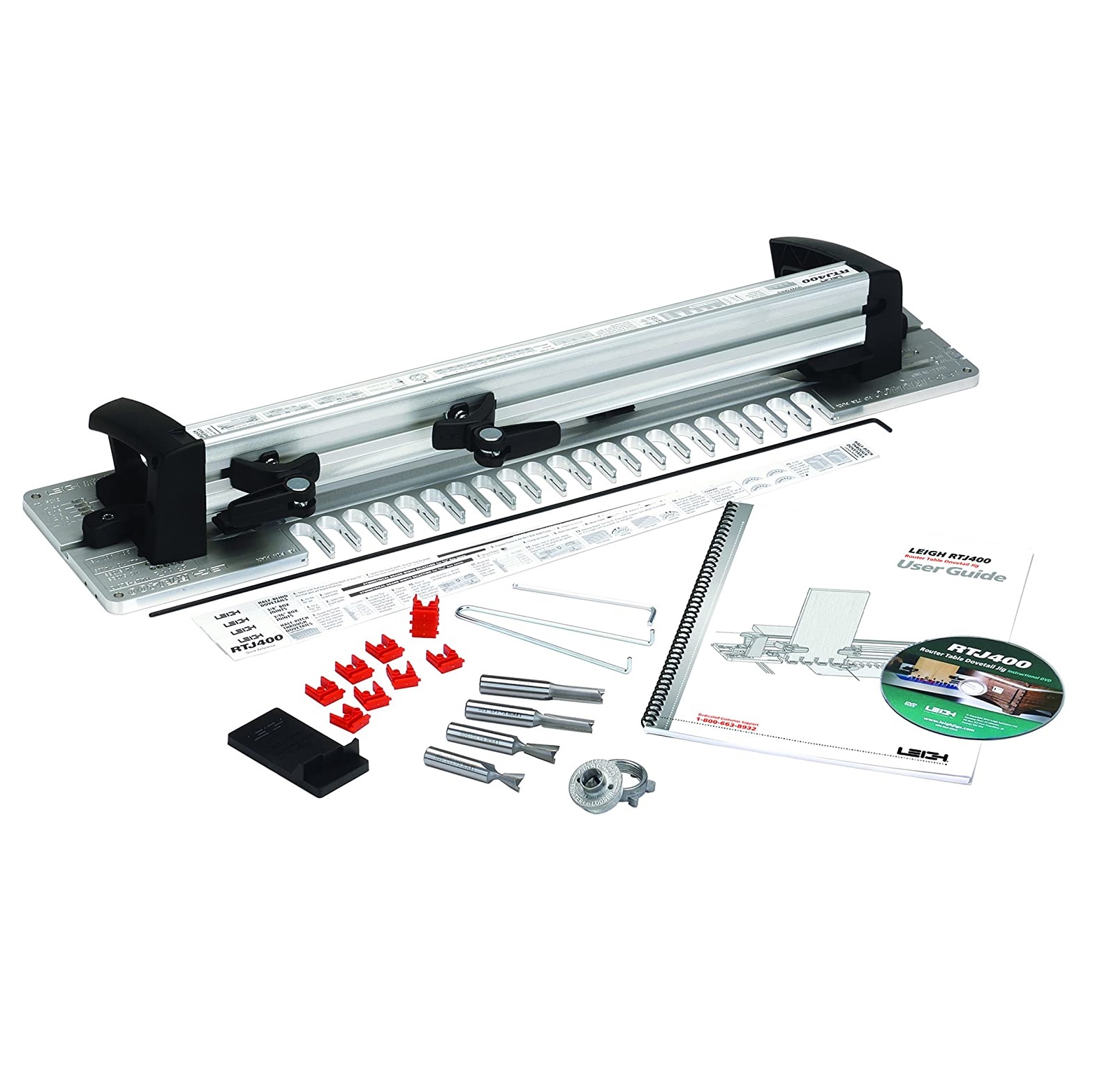 9 sizes of through dovetails, 3 sizes of half-blind dovetails and 4 sizes of box joints
1/2″ x 14º and 1/2″ x 13/16″ x 8° dovetail bits
3/8″ x 1-1/4″ and 1/2″ x 1-1/4″ straight bits
The Leigh company was discovered in 1980 in British Columbia, Canada. The Leigh RTJ400 is an exemplary product, ideal for accurate dovetail joint cutting. What about the output? The output is error-free woodwork that fits perfectly with each other.
Construct and Design
Useful construct and design are a must, right? Leigh RTJ400 is constructed out of hard aircraft-grade aluminum and secondary plastic components like cam clamps and side stops. The dispensed router template is constructed from similar-grade aluminum via high-precision CNC machining; the same machining technique is utilized to engineer the carbide tip router bits. Do these ensure prime quality woodworking? Yes, they do.
So Many Joint Varieties
The heterogeneity of router bits and a precisely designed router template ensure the delivery of accurate dovetails, half-dovetails, and box-joints.
Pros
Ideal for cookie-cutter designs.
Excellent work on solid wood.
Unique E10 elliptical guide bushing mechanism.
The e-bush is designed as per 1-3/8″ industry standard.
9 styles of innovative dovetail joints can be carved.
A variety of drawer joints are designable, which gives birth to drawers used in differing environments.
Cons
The Leigh RTJ400 jig will not work with all the router tables. The E10 bushing will only fit router tables as per specific requirements. Check the guidelines on leightools.com.
You will need to buy separate router bits not included in the set.
Overall impression
The reputation and legacy of Leigh add to the durable built of their product. Versatile CNC precision turned template and router bits provide for the delivery of error-free dovetail joints.

Multiple Purpose Finish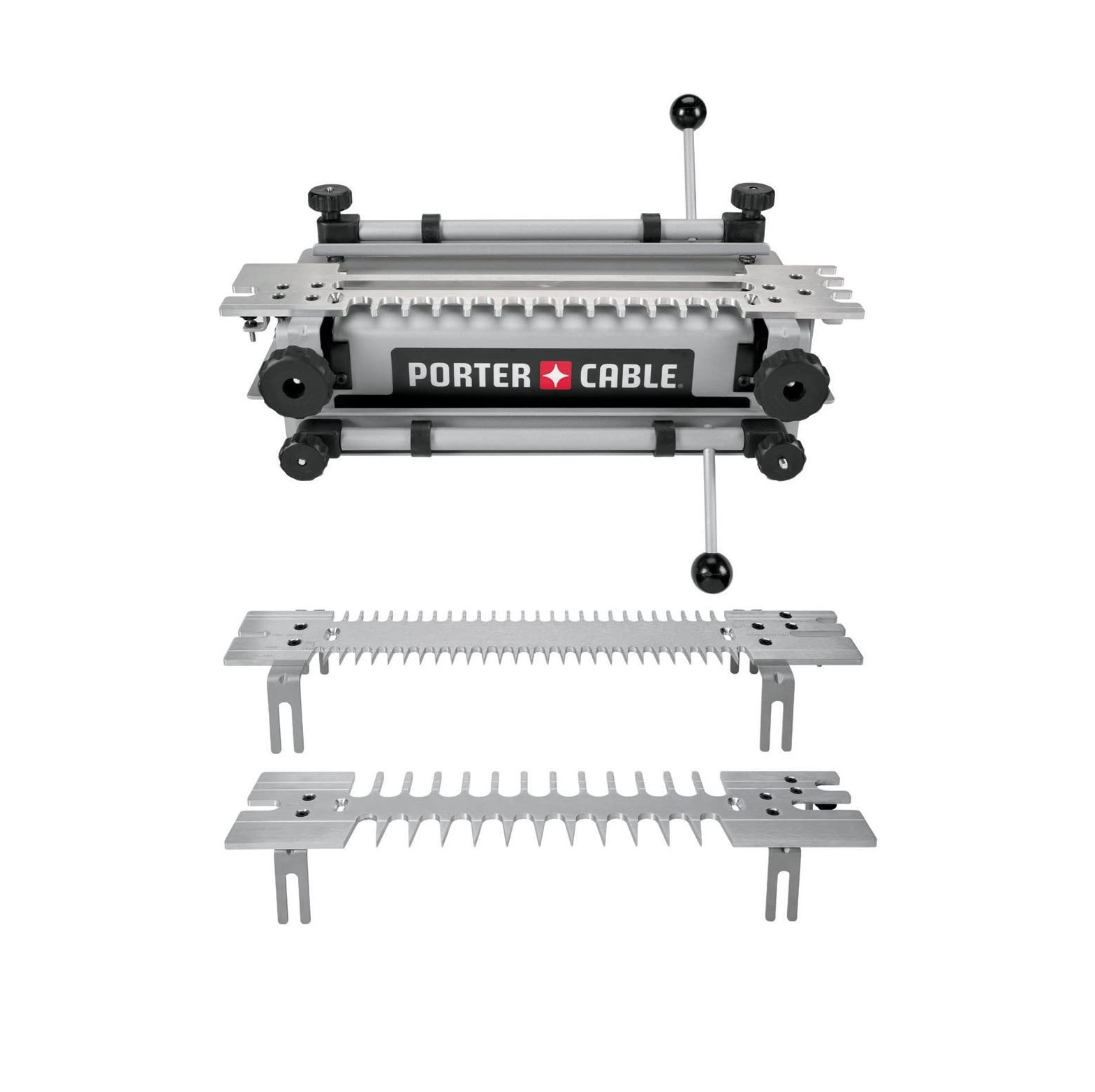 Accommodates stock from 1/4 to 1-1/8 in. thick
Seful for half-blind, rabbeted half-blind and sliding dovetails
Heavy-duty cam-type clamps
Porter-Cable has more than 100-year-old history and is a subsidiary of a Fortune 500 company. The legacy of the company is reflected in its power tool products. This product is available in three variants, including the adapter kit and guide kit separately.
Construct and Design
The overall construct of the jig is durable steel polished with a silvery appearance. Hard grade plastic cam clamps and sandpaper backed locking bars are equipped for effective gripping of wood and router templates. Three grades of precision CNC engineered router templates are included in the kit.
Multiple Utilities
The PORTER-CABLE Dovetail Jig can be utilized to produce various joints, template no. 4211 is used for rabbeted half-blind and sliding dovetails, template no. 4213 utilized for making through dovetails and box joints. Similarly, template no. 4215 will allow you easier construction of half-blind dovetails, miniature through, and miniature box joints.
Pros
Bit depth is set automatically through a depth gauge.
Easy to follow onboard instructions and dimension scales.
Multiple joints can be made using various templates.
Utilized for designing error-free cabinets, drawers, and other furniture.
Cons
Lack of dust collector.
Not suitable for fine woodworking.
Overall impression
Porter-Cable has done an excellent job over a century to design and deliver high-quality tools, Porter-Cable Dovetail Jig 4216 being one of them. Put this nifty tool to use for making the perfect kitchen or drawing room cabinets.

Budget Choice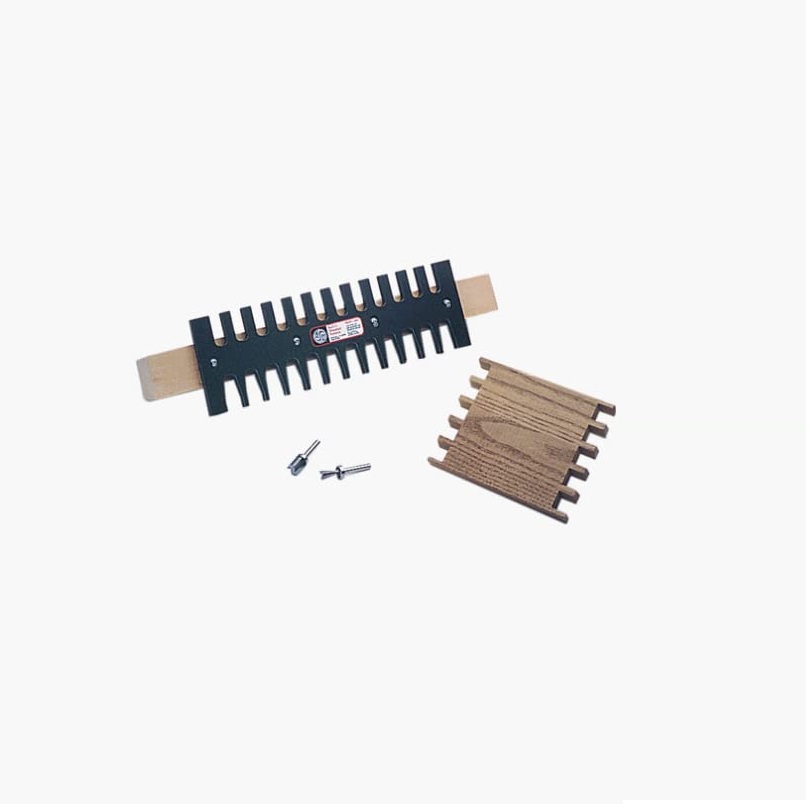 Accepts wood from 1/8 to 3/4 inches thick
Accepts unlimited widths and lengths

No test cuts, no wasted wood
Keller Dovetail System engineering has around 25 years of experience producing tools and components ideal for amateurs or hobbyists, Model 135-1500 Journeyman Dovetail Jig being one of them. Are you someone who is looking to get into dovetail joinery or want to ease into the art of drawer construction? Look no further.
Durable and Unique Construct
The Keller Dovetail System 135-1500 Journeyman Dovetail Jig is equipped with a precision milled template, constructed out of a phenolic plate. The phenolic plate is a tough and dense material made out of heat and pressure treated laminate layers. Additional utilities include a ball bearing style template guide and router bits.
Versatility and Types of joints
Other inclusions with the kit are 1 straight route bit and 1 dovetail router bit. Both are equipped with guide bearing and feature rustic carbide tips. There are various types of joints that you can produce and reproduce. What are they? Classic, acute, obtuse, variable-spaced, compound-angled, curved dovetails, box, and knuckle joints. With the back-to-back model system, it is possible to work on 1/8 and 3/4 thickness wood on a single template equipped with the kit.
Pros
An ideal choice for hobbyists and mid-size woodworking projects.
Provides utility for different route types like a fixed-base router, plunge router, handheld router.
Applicable for wood variants like mahogany, walnut, curly maple, and cherry.
Evenly spaced dovetails and box joints are produced.
Cons
Ball-bearing style router bits are tougher to set up.
The phenolic plate construct of the template is vulnerable.
Overall impression
The 135-1500 Journeyman Dovetail Jig by Keller is an excellent choice for individuals looking for a side hustle and learn a thing or two about dovetail woodworking.

Defining USP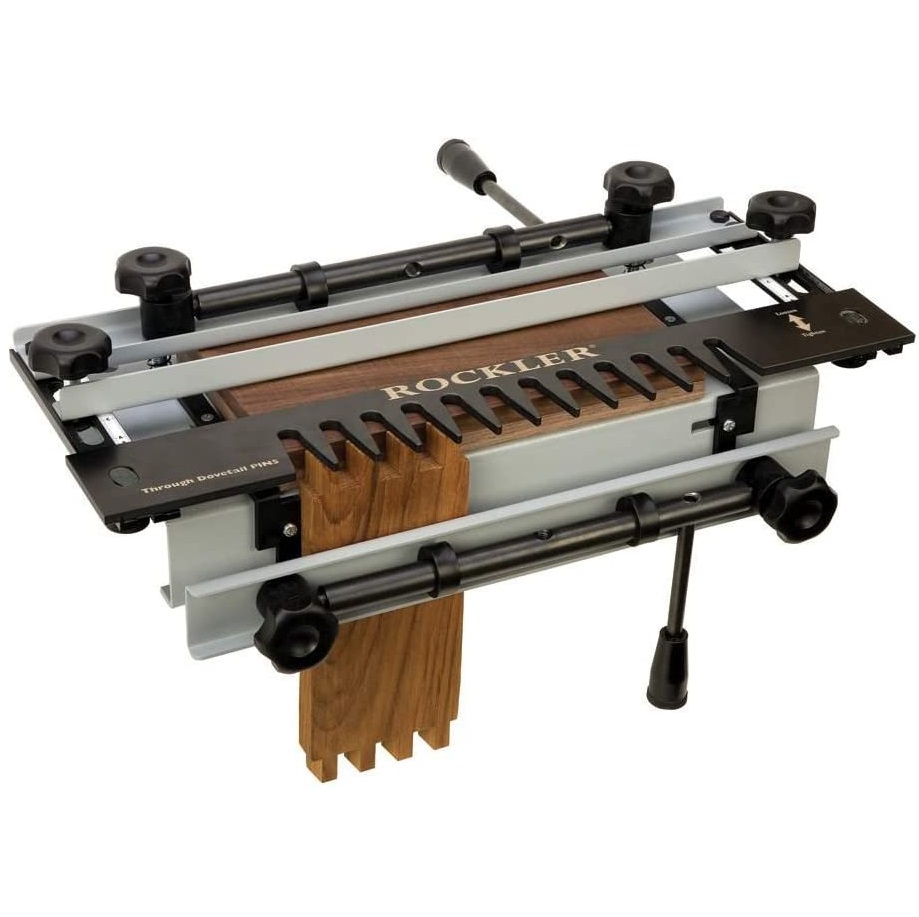 Accommodates stock up to 11″ wide
8mm diameter bits are 25% larger than typical 1/4″ bits
Depth gauge on template for setting dovetail bit height for half-blind joints
The Rockler company has been into woodworking since 1954; that's a long time, right? Throughout its growth, it has produced several nifty tools and devices for a comfortable woodworking experience. The complete dovetail jig being one such product, is intricately designed and appealing to the eye.
Design and Make
This jig by Rockler is large enough for you to fit an 11-inch wood piece, featuring phenolic plate templates through which you can produce varying joint styles. The wood is held into place by durable plastic cam clamps and a sandpaper-backed lever. The USP of this device is the attachment of a dust collection vacuum system, which sucks up the dust produced during operation and prevents a mess.
Applicability
Three router bits are provided, 2 dovetail carbide tips and one straight carbide tip style, enabling a user to produce both half-blind and through dovetails.
Pros
Ideal for small shop owners and quick finish woodworking projects.
Dust collection system equipped with a vacuum.
Durable laminate-style templates.
Attractive design that is appealing to the eye.
Cons
Manual adjustment of the depth stop bar is required.
Double-blind dovetail joints cannot be carved.
Overall impression
The Rockler complete dovetail jig is the best choice for woodworkers looking to learn the basics of dovetail joinery techniques. The best part is you don't have to worry about sawdust lying around your workplace, isn't that one of the best features a jig can offer?

Precise Working Set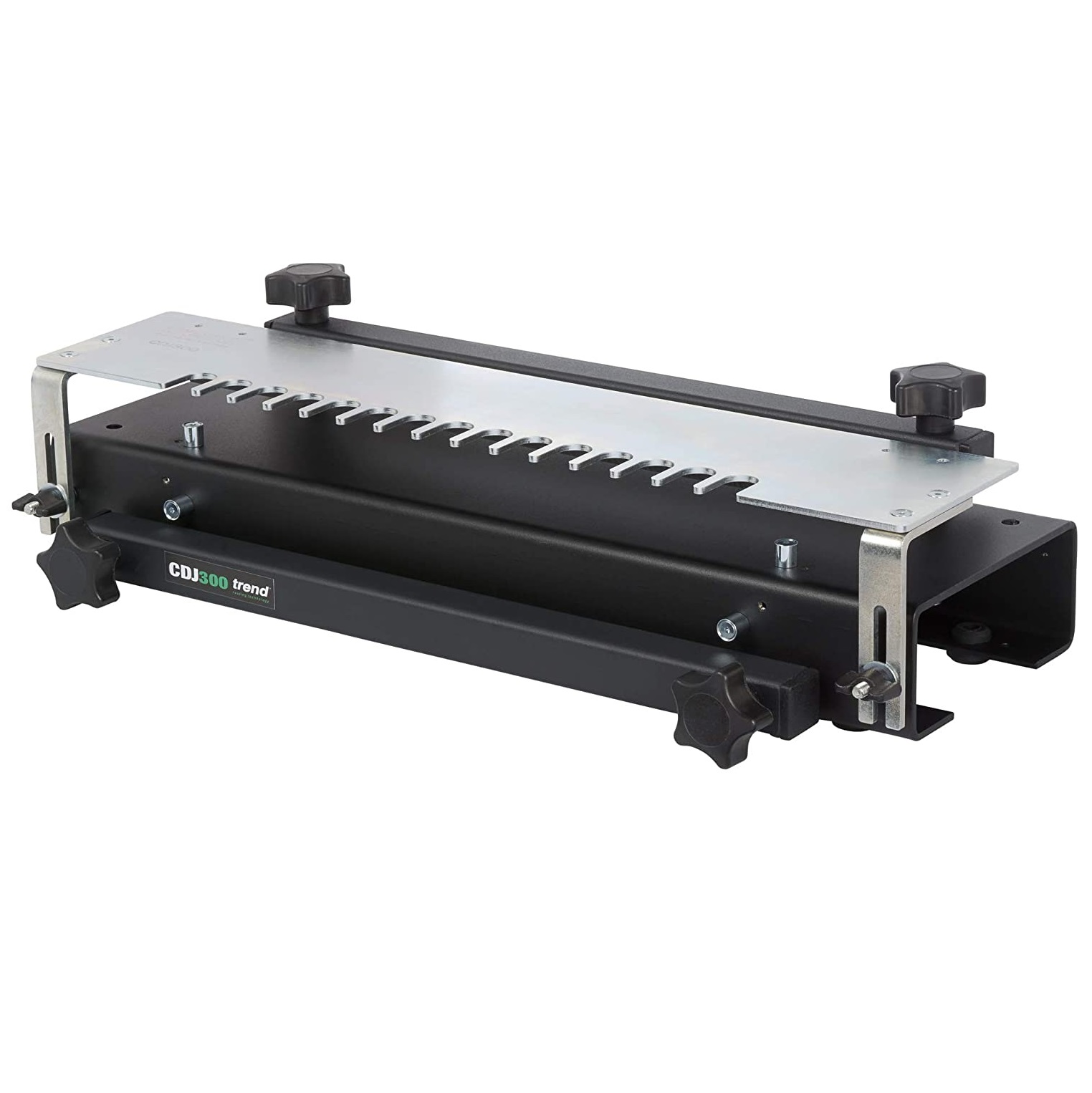 Cuts 12.7mm (1/2 inch) wide half-blind dovetails or rebated dovetails
Templates for Lapped Dovetails, Box Joints, Dowels and Through Dovetails are also available
It is equipped with the template to do up to 12-Inch half blind or rebated dovetails
Trend tool technology is headquartered out of the UK and operating since 1955. The industry has been developing router and other woodworking technology for the veterans in the game and hobbyists or DIYers. The CDJ300 is a sturdy make that can be worked on 12-inch-wide wood pieces.
Classy Design and Durable Construct
The base and body of the jig are constructed out of the finest steel exhibiting a classy shine. A half-blind dovetail template is equipped with the kit, designed by a precision laser cutting method. The template is a zinc-plated steel component and is laid on the steel base of the jig. A router bit and the presiding guide bushing are also included in the kit. Your wood is held into place by clamps and operated by a clamp bar with an easy-to-handle abrasive grip.
Versatile Cuts and Output
Apart from the half-blind dovetail template furnished with the kit, other template guides are provided, through dovetail, lapped dovetails, dowels, and box joints.
Pros
This is the best product for DIYers or hobbyists looking to get into dovetailing and rack up some skills.
Precision laser cut technology ensures very high standard templates.
Zinc-plated steel templates are robust and not damaged easily.
Various types of dovetail joints can be made.
Cons
If the router bit provided is not compatible with your router, you will have to buy relevant bits separately.
Some individuals find it hard to set up.
Overall impression
As previously mentioned, Trend tool technology aims at providing optimum solutions for experienced carpenters as well as DIYers. The Trend CDJ300 is a device for amateurs looking to create perfect dovetail joints.

Create Something New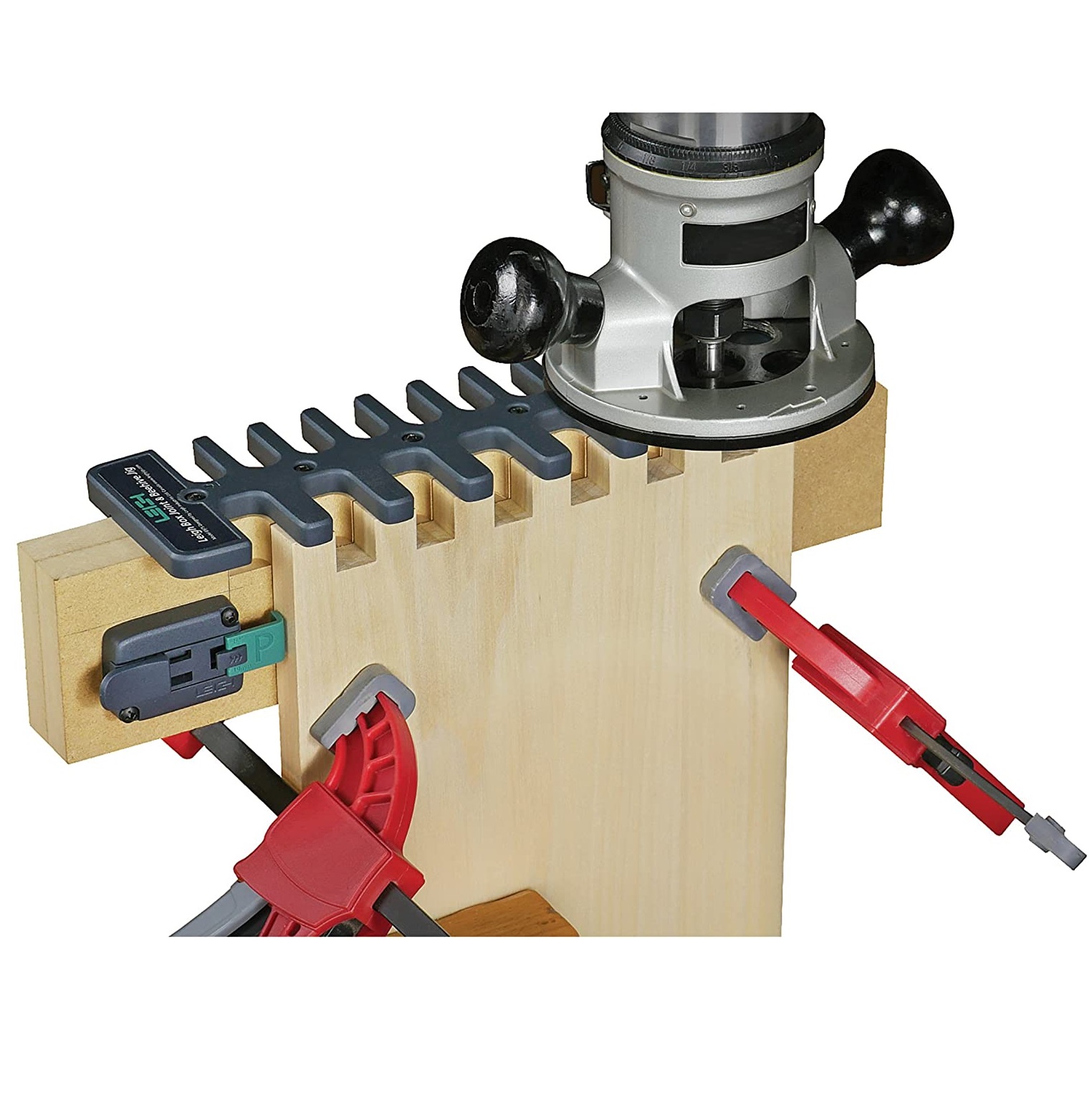 Easy to use jig for storage boxes, drawers and beehive supers
1/2″ and 3/4″ box joints on board thickness 1/8″ to 13/16″
Works on a router table for boards up to 9-3/4″ wide
We have already come across Leigh, an innovative Canadian company providing complete tooling and woodworking solutions. Leigh B975 is another such product with a unique construct aimed to reproduce storage boxes and beekeeping boxes.
Innovative Construct and Material Inclusive
The template equipped with the jig kit is constructed from glass-reinforced nylon; the material ensures high rigidity, hardness, mechanical strength, and durability. Adjustable side stops and cam clamps are made of hard grade holding the wood in place and maintaining alignment. The uniqueness of Leigh's woodworking tools lies in the E10 elliptical guide bushing used for router bits.
Variety of Uses
Leigh B975 was created to produce beehive joints and box joints better. Box joints of dimensions 1/2″ and 3/4″ are reproducible on wooden boards of 13/16″ thickness.
Pros
Patented E10 elliptical guide bushing component.
Suitable jig for making beehive supers and kitchen cabinets.
A budget option for all.
It can be used with a plunge router.
Glass-reinforced nylon template reduces the template weight without taking away the toughness factor.
Cons
The e10 guide bushing can also pose a problem for individuals who don't have a suitable router for use.
Not recommended for fine work.
Overall impression
The Leigh company's product is not just innovative and handy for utility for hobbyists, but they are also products that get the job done within your budget. Are you satisfied? Yes? Then how about getting started on a dream home for your bees?

Reputed Italian Technology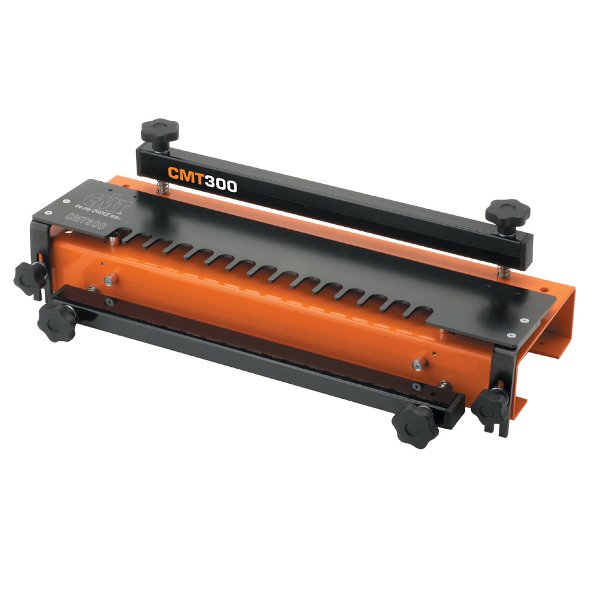 Jig features steel body, templates, stops and clamping bars
Accepts stock from 7/16" to 1" thick
Standard jig includes a template for 1/2" half blind joints
CMT Orange Tools is a company based in Italy with many years of experience in tool making and precision machining. CMT300 Universal Dovetail Jig is one of the company's flagship products, which reflects its high-standard operations, diligence, and commitment to providing a convenient woodworking experience.
Jig Construct and Design
Appealing and eye-catching, these two words are enough to describe the design of CMT300. The jig body and base are made of sturdy steel, and the same material is utilized for precision CNC machined templates. Unlike other jig systems, the CMT300 features steel clamps and side stops.
Variable Output
The CMT300 accepts stocks in the dimensions 7/16″ to 1″ thickness. CMT carbide-tipped router bits are specially designed with incredible hardness and accuracy. Along with the template provided in the kit, additional through-dovetail, and box-joint templates are also accessible. You can create intricate dovetail joints and box joints by combining the template and router bit parameters.
Pros
The best product if you want to create well-structured drawers and kitchen cabinets.
Finds utility for amateurs as well as experienced woodworkers.
You can carve half-blinds, through-dovetails, and box-joints.
Applicable with handheld and plunge routers.
High-quality CMT carbide-tipped router bits are an added advantage.
Cons
If the adapter guide is not compatible with your router, you might want to look for an alternative jig.
Heavy material.
Overall impression
Premium Italian technology and precision works are reflected in the output you can produce on the CMT300. Are you looking to make striking drawers or kitchen cabinets for your home? If yes, then apply this device to work.

Comparison Table
FAQ
Verdict
Dovetail jigs are not a tool or a device but a necessity that is required for woodworking, as discussed in the introduction and buying guides.
The variety of dovetail jig brands put forward in this list for review are considered to be of the utmost relevance for woodworkers, carpenters, DIYers, and hobbyists of all skill domains, from amateurs to advanced.
Buy your preferred jig and reproduce high-quality wood constructs today.