Last updated September 23, 2021
WoodRoutersReviews is supported by its audience. When you purchase through links on our site, we may earn an affiliate commission.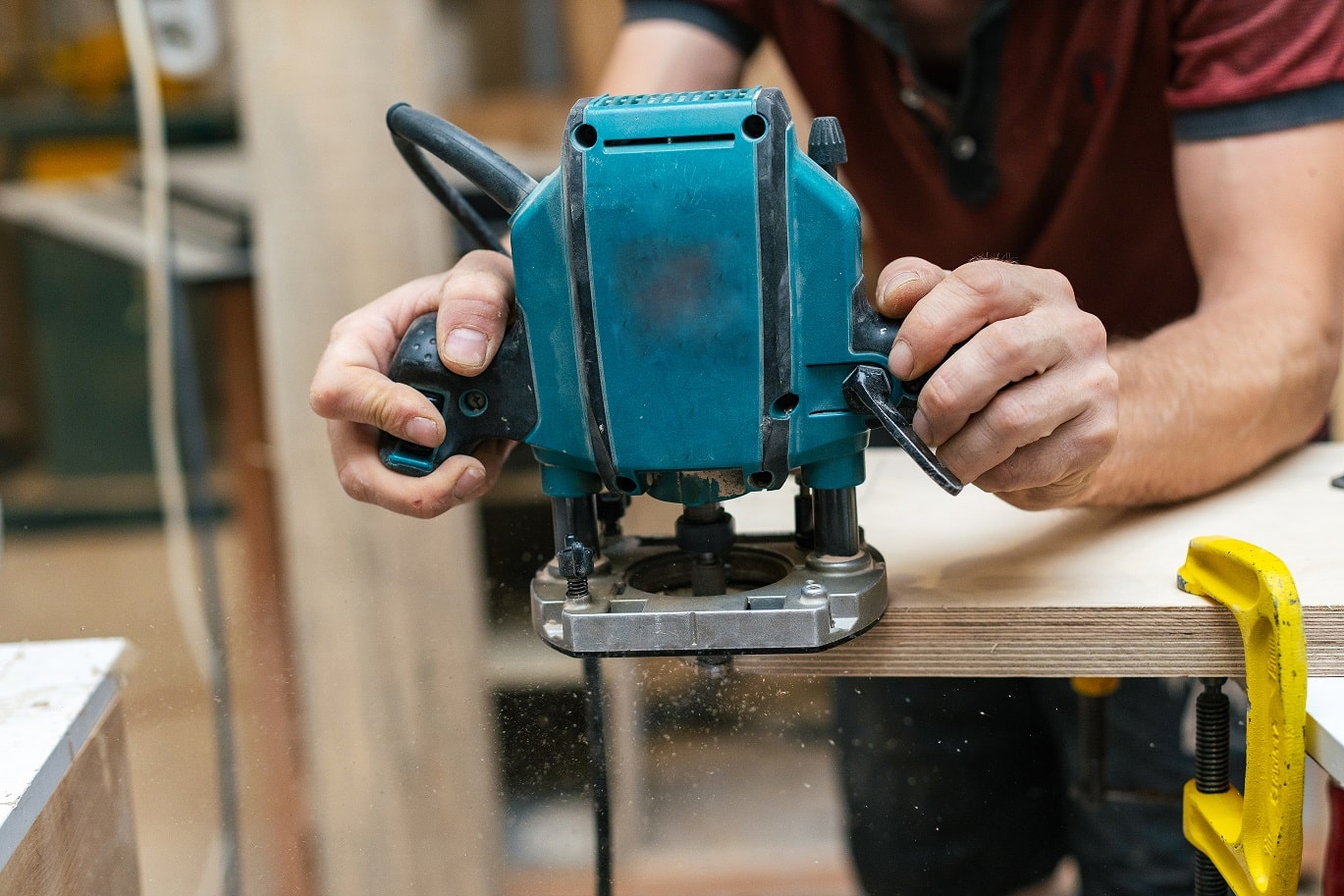 For most woodwork enthusiasts, even for beginners, a router is proven to be one of the most essential power tools they need. It is a versatile tool that can be used during various scenarios. Initially, most people don't know whether to use a plunge router or a fixed router. A fixed base plunge router allows you to set the cutting depth and then it keeps that depth for every cutting you do with it. The router provides 1400 watts of power while weighing just about 10lbs.
A plunge router, however, allows you to set the base of operation down even when it is in use. Also, most users don't know which is the best product amongst hundreds of other competitions. In this article, we tackle this problem by reviewing the top 10 plunge router you can buy online.
Plunge Router Buyer's Guide
Plunge routers add sophistication and styles to your work with slotted designs, inlaid designs, and various features to give your end product a classy look. These can increase the versatility and value of your work as a professional or make you look like one even if you are upcoming. When buying a plunge router, there are some features you consider before picking the one you will purchase. Below are some considerations you need to make before purchasing a plunge router.
Variable Speed
This feature is a very important aspect when choosing a plunge router to go for. It gives you an option to have various speeds, each achieving a different task with a high probability of accuracy. For smaller bit cuts, the variable speed dial needs to be set at mid to high speeds and for larger bit cuts, the variable speed dial needs to be set at slower speeds to be used safely. With this variable speed feature, with just one twist on the nob, you are covered no matter the bit used in this case.
Soft Start Feature
Without this feature, the device blasts off at full speed once it gets turned on. If this happens, the noise can be startling and that power surge can make the product jerk while you are holding it. This is not an easy way to get into a tricky cut or get over your fear of routing in general.
With this feature, you will feel a moment of pause after switching it on and then the device gently increases to its default speed. This soft start feature is implemented in most modern routers that have an electronic feedback circuitry. It is a small feature but it gives the router a pleasant start-up.
Above the Table Adjustment
If you are a woodworking enthusiast, sooner or later the router you purchase will spend its days hanging under a router table. Two relative features can make table routing more continent and precise.
First, buy a router that gives you the ability to adjust the cutting height from above the table with a crank, handle, or knob. This is best compared to stopping over to adjust the depth settings from under the table. Secondly, look for a device that is designed to stretch the cover over the table so you can change the router's bits without completely removing the machine. Products with ATA make sure that these two features are successfully included in the device.
Electronic Feedback Circuitry
The electronic feedback circuitry will help you sustain the router's efficiency and at the same time maintain the device's durability. This feature basically measures the load carried out by the device in order to balance it with the output force. So during a stressful cut, the motor won't stall for breakdown and the output power feels the same.
The EFC feature is one in which you won't truly cherish unless you have used a much older model of the router without this sophisticated feature.
With the electronic feedback circuitry, you can channel your attention on cutting your project and the technique you want to use while the router keeps up with your pace.
Spindle Lock
Many routers need about two wrenches to change the bits. One wrench loosens or tightens the collets while the other holds the motor shaft tight. With the spindle lock feature, users can push a spring-loaded pin or hold down the motor shaft in place so the only wrench you need is the one for the collet.
This feature is a little but very important detail found on some plunge routers where its users cannot remove the motor to get a clear view and access of the bit.
It is not an extreme must-have feature but it takes a little difficulty off when you are changing the bits.
Best plunge router list in the 2021 year
For Professional Projects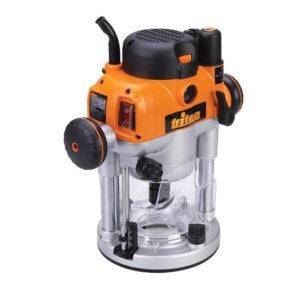 Triton TRA001
It has a 3.5 HP motor
8,000 RPM to 21,000 RPM
An automatic spindle lock
One look at this router, you would find out that it looks big and heavy as it is. The Triton TRA001 Weighs about 13 pounds and this is a product of its durable design. It is made from durable high-grade steel which is sturdy and performs heavy-duty operations. It has a 3.5 HP motor that is capable of rotating the blades from a speed of 8,000 RPM to 21,000 RPM. With this much power, there is no woodworking job this router cannot handle.
Complex professional jobs require precisions. The Triton TRA001 comes with multi-functional fences that allow its users to have more control over accurate cuts. If you also have woodworking skills, you can make tiny cuts as well. Aside from the automatic spindle lock, this model of Triton also has a micro winder and a single button switch. This feature allows you to make depth adjustments. You can also change the speed depending on the cut you are going to make. For the reduction of dust ingestion, the side vents are also implemented on this device.
If you are careful about the safety of the project you are working on, you would be glad this router has a safety switch shutter lock. This design blocks the motor while users are changing the modes. For professionals, the Triton TRA001 proves to be profitable and recommended for use.
Features
It features a powerful and durable design.
It features a heavy-duty design that is well suited for major projects.
It features a smooth starting feature.
Features an automatic spindle lock.
Safety switch shutter lock for safe usage.
Features a variable speed control which enables its users to switch speeds from 8,000 to 21,000 RPM.
Best for Beginners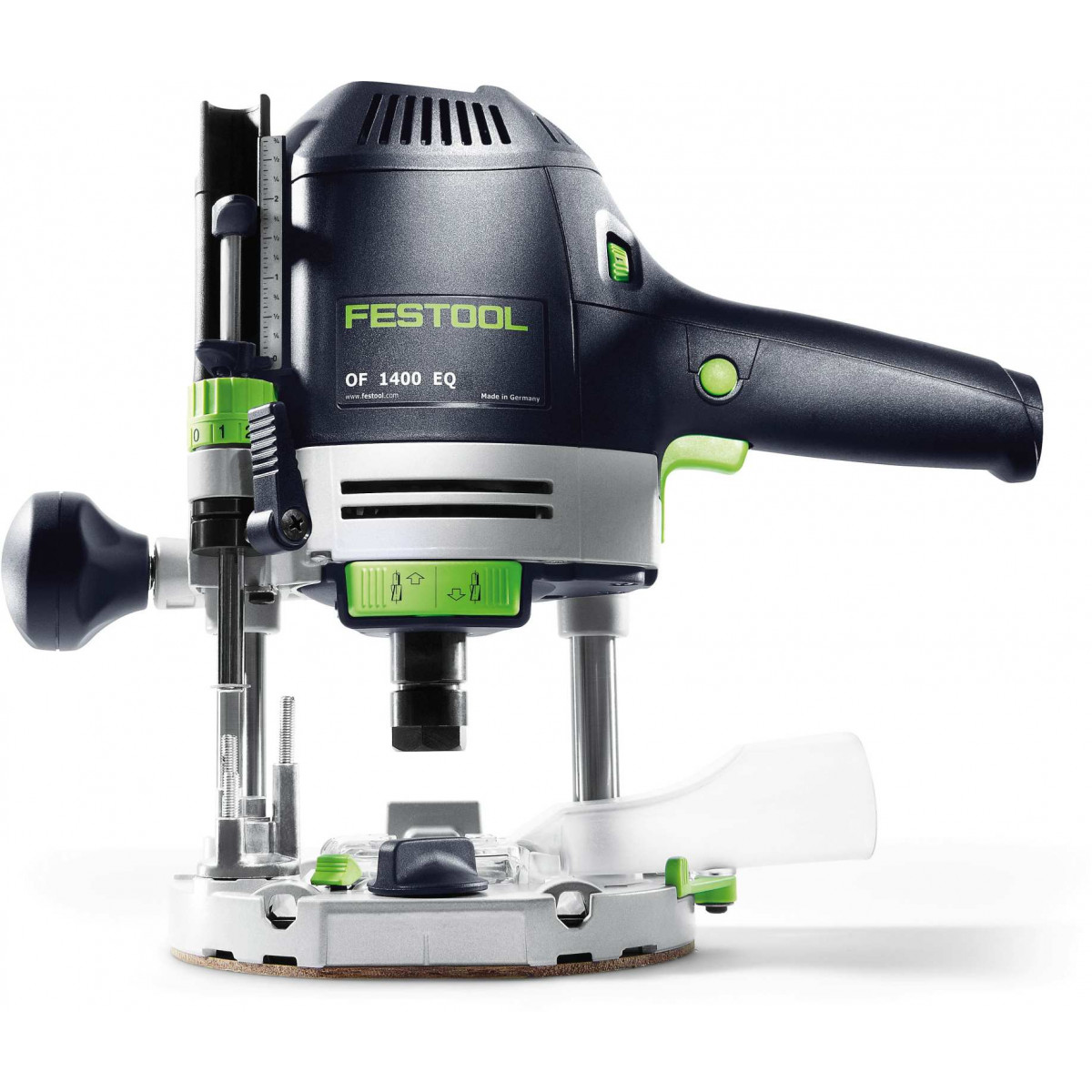 Festool 574692 Imperial
Dust extraction mechanism
10,000 – 22,500 rpm
Power Consumption – 1400 watts / 11.7 amps 120 v.
The Festool 574692 is a great option for users that are interested in picking out the best plunge router. Festool routers are designed to reduce fatigue and increase control. The integrated switches found on the Festool 574692 router allow its users to use the device with just one hand. This device has a dust extraction mechanism. The integrated dust extraction pods capture debris and dust particles, prolonging the router's cutter life saving its users cleanup time.
A swiveling chip deflector is found on the Festool 574692. This can be used with edge forming bits, dust extraction even around corners and curves, and maximizing chip. The Festool 574692 is designed to be used with the MFS multi-routing templates, FS Guide Rail system, and a wide range of other special accessory options. It also has a precision depth adjustment. The micro-adjustability dial makes it possible for routing with tremendous precision of depth control to 1/10mm with ball detents.
Features
It is versatile for all kinds of woodwork.
It features a durable stable and accurate router.
It is HEPA-certifies.
Features a spindle brake for safe and quick stops.
Features an ergonomic handle, which offers good user control.
Best for Light Projects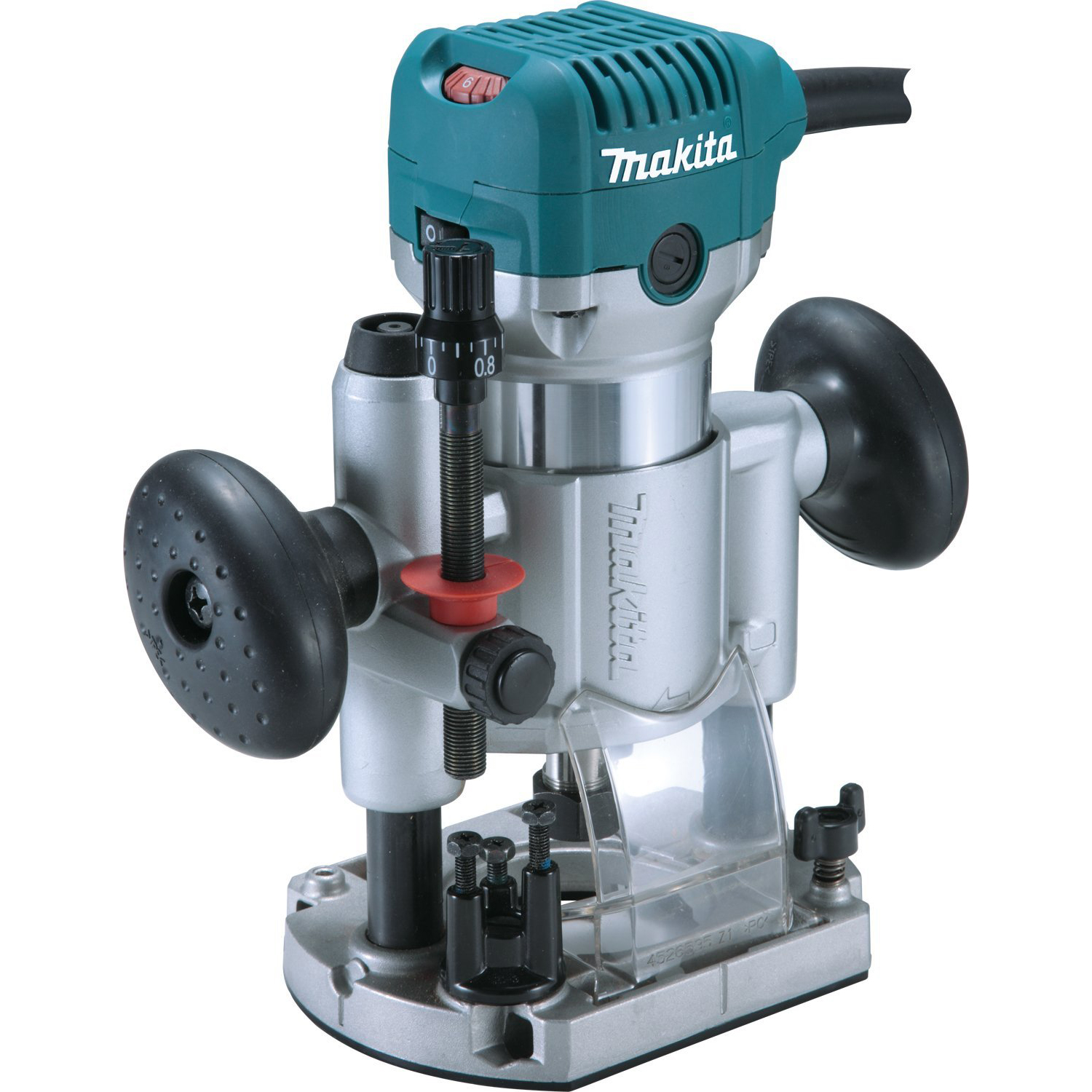 Makita RT0701CX7
10,000 to 30,000 RPM
Electronic speed control
Uses 1/4" shank router bits
The first thing one has to notice about this plunge router is how light it is. Weighing below 4 pounds, this router is designed to be used with hands-on cabinets, door jams, and overhead projects. It is designed to be compact for mainly smaller and detailed projects. It is also said to be more comfortable in your hands and it is also very quiet compared with other routers.
Because of its size, the device tends to overheat easily and the grips also look smaller than they should be leading to some burns if the device is handled improperly. The plunge base is designed to handle any type of project but some users complained that after the first few times, it has the tendency to begin jamming and sticking. This proves a flaw in the device.
When it comes to price and functionality, Makita company offered its users a good price. The Makita RT0701CX7 is perfect for light detail work, this device gets the job done on time as long as its users are also careful during operation. It has a powerful motor with a variable speed control dial which can range from 10,000 RPM to 30,000 RPM. It also has a soft start feature which starts-ups smooth.
Features
Features a variable speed dial control which enable users to switch speeds from 10,000 RPM to 30,000 RPM.
It features a soft start feature which makes startup easy for its users.
It is lightweight weighing less than 4 pounds.
It features a surprisingly quiet motor which makes it comfortable while working.
It has a nice performance.
Best Variable Fixed/Plunge Base Kit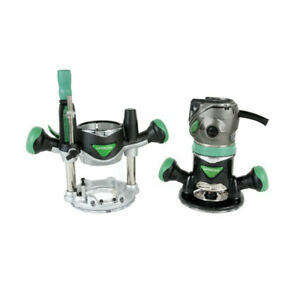 Hitachi KM12VC Variable Router Kit
11 Amp motor (2 1/4 Peak Horsepower)
2 stage motor release clamp
Class leading noise level, only 79. 5dB for a quieter workshop
This router does not only perform a job of a plunge router but also the functions of a fixed router, so you can get any job done quickly and easily. It utilizes an 11 amp motor and the plunge router has the ability for more precise control. This means more perfection in everything you do with it. It has a two-stage motor release clamp which means you can change the base in time and you can also make small depth adjustments easily.
This model even has an electronic speed control which helps its users maintain a constant level of RPMs anytime they use it. This device, unlike other plunge routers, provides very little noise which provides you a quiet environment so that anytime you work, you will not end up disturbing your family members or the rest of the neighbors.
With the Hitachi KM12VC, you get up to 24,000 rotations per minute, less vibration, and a comfortable handle to grip for an extended period of time.
With its ergonomic style handle, users tend to enjoy and hold on to it making this device everything they need during their woodworking projects.
Features
Features an 11 amp motor.
It comes with a 5-year warranty.
It has a variable speed adjustment system.
Features about 24,000 Rpm.
Plunge and fixed router in one.
Best Router for Mortise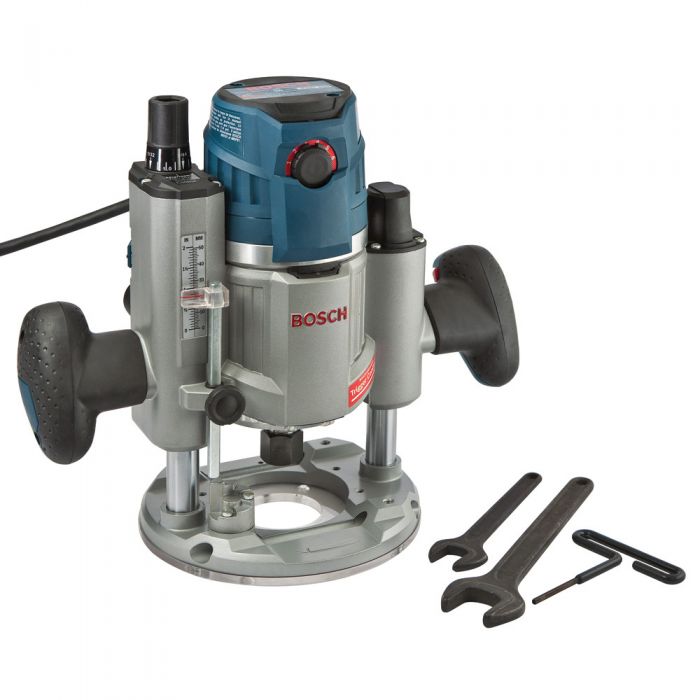 Bosch MRP23EVS
10000 – 25000 Rpm
2.3 HP
Voltage: 120-Volts
Weighing at about 18 pounds out of the box, this tool is designed to support durability and performance. It also makes the tool a bit heavy for hand routing. The Bosch MRP23EVS comes with threaded holes for router table mounting. The controls are also well located and this also includes a lockable power switch on the handle.
The plunge mechanism is said to be very smooth and the handles are also ergonomic and comfortable making micro-adjustments easy to use and read. This functions well in spite of the weight of the router. The Bosch MRP23EVS doesn't have a plastic shield on the operator side making it a strange omission since dust control is a problem making a plastic shield a must-have.
The Bosch MRP23EVS features a 2.25 HP motor that is capable of producing blade rotation speeds from 8,000 RPM to 25,000 RPM.
Features
It features a lockable power for safer use.
It's handle is designed to feature an ergonomic grip.
It has a 2.2HP motor producing about 8,000 – 25,000RPMs.
Features an easy plunge mechanism.
The aluminum structure makes it one of the most durable routers.
Best Router for Woodworking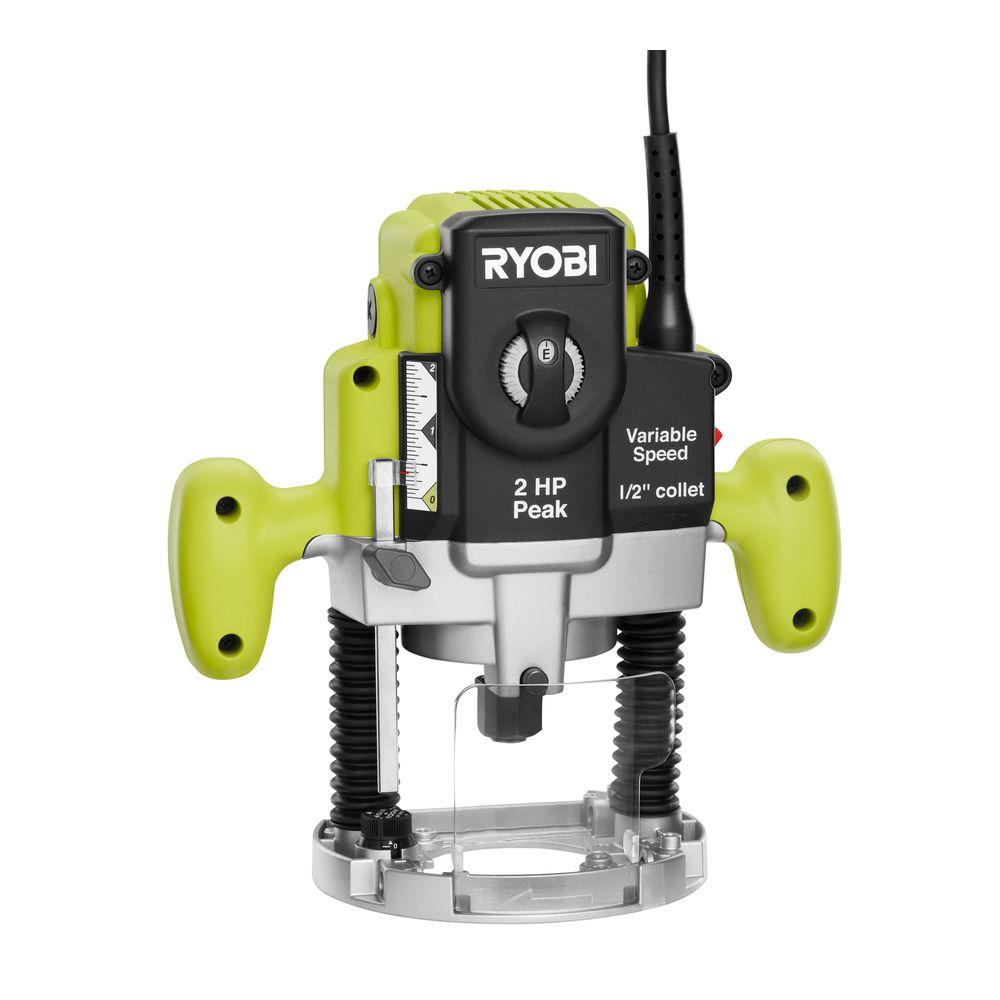 Ryobi RE180PL1G
2 HP
Includes 1/2 in. Collet, 1/4 in. Adapter
Voltage: 120-Volts
The Ryobi RE180PL1G is a tool that deals with different bits as well as a variable speed adjustment system. This device comes with a 10 Amp motor with about 2HP having a variable speed setting. This you can adjust your speed according to the project you are handling.
The Ryobi RE180PL1G offers you versatility making this product suitable for various routing jobs. This router has a depth adjustment setting of up to 2 inches whereas the handles are designed to be ergonomic and comfortable during use. This device comes from a trusted company of cutting, drilling, and many other power tools.
Features
This device features a 2HP 10 Amp motor for maximum performance.
Features an ergonomic handle which offers comfortability during use.
It has a soft start feature which saves torque which is wasted when the machine is switched on.
Micro-adjustable depth stops feature which quickens the depth changes during the downward movements.
Best Router for Sale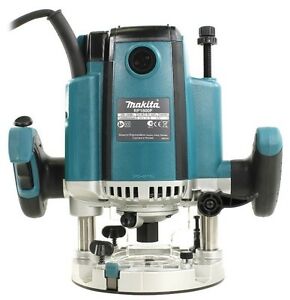 Makita RP1800
Router, HP 3-1/4
Amps 15, Voltage 120
No Load RPM 22000
The Makita RP1800 is implemented with a 15 Amp motor reaching speeds of up to 22,000 RPM. It has a maximum plunge capacity of about 2-¾" for easy penetration into the work surface. The Makita RP1800has an ergonomic handle that is rubberized with a two-finger switch for more control and a lock on the trigger for continued usage.
The shank router bits that come with this device are engineered for furniture making, windows, and doors, countertops, and decking. The Makita RP1800 is an ideal and perfect tool for both professionals and enthusiasts.
Features
Ergonomic handles rubberized with two finger switch control for easy usage.
Features a shaft-lock for easy bit changes.
It has a lock on the trigger switch feature for continuous operation.
It features an oversized ball bearing construction for longer life.
Best Router for Worktops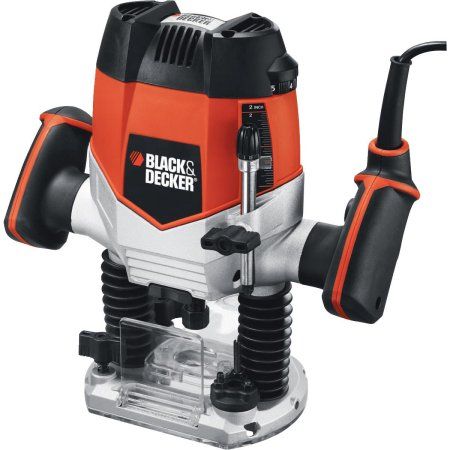 Black and Decker RP250
10 Amp motor provides superior power

8,000 RPM to 27,000 RPM
Includes 1/4-inch collet and wrench, adjustable parallel edge guide
The Black and Decker RP250 is designed with a 10 Amp that produces a variable speed from about 8,000 RPM to 27,000 RPM which gives this tool maximum power and superior performance. It can achieve a plunge depth of about 2-¼" and can also give you the functionality of a fixed router.
The Black and Decker RP250 is implemented with a soft start feature which gives you ultimate control over the tool's safety and results. This device has a trigger switch with a lock-on feature and a chip shield which makes it feel more comfortable and safer when you work with the product. Black and Decker added pretty much enough versatility into this router and it helps you do freehand routing, inlays, templates, and everything that a fixed base router can do.
Features
Features a 10 amp motor for superior power and maximum speed.
Easy and gradual start function for precise results and more control.
Plunge router to give decorative designs to your project.
Features an adjustable parallel edge guide, ¼ inch collet and a wrench.
Best Router for Router Table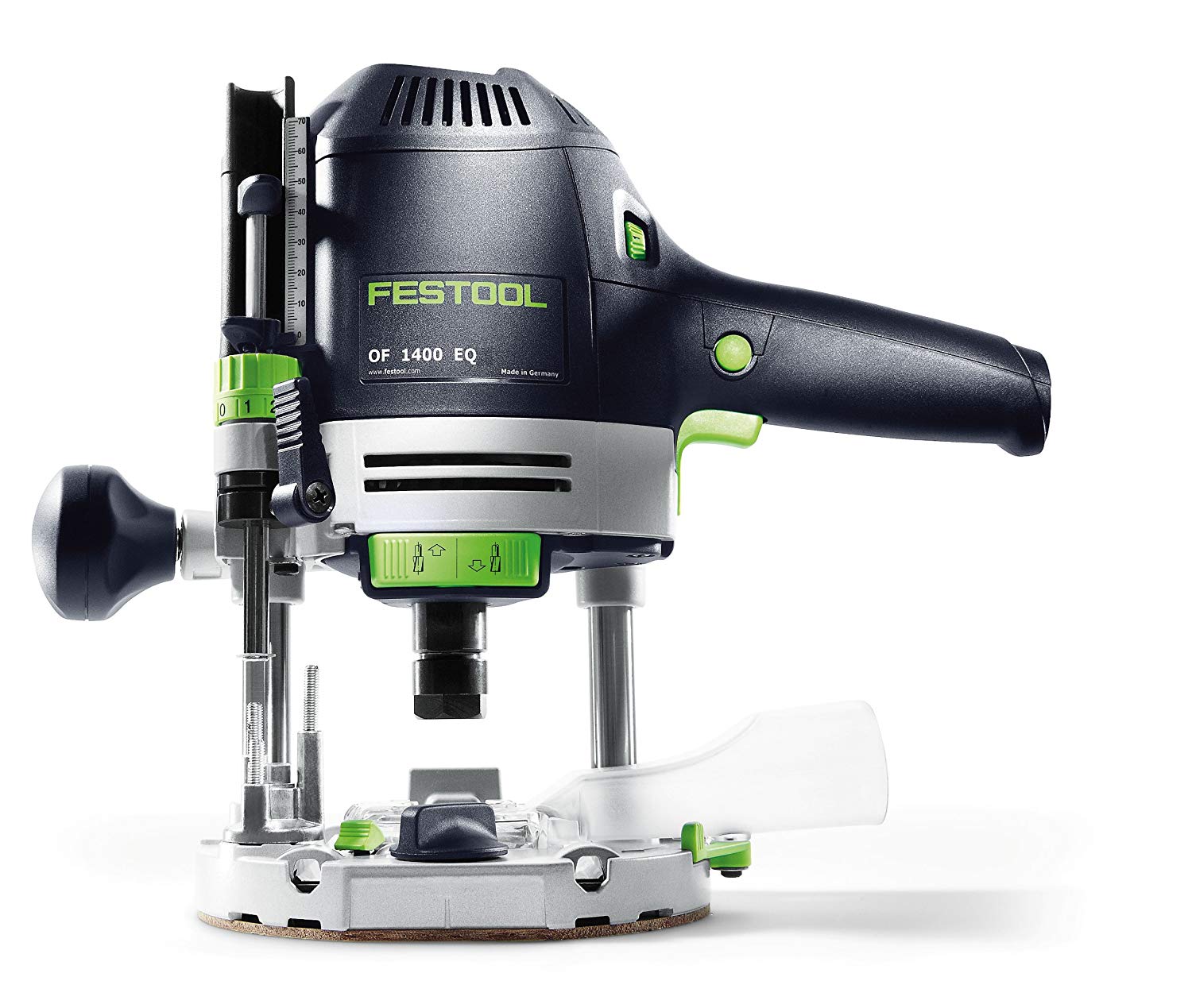 Festool 574692
Provides a smooth 2-3/4″ plunge action

Micro-adjustable depth control to 1/256″ (1/10 mm)
Double column clamp with a quick and secure plunge lock
This is one of the most versatile routers that is created by the Festool company. The router provides 1400 watts of power while weighing just about 10lbs. It accepts various bits and it has the power to handle tasks small enough to be very maneuverable. This router also gives you the ability, precision, dust extraction capabilities, and depth of cut.
It is designed with an ergonomic hand which makes operation easy for its users. One can say that this device will simplify their routine tasks.
Features
Features a comfortable ergonomic handle with full grip for more control and less fatigue during use.
Micro adjustable depth control of up to 1/256" with ball dents.
MMC electronic control feature for constant speed under load for a cleaner cut.
The Festool 57692 features a spindle lock for easy and quick changes of bits.
Best Motor found in a Router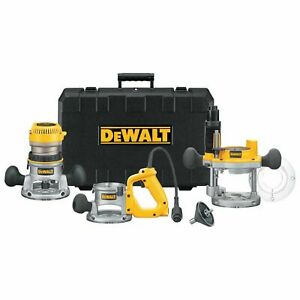 Dewalt DW618B3
2-1/4 HP (maximum motor HP), 12.0 amp electronic variable speed motor

8,000-24,000 rpm
D-handle incorporates trigger switch with lock-on feature
The Dewalt DW618B3 plunge and the base router have a powerful motor that is capable of routing through strong wood projects at variable speeds that are offered by the product.
This package comprises both the fixed and plunge base and the product itself features precise easy motor pack removals for base or bits changes and depth adjustment which is fast and easy and it can be done at any given time during operation.
Features
Features a 12 Amp 2-¼ HP motor that is capable of producing blade speeds of up to 8,000 – 24,000 RPM.
It has a soft start feature which reduces torque during start ups for greater control.
Micro-fine depth adjustment ring which provides precise depth adjustments.
Quick-release motor latches for easy and fast motor pack removal for base and bits changes.
Spindle lock available for a single wrench but change.
Comparison Table
Frequently Asked Questions
Conclusion
I hope I have made your decision a little bit easier by helping you see the different features narrowing down your search on the best plunge router you can lay your hands on. Although most of the job is done for you, you may still need to do a little bit of research to figure it out on your own from the list provided to you.
When you finally purchase your champion, you are going to find out the amazing features that the selected plunge router will give you. Any of these routers above are definitely going to make things easier for you but it is going to be up to you to choose the best option for your woodworking projects.