Last updated May 8, 2021
WoodRoutersReviews is supported by its audience. When you purchase through links on our site, we may earn an affiliate commission.
Our Choice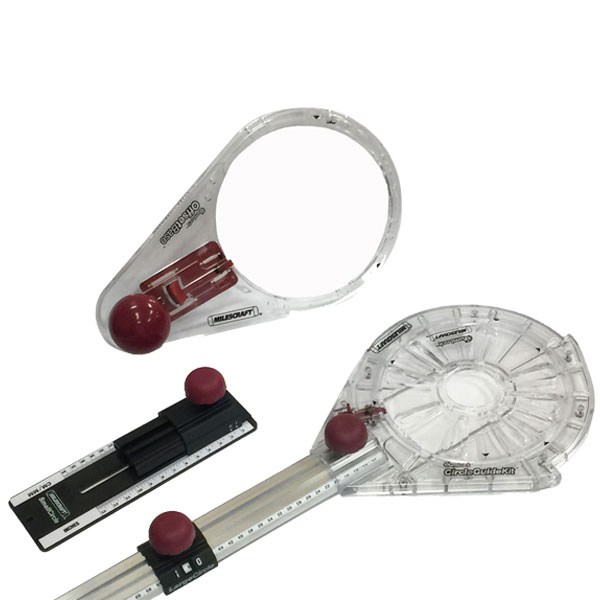 Milescraft 1219 circle guide kit includes a small and large router circle jig. Both the jigs feature an imperial and metric scale for precise measurements. Apart from that, it features a unique Turnlock technology for quicker mobility.
Our Top Picks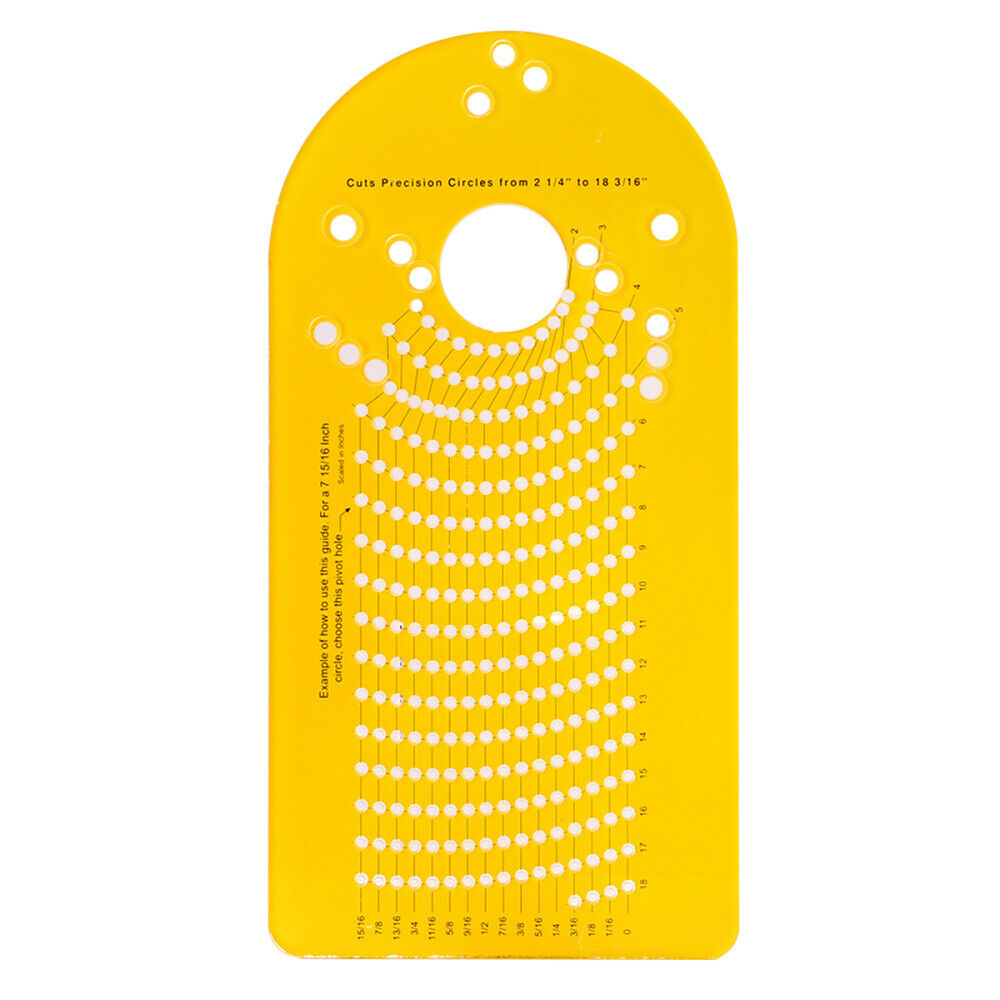 The Jasper 200J is an exclusive & sturdy design – the tool is compatible with more than 19 router makes. It also helps in creating around 256 circle cuts.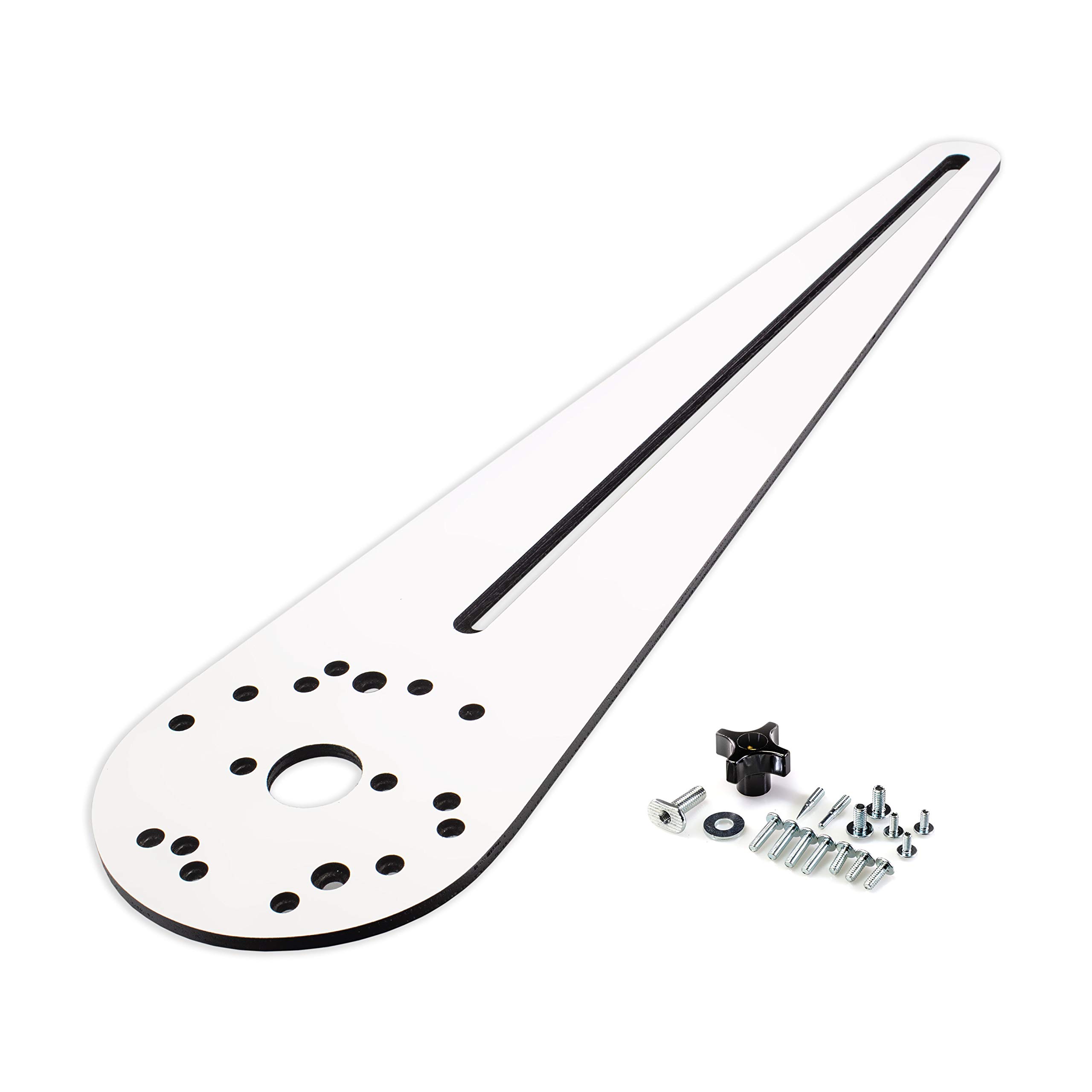 POWERTEC 71212 router circle jig features a 7-layer plywood construct known for its robustness. The product kit also includes different sizes of guide bushings and mounting hardware.
Router circle jigs are similar to regular woodworking jigs, except circle jigs provide exclusive support for creating precision-based circle cuts.
These products feature exclusive designs and robust constructs needed for effective woodworking and output. Some circle jigs contain metric scales, whereas others provide support for universal routers.
This article will review some of the top router circle jigs in the market and analyze a buying guide.
1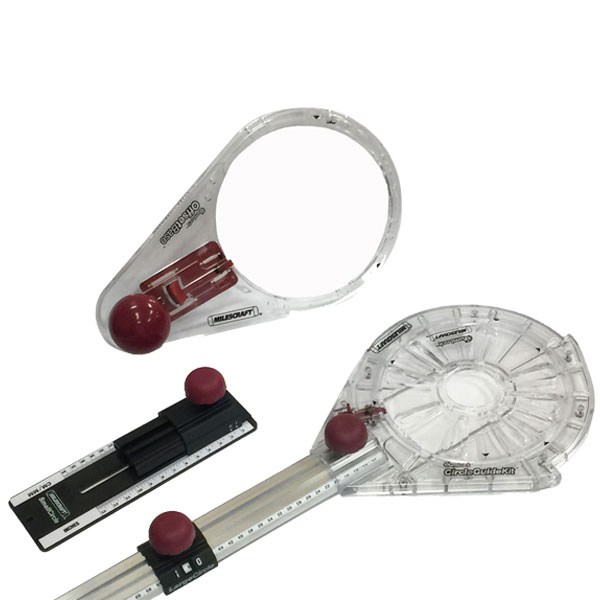 Milescraft 1219 is manufactured by Milescraft®, an American tool manufacturing company. The company is engaged in the development and marketing of various tools & equipment for woodworking and drilling.
Construct & Design
The kit consists of a small circle router jig and a large circle router jig constructed from stiff fiber or plastic with an attractive design. The kit also comes with a circle guide head for both the small and large circle router jigs, allowing convenient and secure holding in place while working. A 13-inch offset base in the kit adds stability to the overall woodworking operations and is used to add finishing edges to your work.
Versatility
Milescraft 1219 is a very versatile product, the small and large circle router jigs feature a built-in imperial scale and metric scale for precise settings. You can check the settings and measurements from the read-out window on the scales. The jigs present a patented Turnlock technology with them – this enables comfortable attachment of guide bushings and routers to the jig without needing a fixture or tool.

Pros
With the small jig, you can make circles of 1.5 To 12 inches in diameter and with the large jig, you can make circles of 10 to 52 inches in diameter.
Milescraft 1219 is compatible with hardwood as well as plywood.
The Turnlock technology allows quick router attachment and detachment.
The circle jigs are equipped with metric scales, which ensure precise circle cuts and high-quality output.
The offset base comes with an oversized handle knob for comfortably gripping the router.
Cons
The tool may not be universally compatible with all the routers.
Some users claim that the jigs feature a weak plastic construct.
2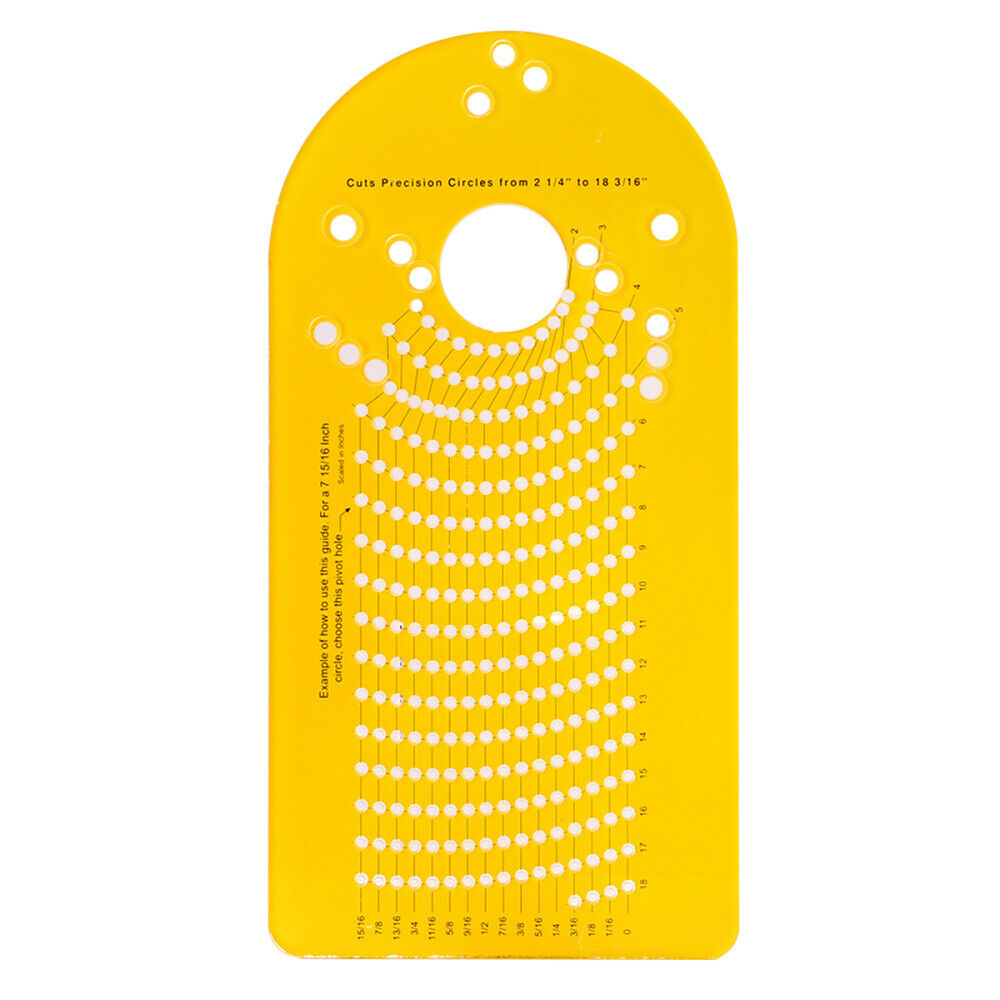 Jasper Precision Tools have been operating for over 30 years; the company develops and markets different types of precision jigs, router bits, and woodworking kits.
Construct & Design
The Jasper 200J circle cutting jig is made from hard brass material and features an exclusive design that works well with more than 19 different plunge router models. The jig has various precision-drilled pivot holes – the pivot holes hold pins for cutting a particular dimension circle. The circle jig features an inch scale for multiple bits.
Versatility
As per the manufacturer's claims, you can cut circles of 256 different sizes – the size ranges from 2-1/4 inches to 18-3/16 inches in diameter. The tool is auto-calibrated for a 1/4-inch router bit which means you do not have to calibrate it manually. When you are making a wheel cut, be sure to subtract 1/2 inch from your measurement for precise cuts.

Pros
Jasper 200J circle cutting jig works well with most plunge routers brands and various standard routers as long as the mounting holes in the base plate match.
The product is backed with many positive reviews, mainly because of its convenience and simple concept.
The precision-drilled pivot guide is a unique feature providing support for cutting 256 different size circles.
You can cut circles from 2-1/4 to 18-2/16 inches in diameter, which is a wide range when considering most plunge circle jigs in the market.
The tool is made of sturdy brass material.
Cons
Some users claimed that the mounting holes break easily upon fixing with the router.
The tool may not work with all types of routers.
3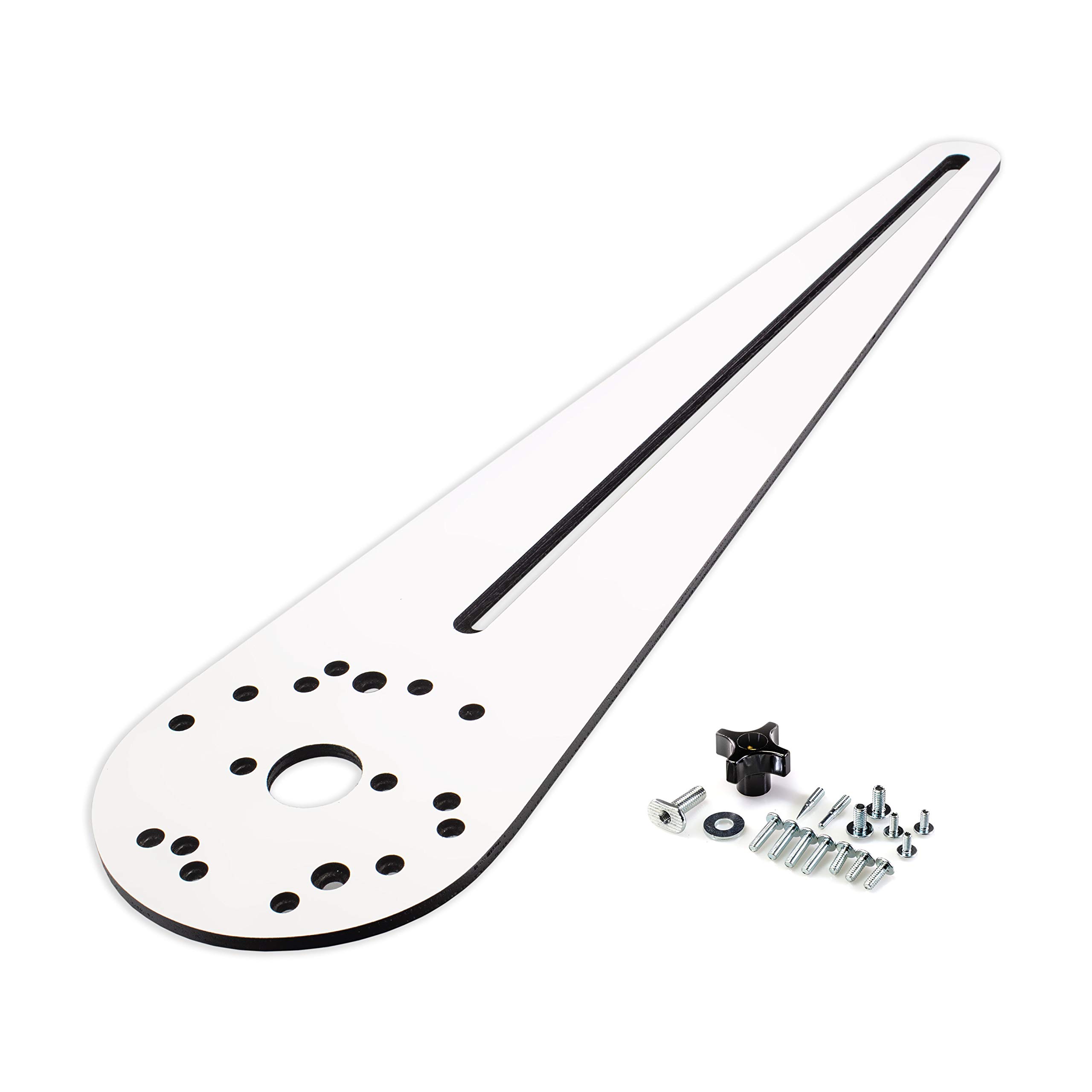 POWERTEC Tools is the manufacturer behind the POWERTEC 71212 circle jig. The company has been active for more than 40 years and markets power tools, hand tools, woodworking accessories, machine parts, hardware, and more.
Construct & Design
POWERTEC 71212 features a rugged design; it is made from melamine-coated 7-layer plywood. This construct gives the product stability and reduces the overall weight. The circle jig is designed as a unique router compass with pre-drilled precision holes for mounting to routers. The circle jig kit also includes insert pins, a 5/16-18 tee-bolt pivot pin, a 4-point 5/16-18 knob & washer, and screws of various sizes.
Versatility
The circle jig can be combined with various accessories in the kit like different size screws, pins, and pivot pins to rout circles from 10 inches to 53 inches in diameter. You can utilize the jig to work on table design, clocks, round frames, signs, and cartwheels. The tool's simple design and operation are beneficial for woodworkers and DIYers alike.

Pros
POWERTEC 71212 circle jig works well with various routers like Bosch 1617 and 1618, Porter Cable 7529 and 8529, Craftsman 315 175 series, and many more.
The pre-drilled plate and pins for mounting enable routing various sizes of circles.
The kit is equipped with two center pins.
The melamine coating and 7-layer plywood construct are known for stability and durability.
You can rout circles and design various types of clocks, tables, and signs.
Cons
Some of the users claim that the product is not durable.
Attaching the router and jig can be a little complex.
4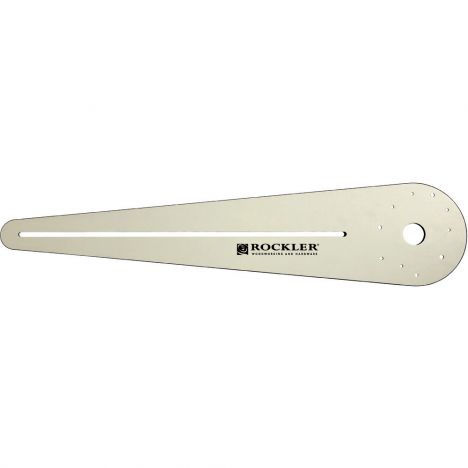 Rocker Woodworking has a long history of more than 50 years – today, it operates under the parent company Rockler Companies Inc. The company deals in several kinds of products under various sectors like woodworking, hardware, resins, and power tools.
Construct & Design
The circle cutting router jig from Rockler features a solid phenolic core design known for durability and long shelf-life. The jig kit also consists of mounting hardware and accessories like a T-bolt with four star tightening knob, screws of various sizes, insert pins, and two pivot center pins.
Versatility
You can cut circles of various diameters ranging from 10 inches to 52 inches. The two pivot pins in the kit are useful for routing perfectly-arced circles. You can use the pins for soft-woods or drilled center holes. You can also insert the pivot pins in the jig's recessed groove and slide it up and down the length to find a suitable & precise center point or diameter for your output.

Pros
The Rockler circle cutting jig works with various routers from Porter-Cable, Bosch, DeWalt, and more.
The solid phenolic core adds robustness and shelf-life to the product.
You can rout circles with diameters ranging from 10 inches to 52 inches.
Many positive reviews back the product.
It is a convenient jig with a simple working operation.
Cons
Some user reviews state that the tool is not compatible with various Bosch or DeWalt routers.
It is not suitable for high-end precision working.
5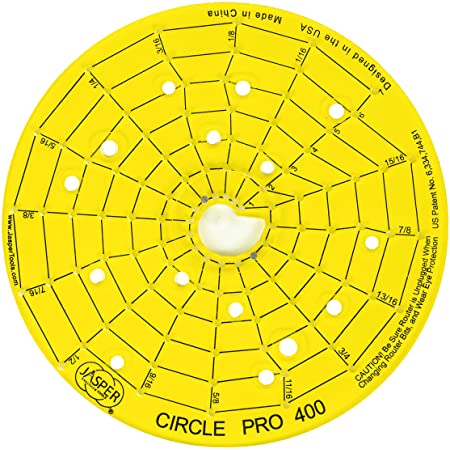 The Jasper 400J model is manufactured by the Jasper Precision Tools company, which also develops custom router jigs, power tools, jig kits and more.
Construct & Design
The Jasper 400J circle jig features a cast acrylic construct and is 3/8-inch in thickness. The circle jig includes pre-drilled holes that are useful to mount with pins for routing different circle sizes. A guide is present on the jig's body. Jasper 400J is suitable with several types & brands of routers and as a sub-base for plunge routers.
Versatility
The circle jig can fit 47 different routers, including the DeWalt DW611, Porter-Cable PC450PK, Ryobi RE180PL, and more. You can make 120 types of circle cuts in the incrementing range of 1/16-inches. The router jig is suitable for making small and medium-sized cuts in the range of 1-inch to 7-1/2-inches in diameter.

Pros
The Jasper 400J is made from cast acrylic material which is very durable and lightweight.
It is compatible with multiple router brands like Porter-Cable, Makita, Hitachi, Ryobi, Bosch, and more.
You can rout circles in the size range of 1-inch to 7-1/2-inches in diameter.
The pre-drilled holes in the jig mount well to different sizes of pins for creating various circle cuts.
Various positive reviews back the product.
Cons
Some users claim that the jig breaks easily upon application of pressure.
It is not suitable for routing circles in larger diameter ranges.
6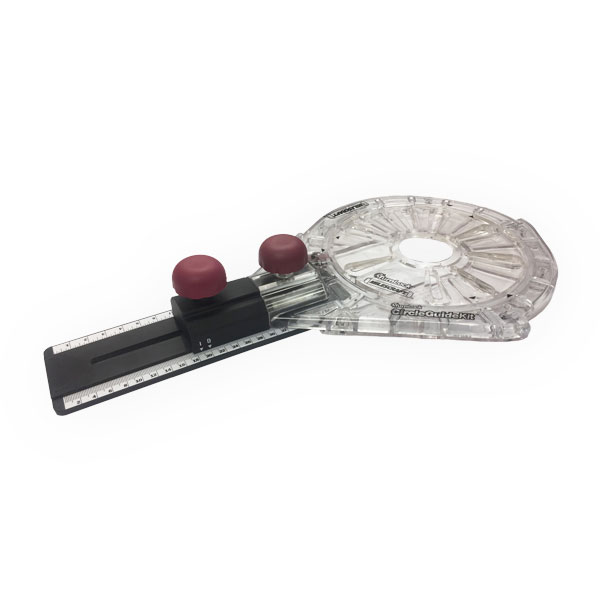 Milescraft® is the manufacturing company of the Milescraft 1210 SmallCircleCompass brand. The company also develops and markets various cutting tools, measurement tools, precision tools and power tools.
Construct & Design
The small circle jig is made from durable polycarbonate material featuring a built-in imperial and metric scale. You can utilize the scale for setting precision before operations; the reading is accessible on a read-out window. The circle cutting kit also comes with a circle guide head, a 1/4″ straight router bit, a 3/32″ Brad Point drill bit, and a 5/8″ long nose metal bushing.
Versatility
The Milescraft 1210 SmallCircleCompass is useful for routing circles from 1.5 inches to 12 inches in diameter. The product is equipped with the patented Turnlock technology, which allows for quick attachment between the router and jig.

Pros
The circle jig is made from a robust material that also increases the shelf-life.
You can cut circles with diameters ranging between 1.5 inches to 12 inches.
The kit also presents mounting hardware like drill bits, router bits, metal bushing, and pins.
The Turnlock technology is very beneficial because it allows easy attachment of the router and jig.
You can use the jig for designing clocks, tables, and signs.
Cons
Some users claim that the construct of the jig is weak.
The product is not compatible with some brands of trim routers.
Buying Guide
What is a router circle jig?
We are familiar with router jigs is and their intended use. They can be classified as per their forms, sizes, material make, brands, and desired output. It is safe to establish that without router jigs, precision woodworking would be an arduous task.
This is where router circle jigs come in – have you ever tried cutting a circle or similar output by freehand routing? Yes, almost impossible, right? Even if you manage to cut a circle, it won't be a perfect one, lacking precision and compromising the output.
Router circle jigs help to cut a perfect circle with routers and suitable bits. The jigs are usually pre-drilled pivot holes and feature guides for different sizes of circular cuts.
Why do you need a router circle jig?
As we discussed above, router circle jigs help cut precise circles – a necessity in several woodworking projects. Router circle jig kits are equipped with mounting accessories and hardware like insert pins, guide bushing, screws of various sizes, drill bits, circle guides, and measurement scales.
Circle jigs are used for various operations and outputs; the following are some:

Signs: Precise circular signs and round shapes are very attractive & in demand when it comes to woodworking practices. They can be used for a house plate, business signs, and gifting.
Rabbets: Circle jigs are useful for making rabbet cuts needed for joining two wooden structures or designs. It finds wide applications for making round frames.
Inlays: Round inlays are a broad requirement in woodworking and the commercial market; however, precise round inlays can be made only from high-quality router circle jigs.
Other applications: These tools also find use in making speakers, tables, and centerpieces.
How do you operate a router circle jig?
Step 1: Attaching the router and jig
A router circle jig has a straightforward operation. Most circle jigs feature pre-drilled pivot holes in which insert pins and screws of an appropriate size are placed – these screws hold the routers in place with the jig. Different brands of circle jigs correspond to different pivot holes.
Step 2: Make your adjustments
After attaching the router and circle jig, you will need to make diameter adjustments as per your required output. Insert guide bushings into guide holes and pivot points for precise adjustment of the tool. Many circle jigs feature a metric scale for cross-checking the measurement settings.
Step 3: Fixing the base
Circle jig kits also include a T-screw and knob, which is placed in grooves of the jigs – this is attached to the centering pin of the jig's base for an appropriate setup. Now the jig acts as a compass, and you are ready to proceed with the actual operation.
What to look for in a router circle jig?
Compatibility
Most router circle jigs are marketed as universally compatible attachments; however, it is not always true. First, consider the brand and types of routers you own. Circle jig might be compatible with plunge routers, fixed routers, and trim routers. Check whether your potential circle jig has pivot holes that correspond with your routers. If all the checkpoints are cleared, proceed to the following screening steps.
Versatility
A router circle jig should be versatile; that goes without saying, right? Circle jigs come in various types of constructs and sizes. Some are meant for small circles, while others are meant for larger circles. You can choose a small router circle jig that cuts circles in the diameter range 1-inch to 7-inches, or even select a large circle jig that cuts circles in the diameter range 10-inches to 53-inches. The ideal router circle jig should be beneficial for creating rabbets, circle inlays, table cuts, clocks, speakers, and more.
Construct & Design
A router circle jig is usually constructed from acrylic, nylon polymer, plastic, and brass. The ideal circle jig should be sturdy to handle the router movements, durable to withstand customization of pivot holes for incompatible routers. Most router circle jigs come with additional design features like a metric scale and viewing window for double-checking measurement setup. The kit should also include appropriate guide bushings, pivot screws, and knobs that fit the compatible routers. Unique design features like a locking system, jig guide, and various size bits are a bonus.
Frequently Asked Questions
Verdict
This article consists of detailed reviews of reputed router circle jigs – these products are equipped with various types of features and additions, making them one of the most utilized tools in their niche.
We have understood the importance of router circle jigs and how they contribute to the superior quality of exclusive designs like clocks, speakers, circle inlays and more. Moreover, our buying guide follows a simple structure that will help every user.
Still cannot decide on a router circle jig for your work? How about considering one of our top picks?