Last updated September 23, 2021
WoodRoutersReviews is supported by its audience. When you purchase through links on our site, we may earn an affiliate commission.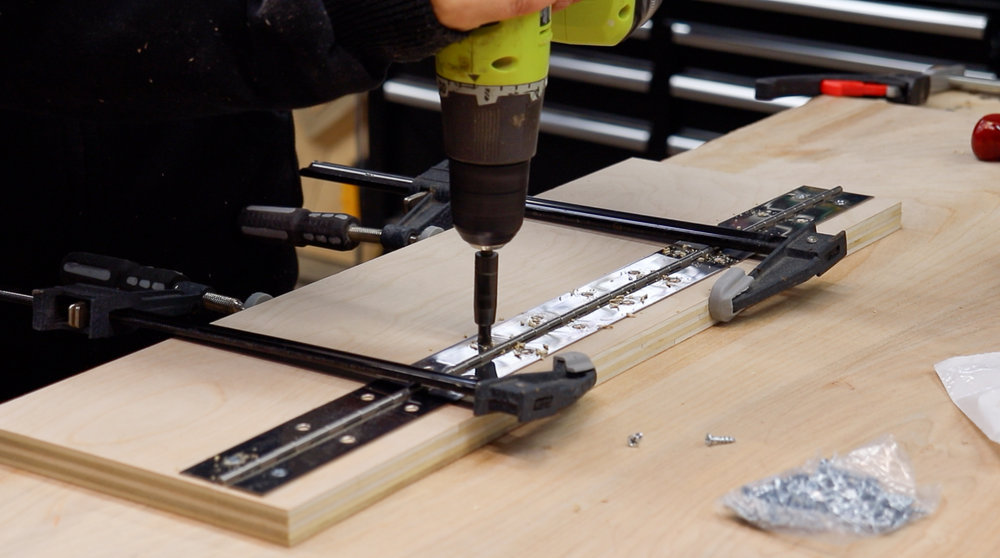 Router edge guides are an essential part of woodworking and carpentry – routers are appliances used for carving cuts, design, and various wood joints.
These routers need a guiding factor that ensures proper carving and output – router guides, also called edge guides, hold the router in place by attaching itself to the router base plate. These guides have in-built rods or fixing screws that do the job.
We have reviewed various router edge guides suitable for your woodworking needs – router edge guide kits don't just contain edge guides. They also include support rods, additional thumbscrews, in-built fine adjustment-knobs, and dust collection accessories. You can refer to the detailed buying guidelines after the end of the review section.
Buying Guidelines for Router Edge Guide
What is a router edge guide, and how is it operated?
We all know about template guides; they are tools constructed from sturdy material like aluminum or steel and feature 'teeth' or cutting slots of a particular dimension. The cutting slots are utilized for designing varying types of joints in woodworking.
Similarly, router edge guides are tools that attach a router to the router base – the guides attach the two components and facilitate smooth movement of the router over a work surface. The router path is controlled by the router guide, ensuring precision, output quality, and quality of work.
What is the construct of router guides?
Router guides are constructed from durable materials like steel alloys and treated or non-treated aluminum. The router guide body consists of a part called the fence fixed to the body via thumbscrews or exclusively designed threaded screws.
A router guide usually includes holding rods – these rods pass from the fence and are affixed to the router base through pre-existing holes in the router base. These rods are constructed out of steel or any other sturdy material – the rods attach the router guide to the router base – the router base holds the router in place for woodworking.
The guide is also equipped with a precision knob for micro-adjustments of coarse adjustments – these adjustments ensure top-notch performance while working and high-quality outputs.
What is the need for router guides?
It doesn't matter if you're an amateur, intermediate, or an expert woodworker – neither does it matter if you are a carpenter, hobbyist, or looking to learn woodworking; router guides are necessary for precise woodworking.
There are various types of cuts and joints that need a router guide:

V-groove, bead, and flute cuts.
Curved shapes like circles, inlays, and arcs.
Joints like screw-slots, dadoes, dovetail joints, and mortise.
Other patterns like rabbets, round-overs, and tongues.
Using a router guide for your projects eliminates low-quality output, prevents workplace hazards, minimizes errors, and improves work experience.
How to choose the perfect router guide?
There are several factors that we consider to choose our ideal tools or gadgets, right? Let's see how we can choose the perfect router guide:
Material make or Construct
A router guide should always be made from durable and sturdy material; simultaneously, the material should not hinder the woodworker's performance. It should not be too heavy and should not disturb the router sliding over the working table. Router guides are usually constructed from steel, aluminum, UHMW plastic, and acrylic. You should also consider the amount of work and performance you expect from your tool – this way; you can choose a product with a longer shelf-life.
Size and fitting dimensions
Router guides are designed for all types of routers: plunge router, fixed base router, and palm routers. Before finalizing your choice, ensure that it fits your regular router perfectly. It often happens that router guides from a particular brand are designed for routers by the same company. Specifications like these are always mentioned when you are browsing for your tool, but sometimes this information is not present – check with a sales representative or shop executive.
Versatility
It would help if you always looked for versatility and utility when choosing woodworking equipment or accessories. Some router guides are designed only designed for fixed-base routers, and some are universal. You should pick the most adaptable for your needs. Router guides are not just needed for joints; they are also utilized for cuts and designs. A versatile router should make dovetail joints, rabbets, V-grooves, mortises, dadoes, and more.
Safety
Safety comes first, right? It is especially true when you are involved in woodworking and handling tools like routers, axes, and fixtures. The ideal router guide should not have any chafed areas or sharp edges on its surface – the construct material should be free of abrasion. The purchase you make should include guidelines for proper handling of all the inclusive parts. Always choose a router passed through quality control and necessary SOPs.
Other additions
Router guides aren't just about a fence, a few thumbscrews, and steel rods – many manufacturers, equip other parameters or accessories with the guide. A router guide equipped with a vacuum duct, adapter, and adaptable to various hose dimensions is ideal for keeping your workspace clean. Sometimes router bits are not visible, especially if they are very close to the guide or outside surfaces – many router bits are equipped with laser lights to address this issue. Similarly, in-built LED-light helps illuminate the work surface and also lets you see your layout lines. Routers can tip when you are working close to the edge – to prevent tipping, router guides are provisioned with offset baseplates.
Best for Bosch Routers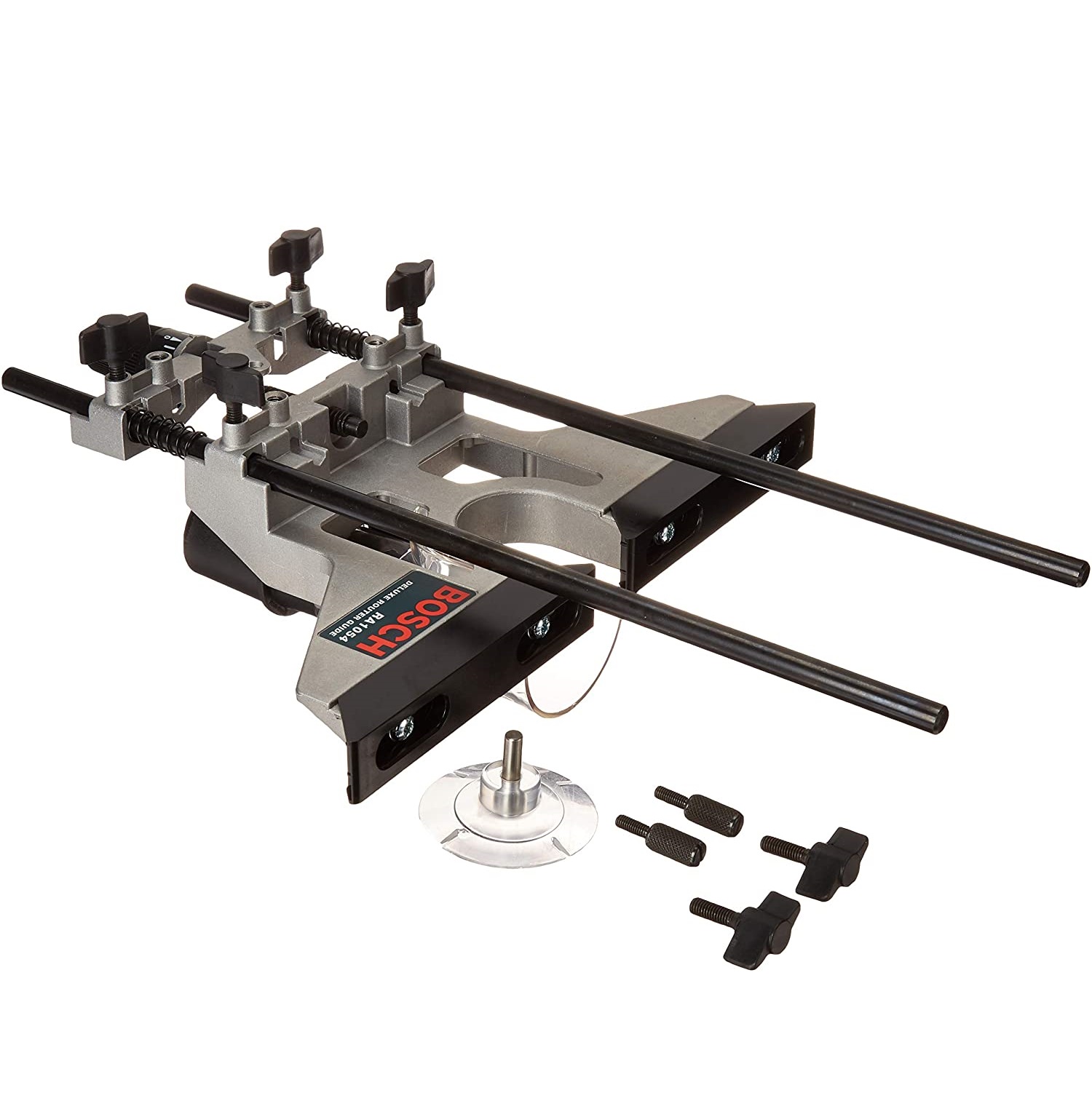 Works with MRF01, VAC006, MRF23EVS, VAC021, 1618EVS, 1617, 1617EVSTB, 1617EVSPK, MRP23EVS, 1619EVS
Allows connection to 1 1/4 inch, 1 1/2 inch and 35mm hoses
It possible to do edge-forming using non-piloted bits
Bosch is a globally known technology and engineering company backed with more than 100 years of legacy. The Bosch Tools division develops the Bosch RA1054.
Construct and design
RA1054 features a hard-aluminum constructed body with durable steel rods to affix to ideal router bases and hold the router in place. The guide is equipped with a plastic precision knob to set the dimensions of the central rod. The RA1054 is also equipped with a transparent plastic dust-collection duct attached to a vacuum hose adapter – black plastic thumbscrews are structured to the body; they aid in holding the steel rods in their place.
Versatility
The RA1054 works along with multiple Bosch products like the MRF01, MRF23EVS, 1617, 1617EVSTB, 1617EVSPK, and more. You can make 8-inch edge cuts with the product – the smooth transition on router bases also helps edge forming when you're using non-piloted bits.
Pros
A dust extraction hood, vacuum adapter, and compatibility to various hoses help maintain a mess-free workplace.
You can make 32-inch diameter arcs and circles with the circle guide convertible feature.
RA1054 is also compatible with other company routers.
The product can be used with both, plunge router and a fixed base router.
The set comes packed with other necessary accessories.
Cons
Some customers have complained about the improper functioning of the adjustment knob.
Some users also report a degree of slippage or slop.
Overall impression
Bosch's RA1054 is a modern solution for all edge cutting and woodworking needs – the high-standard design and performance ensures error-free outputs.
Best for Dewalt Routers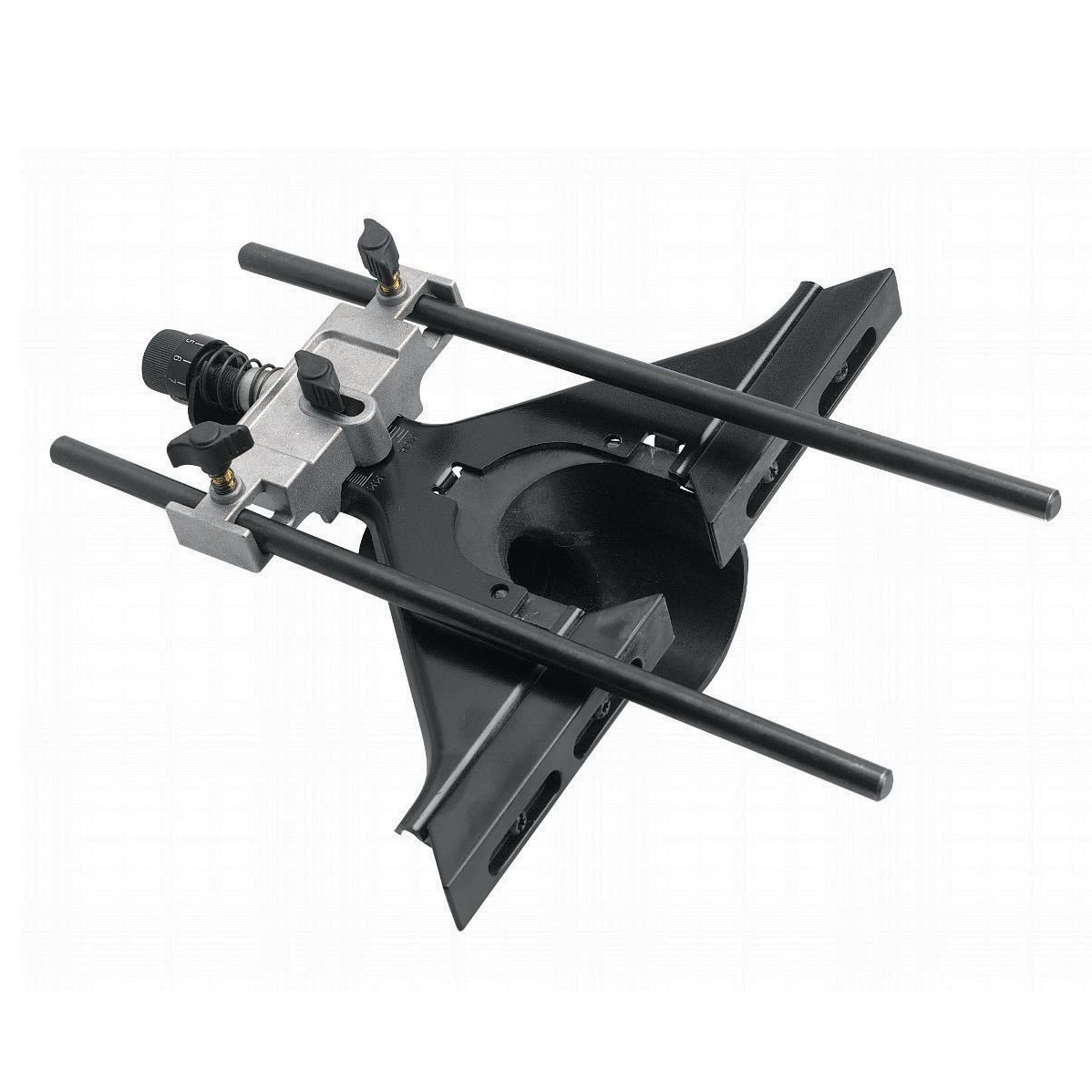 Includes adapter for use with standard 1-1/4, 1-3/8 and 1-1/2-inch shop vacs
For use with all DEWALT routers
Easy-to-read adjuster for precision set-up
DeWalt is a reputed multinational company based in the US – the company makes power tools and handheld tools and is serving satisfied customers for almost a century.
Construct and design
The DeWalt DW6913 is constructed out of durable aluminum and steel alloys – the fence is equipped with black plastic thumbscrews, threaded perfectly to hold the steel rods and router base in place. The product comes with two pairs of steel rods – one pair is longer than the other. The DW6913 is also installed with a plastic precision knob and a vacuum hose adapter.
Versatility
The DW6913 router guide provides much-needed utility – you can easily work with and develop mortises with the tool. The short rods included in the set are threaded on one end to enable mounting with a DeWalt dw610 base. The vacuum adapter attaches to various hose dimensions:  1-1/4-inch, 1-3/8-inch, and 1-1/2-inch.
Pros
DW6913 router guide has vacuum support, keeping your work area clean.
The tool is compatible with almost all DeWalt routers and is also compatible with other selected router brands.
The DeWalt DW6913 router guide is a suitable tool for beginners in woodworking.
The tool kit is equipped with two-rod pairs of different dimensions; this helps for various fixations and edge work types.
The durable aluminum fence is loaded with a precision knob for fine-tuning and positioning.
Cons
Many users have reported that the guide is not compatible with fixed base routers.
The setup does not include an instruction manual.
Overall impression
DeWalt's legacy is reflected in the elegant design of the DW6913 – it is a nifty tool for edge working and beginner level woodworking.
Best for Porter Cable Routers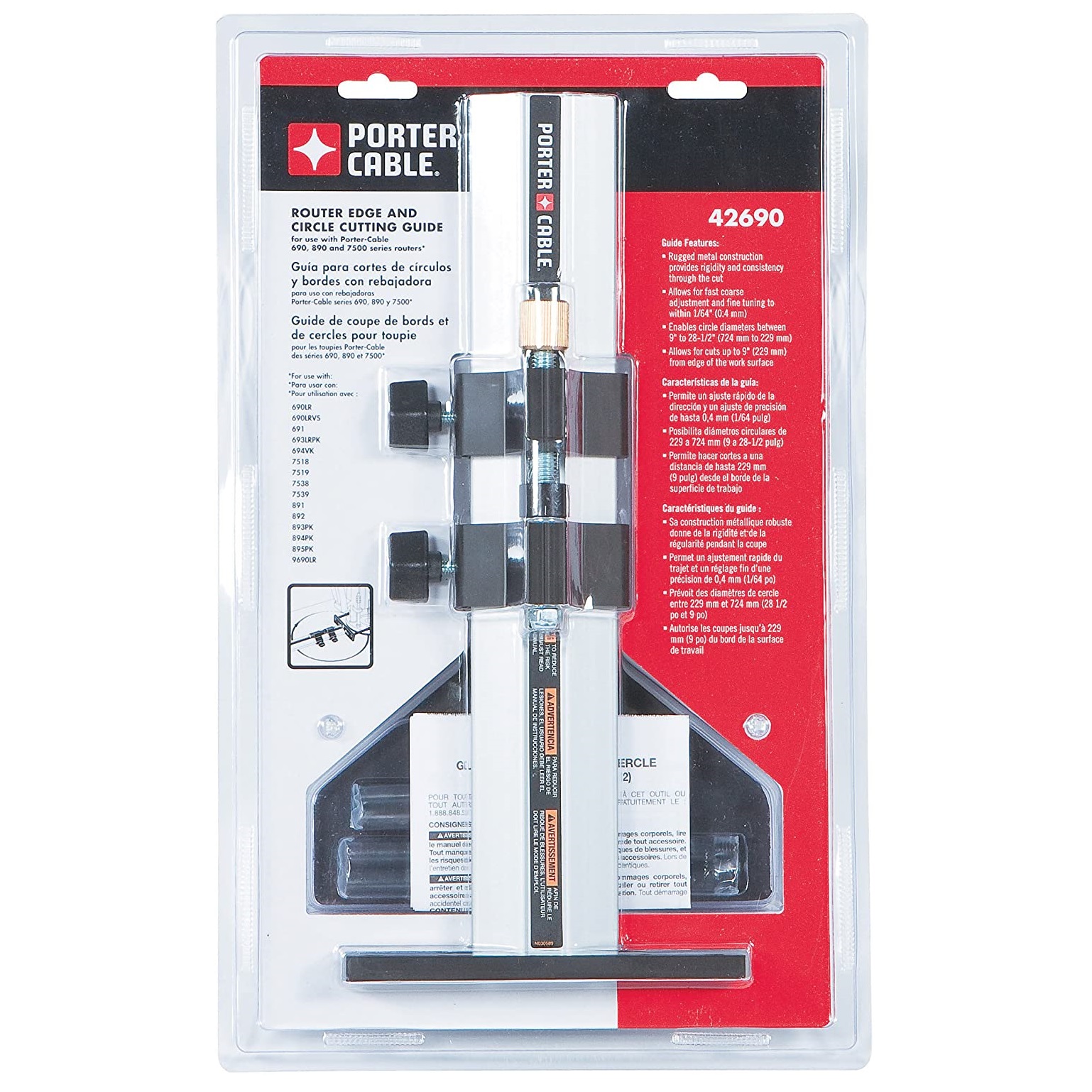 Fits various PORTER CABLE models
Designed for models 100, 690, 691, 693, 891, 892, and 893
Mounting hardware comes included
Porter-Cable is another well-known machining, tool & accessories manufacturing company based in the US. The company is involved in providing hassle-free tooling solutions for over a century – the Porter-Cable 42690 edge guide is another one of those creations.
Construct and design
The Porter-Cable 42690 is constructed out of durable anodized aluminum and complemented with OEM grade steel screws and secondary parts. The aluminum construct helps in easy movement over the work surface – the dual sliding and lockable mounts are ideal for the tool's desired performance. Porter-Cable 42690 guide set includes black thumbscrews and additional fixtures for the fence.
Versatility
The tool is utilized for precise edge cutting and woodworking – Porter-Cable 42690 works well with Porter-Cable router models 100, 690, 691, 693, 891, 892, and 893. This tool finds various applications in making grooves, creating circle patterns, and dovetail jig work.
Pros
The Porter-Cable 42690 works well with Milwaukee 5616 series routers.
The material is heavy-duty, providing durability and comfortable working space.
This is the most utilized guide for Porter-Cable routers.
You can make micro-adjustments and coarse adjustments with the provided adjustment knob.
Dual sliding and lockable mounts.
Cons
The tool is not equipped with a dust collection vacuum duct.
It doesn't fit the Porter-Cable 7529 plunge model.
Overall impression
Porter-Cable hardware tools are known for their durable design and adaptability – the Porter-Cable 42690 is one of the best edge guides for routers aiding in precise work.

Best for Fixed Base Routers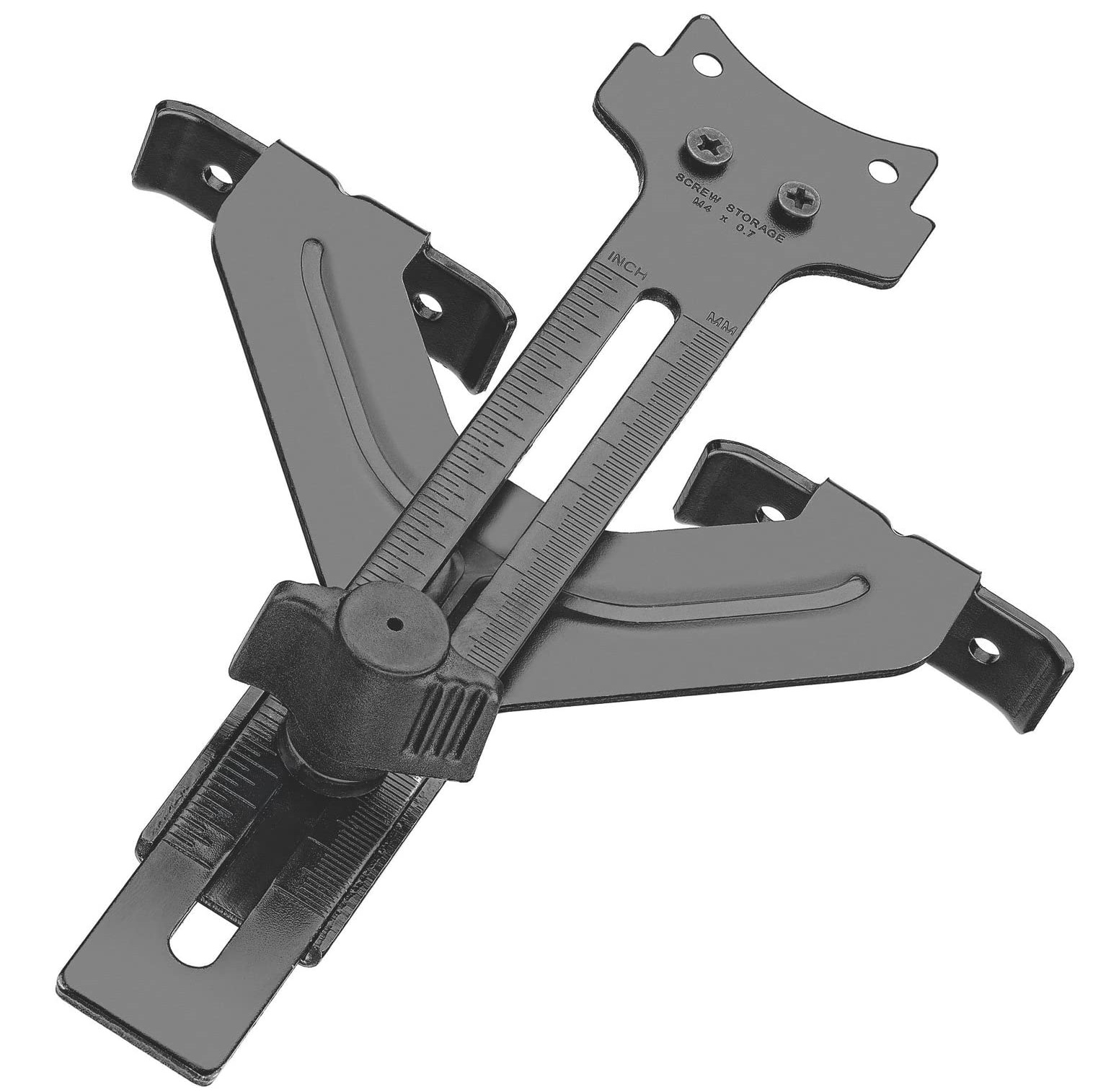 All steel construction
Quickly attaches to fixed base compact router
Allows for precise positioning of inlays, dadoes, etcetera
The DNP618 from DeWalt is a router guide made exclusively for fixed base router use and simplified woodworking. The DeWalt company is serving hardware workers for many decades; its reputation is seen with its products.
Construction and design
The DNP618 body comprises an all-steel construct with a durable adjustment knob and aluminum threaded screws that hold the body. The tool doesn't include any steel rods for holding the router – the product is meant for fixed-base routers and locks to the router with the screws. The construct features sliding and locking adjustment.
Versatility
You can design various types of joints with the DNP618 like dadoes, mortise & tenon, and half laps – the tool aids in precisely positioning inlays owning to its nifty functions. You can extend into 3 inches from the edge of the material – the precise locking mechanism and sliding are the contributing factors.
Pros
The DeWalt DNP618 is a budget edge guide and compares well to its peers.
The tool can be installed easily with cordless and corded routers without removing the router base.
The durable but sleek steel body ensures a smooth workspace.
According to some users, the guide does attach with DeWalt DWP611PK plunge base router.
DNP618 is an ideal tool for beginner woodworkers.
Cons
Some users have pointed out quality issues with the design.
Some users have also reported a certain degree of wobble when using the router with this edge guide.
Overall impression
Although DeWalt develops premium quality woodworking tools and accessories – the DNP618 has received mixed reviews from users for sub-par design and insufficient information. But if you consider the DNP618 as a budget tool with specific performance, it is ideal for woodworking and creating utility joints for beginners.

Best Budget Edge Guide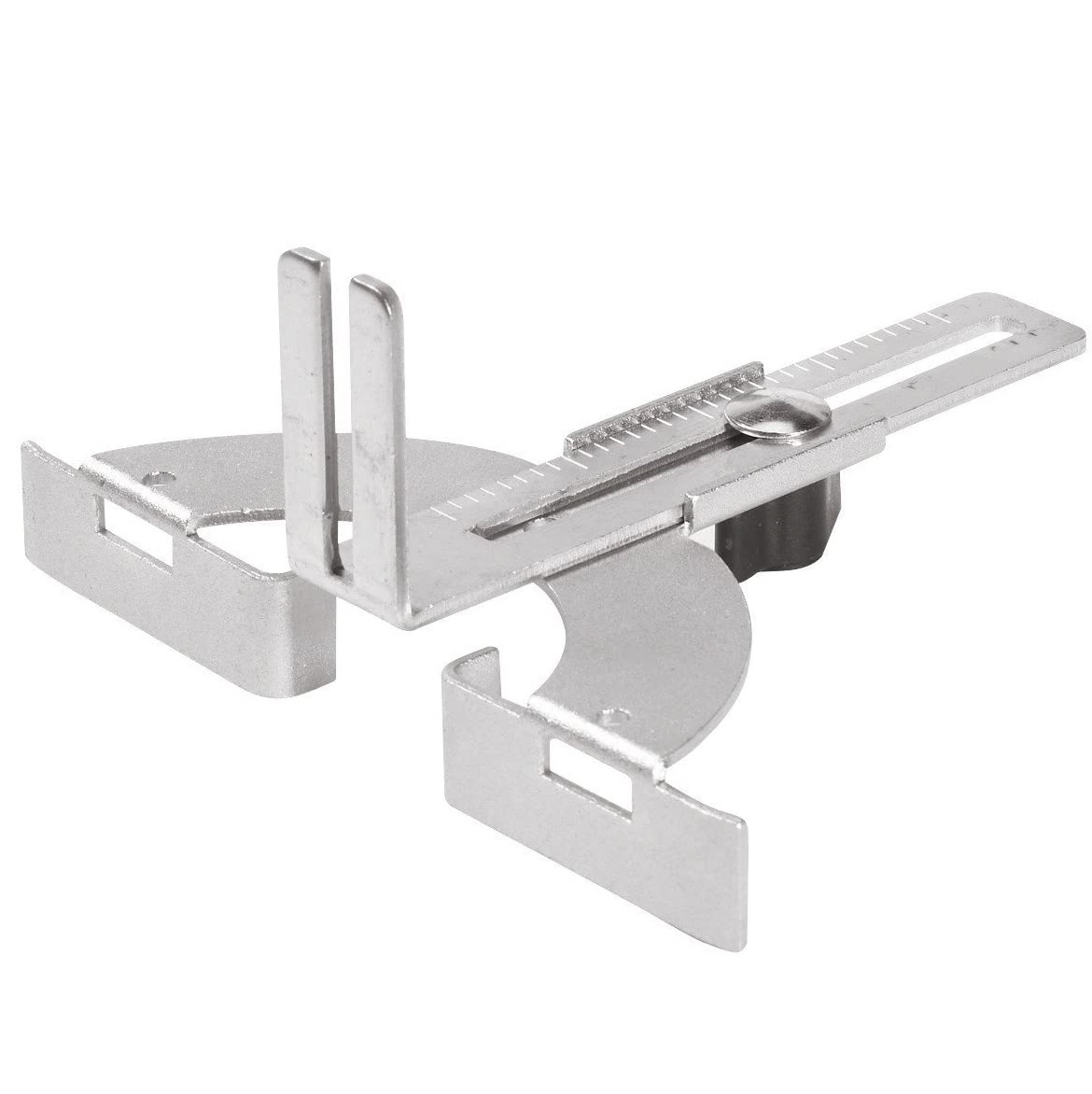 Mounts to Bosch GKF125CE, PR10E, PR20EVS, palm routers' PR001 and the PR101
Adjustable – allows adjustment up to 3-5 8 in.
Durable build – features steel construction
Bosch's dedication to hardware workers, tool-handlers, and woodworkers is seen with their range of router guides, developed as per varying needs. The Bosch PR102 is a tool exclusively developed for palm routers, also known as hand routers.
Construct and design
The PR102 features a steel body that reflects high durability and maneuverability – the steel body consists of a fence, and a marked platform joined together by a screw. The market platform features a black thumbscrew that also acts as an adjustment knob. Mountain hardware is also present with the product set.
Versatility
The PR102 is a unique design for palm routers; it works well with Bosch routers GKF125CE, PR10E, and PR20EVS. The router edge guide also works with fixed base routers PR001 and the PR101. The PR102 guide is ideal for creating slots, grooves, and various joints. You can create these slots 3-5/8 inches in from the edge with the edge-forming operations – it uses bits without bearings for these operations.
Pros
Bosch PR102 is made of a sturdy steel body for hassle-free woodworking.
The tool is adaptable to various Bosch palm routers and fixed base routers.
You can create straight edges comfortably with this router guide.
Marking is present on the platform parallel to the fence aid in precise work.
The tool's smooth make and simple operation enable it to glide effortlessly on the work surface.
Cons
The Bosch PR102 is not suitable for professional or high-grade work.
The tool is not provided with an offset.
Overall impression
Bosch PR102 is suitable for woodworkers who are still getting to know their way around various cuts and joints.

Best for Festoll Routers
Constructed from durable cast aluminum, and includes fiber-reinforced plastic thumbscrews
Attaches quickly and easily using integrated thumbscrews
Allows you to dial in the distance from the material edge in increments of 1/10mm for ultra-precise routing
Festool is a German multinational company involved in designing and developing power tools and handheld tools for various hardware work types. This edge guide is exclusively designed for OF 1400 Router.
Construction and design
The tool's body is constructed out of durable cast aluminum with integrated thumbscrews made out of fiber-optimized plastic. Two steel rods and additional thumbscrews are also loaded with the product set. The Festool 492636 is equipped with a dust-extraction hood, thereby preventing a messy workspace and featuring an elegant design.
Versatility
The Festool 492636 is a versatile tool – you can create multiple cuts and profiles like dados, flutes, grooves, ploughs, and rabbets. The tool is known for its precise setting and output, credited to its fine-adjustment system or knob – you can increase the distance from the material edge in increments of 1/10mm.
Pros
Keep your workspace clean with the in-built dust extraction hood and support for multiple vacuum hose systems.
The durable design of the body and secondary parts enable smooth flow over the working surface.
Fiber-optimized plastic components have a long service life.
The tool is easy to attach with the router and to make precise adjustments.
You can efficiently work the edges of doors and narrow stock with this router guide.
Cons
The tool is exclusive only to the OF 1400 router.
The product is not suitable for small-time projects.
Overall impression
Festool is well-known for creating tools equipped with dust extraction technology – the German company has been in the tool-making business for almost a century, and its high quality is seen in the Festool 492636.

Best for Ryobi Routers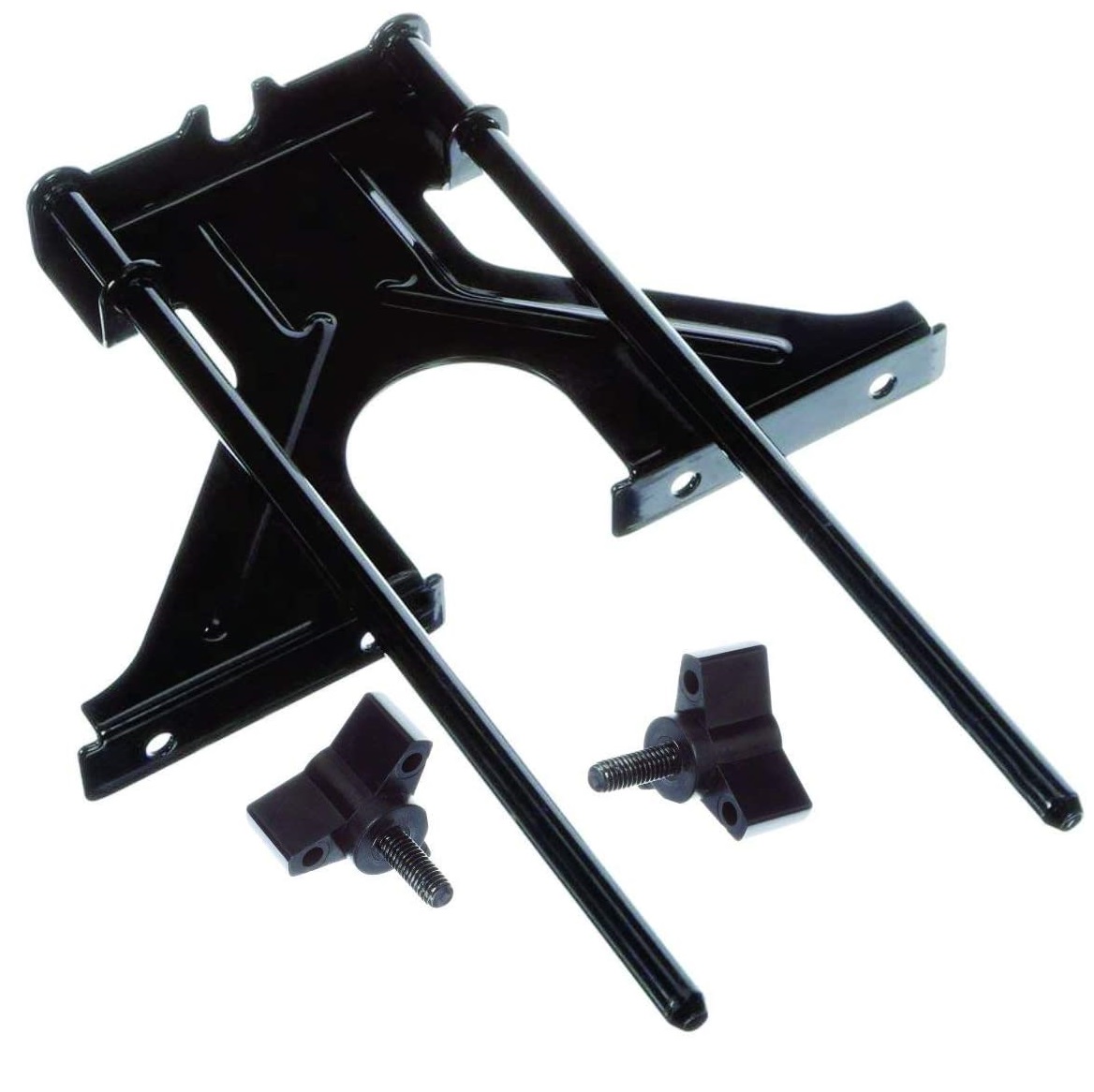 Enhances router versatility
For straight and grooved cuts
Compatible with most Ryobi router models
Ryobi is a multinational Japanese company involved in automobile and electronic components production – the company also develops power tools and hardware tools.
Construct and design
The Ryobi 6090080 straight edge guide is constructed from sturdy steel and polished with a brilliant shiny black color. The setup is provided with guide rods for effective handling of Ryobi routers – the guides are 3 and 1/4 inches from the center. You will also have access to attachment knobs with your purchase.
Versatility
The sleek design of Ryobi 6090080 enables smooth maneuverability on the work surface. You can make various types of cuts like straight and groove cuts parallel to the work piece's edge. The router guide is compatible with various Ryobi models:  Model No. R160, R161, R165, R170VS, R175, R180, RE180PL, RE1802M, RE601, R1801M, RE185.
Pros
Ryobi 6090080 features superior Japanese technology and design.
The tool is compatible with most Ryobi routers.
You can make straight cuts, groove cuts, and dadoes.
The sleek steel design and elegant look of the tool are an attraction for woodworkers.
It is effortless to install with the router.
Cons
The tool only works with plunge routers.
The product set doesn't include guidelines for use and specs.
Overall impression
Ryobi has created one of the best router guides for woodworkers and hobbyists – you can utilize the tool for multiple operations.

Comparison Table
Product Name
Adjustable
Construction
Material
Bosch RA1054

MRF01,
VAC006,
MRF23EVS,
VAC021,
1618EVS,
1617,
1617EVSTB,
1617EVSPK,
MRP23EVS,
1619EVS
Die-cast aluminum,
Steel
Plastic
DEWALT DW6913

All DEWALT routers
Steel,
Plastic
PORTER-CABLE Model 100

For Model
100,
690,
691,
693,
891,
892,
893
Routers
Anodized
Aluminum
DEWALT DNP618
Fixed Based Compact Routers
All Steel Construction
Bosch PR102
Mounts to Bosch GKF125CE,
PR10E
PR20EVS
All Steel Construction
Festool 492636
Festool OF-1400 Router
Cast Aluminum Construction
Ryobi 6090080

Most Ryobi Router Models
Metal
Frequently Asked Questions
Verdict
Router guides are the spreader to butter and bread – without these nifty tools, woodworking, carpentry, and hobby arts would become very challenging.
All the products we reviewed are carefully assessed based on crucial selection parameters and keeping in mind the needs of woodworkers and hobbyists. The multi-faceted operating mechanism and utility features make the above-reviewed products some of the best router guides.