Last updated December 6, 2019
WoodRoutersReviews is supported by its audience. When you purchase through links on our site, we may earn an affiliate commission.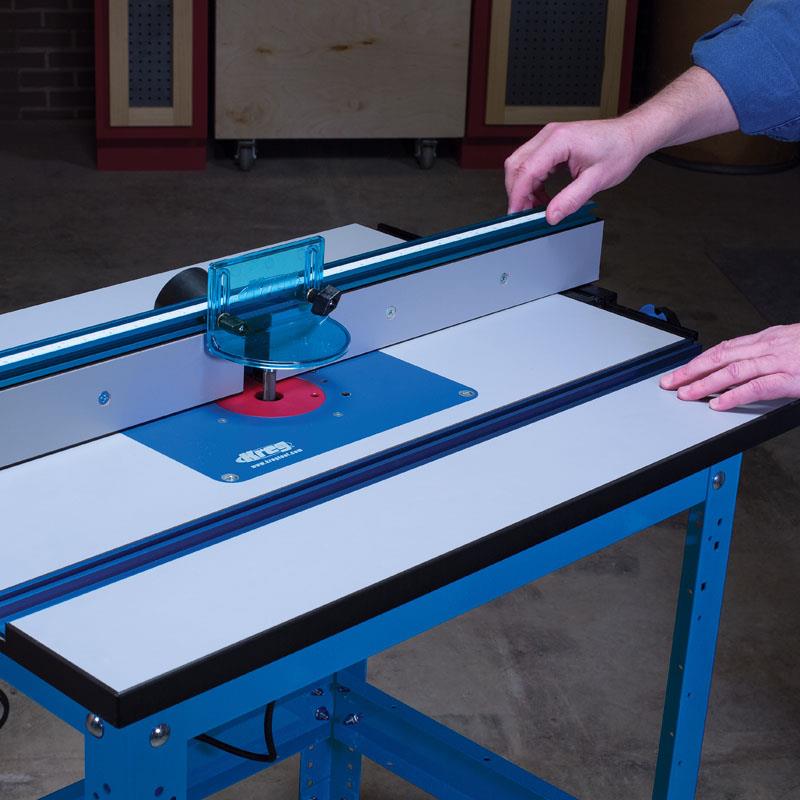 Router work along edges of fine woodworking projects improves their look and durability. Hand-held routers can accomplish the job, but a table router will allow you to finish the job consistently and quickly. A router table will provide you with a secure hold on the router and allow you to use both hands to hold onto the wood that is being worked on.
Included below are ten router tables that might fit your needs, as well as a Buyer's Guide and FAQ section to help you in determining what to look for as you are shopping for a router table.
1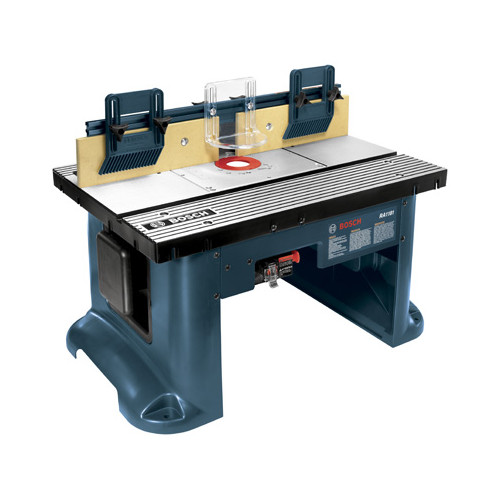 This entry by Bosch offers users many accessories along with the table. It includes feather boards, multiple plates, two guards, and a sacrificial fencing face. The on/off button is located on the front of the table.
All surfaces match up evenly, helping to prevent your project from catching as you run it along the fence. The track system is smooth and provides a secure purchase for the miter gauge. A clear guard helps to cover the bit while allowing you to see.
The channel that the bit sits in provides plenty of clearance. The table is noisy to operate due to the light framing and it does generate a bit of vibration when the wood router is turned on. The feather boards do hold the wood project without snagging, and its MDF faceplates offer a sacrificial surface that protects the other parts of the fence. This product is recommended for the woodworker looking for a complete package straight out of the box.
Pros
Includes many accessories
2.5 inch dust collection port
Comes with one-year warranty
Cons
Open base allows more debris to escape
Lighter material used in the frame generates more noise
2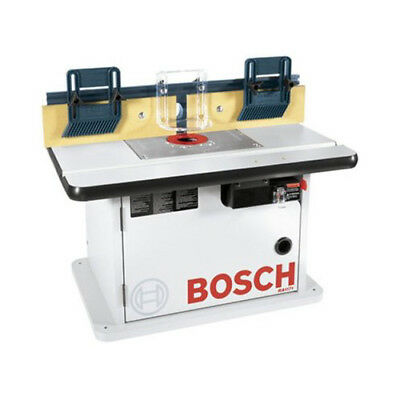 This cabinet router table from Bosch is designed to work with thicker stock than other models, thanks to the fence that stands nearly five inches in height. A multitude of accessories, including feather boards and guards, help to secure workpieces and provide additional safety when the router is on.
This router table will perform in a similar fashion to the Bosch product reviewed above, with two exceptions. First, the router will generate less noise as it is placed inside of the cabinet.
Secondly, this closed cabinet will help to keep debris from moving around. You will have to inspect the interior by eye to make sure that it does not clog, however.
This table is recommended. The function and safety features added to the design make it an excellent table to work on.
Pros
A 4 7/8-inch high fence supports taller stock than standard fence sizes
Two feather boards provide extra support and help to reduce kickback
A closed cabinet helps to keep wood chips and dust contained for easier cleanup
Cons
This model does not include a miter
The cabinet door will require clearance towards the front of the router for easy access
3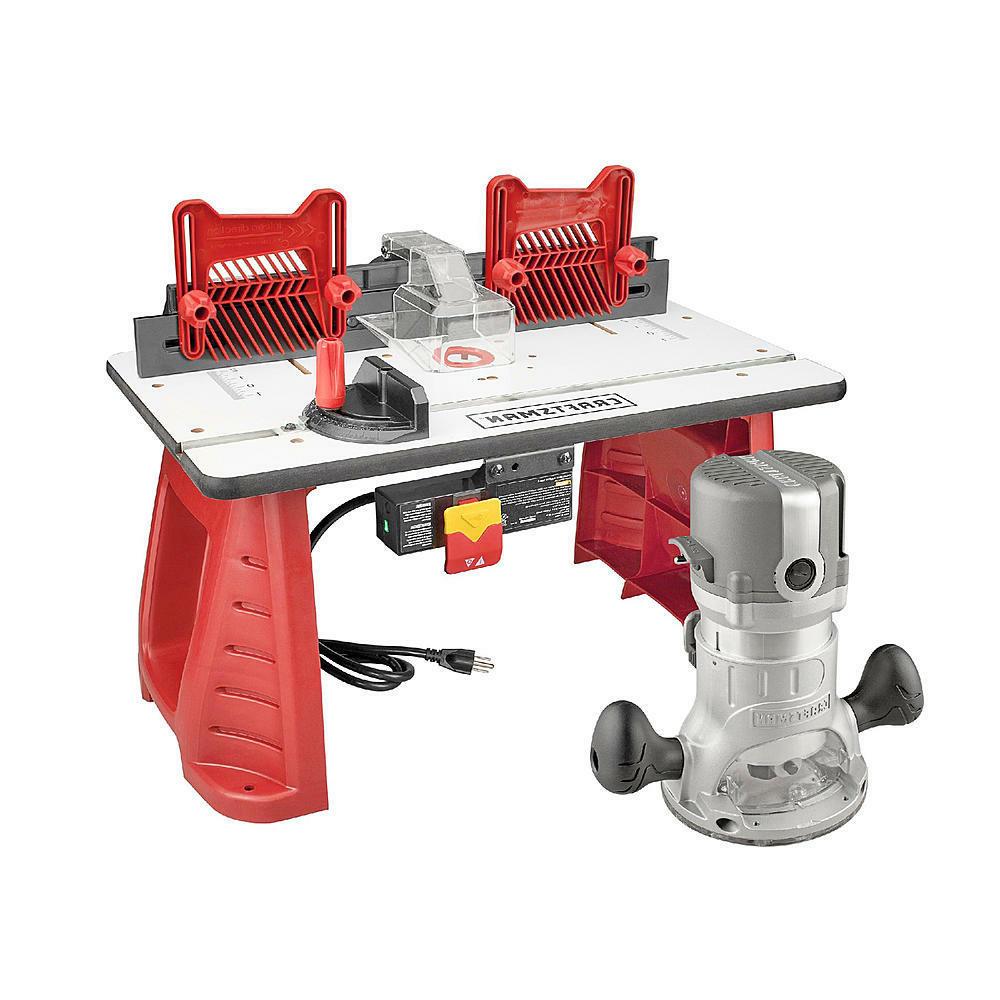 The materials used in its construction feel durable. A 9.5 amp motors the router that is included, supplying plenty of power to cut through most woods without issue. The table itself has a larger footprint, a feature that will aid in overall support of your project as it sits on the table.
This combination kit works adequately on most fine woodworking jobs. It includes accessories like feather boards, aid in securing the pieces while keeping your fingers at a safe distance. It will generate a bit of noise during operation and the debris may scatter due to its open base.
A Power strip has been fitted under the table that will allow you to plug tools in at the table instead of an outlet. This router table can be recommended, especially to those who will need a router as well as the table.
Pros
This package includes a router that matches the table layout
It has 334 square inches of table space
Cons
The legs on the stand are small and feel flimsy
Its power strip is hidden beneath the table
4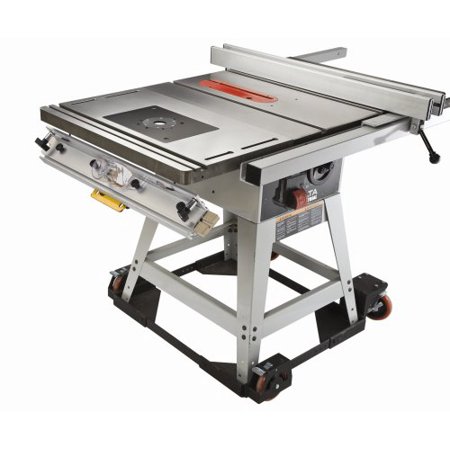 This product is designed for an existing wood shop that is tight on space. The Promax table extension is designed to replace one of the table wings on a contractor or cabinet styled table saw. It does not include any accessories beyond the hardware used to mount it onto the table saw.
A few of the threaded sections are not chamfered and may hinder smoothness as well as pose a small danger for cutting skin that runs across these sections. Once installed properly, however, this table section provides a very stable platform to work from. This product cannot be recommended to anyone except for professional woodworkers with a full wood shop that includes a cabinet style table saw.
Pros
This product is made from durable materials
It comes with a limited lifetime warranty
Cons
Requires mounting on cabinet style table saw
There is a high price point for what you actually get
Pro Plate for the router is sold separately
5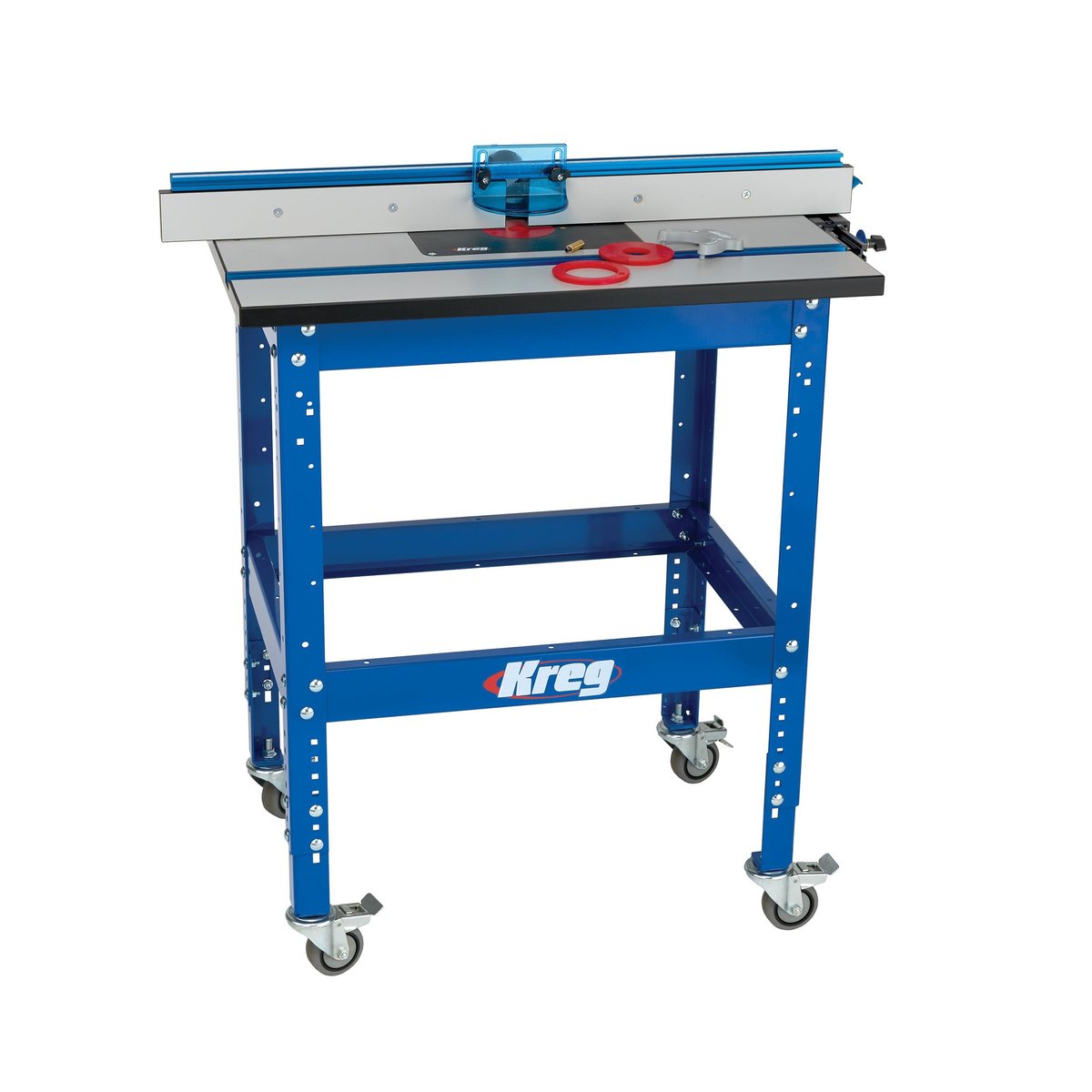 A stand out feature for this router table is the fence lock. Its quarter-turn operation allows it to be tightened with one while also allowing users to remove it quickly for free handwork.
Advanced woodworkers will appreciate that versatility.
The table surface is large and smooth, allowing you to move pieces of varying size across it with ease. The table height can be adjusted from 29 to 35 inches, something that taller joiners will be happy to see. It also comes with Kreg's T-track for a miter gauge and the fence has a measuring scale to aid with set up.
This router table can be recommended, especially for advanced woodworkers who will use the table a lot.
Pros
Heavy-duty steel frame makes the table very stable during use
Its fence operates smoothly and can be adjusted with one hand
The fence stays firmly in place once the dual locks are engaged
Cons
Its 20 x 28-inch footprint will require more space then another router table would
It has a very high price point when compared to bench top designs
6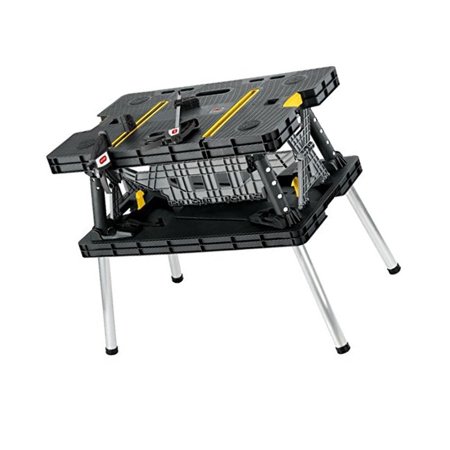 A price-friendly option for those who are just starting into woodworking, this multi-function table would make an okay router table. It has features that go beyond those needed for routing, however, including clamps for securing projects. The table itself is capable of supporting up to 1000 pounds. The resin and aluminum keep it lightweight, and when that is coupled with its ability to fold up, makes this a good table for moving to various locations in or out of the shop.
This table can be recommended for the job site or for use by those starting out in woodworking, due to the variety of tasks that it can perform.
Pros
The table can support up to 1000 pounds
Its work surface includes two clamps for secure material holding power
This table breaks down and folds up nicely for easy transportation
Cons
It has aluminum legs that will increase the sound of the router in use through vibration
This product is a general purpose item and lacks many router table features
7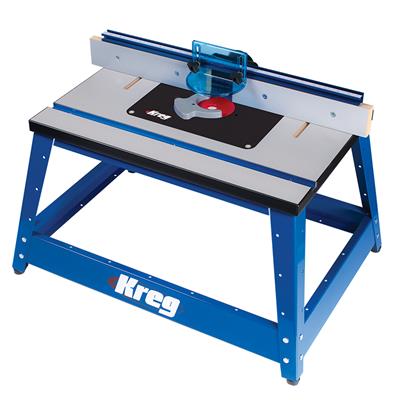 This router table is small enough to move around job sites or throughout a shop. When this is combined with the steel frame and aluminum fence, Kreg offers a dependable table for professional carpenters and interior contractors. It has an edge-banded top made from MDF that will remain stable with use. It has been covered with materials that offer smooth movement along its surface.
With the solid build of this item, it can be recommended for users that put a lot of time in on their router table.
Pros
It has a steel frame that provides a lot of durability to the structure of this table
The legs are angled to provide a wide stance that will increase the stability of the table while it is in use
Bottom-up plate levers help to provide a more level set up
Cons
The aluminum table is weaker in design than the steel frame it sits upon
Its MDF top may weaken the plate connection points that are screwed into it
8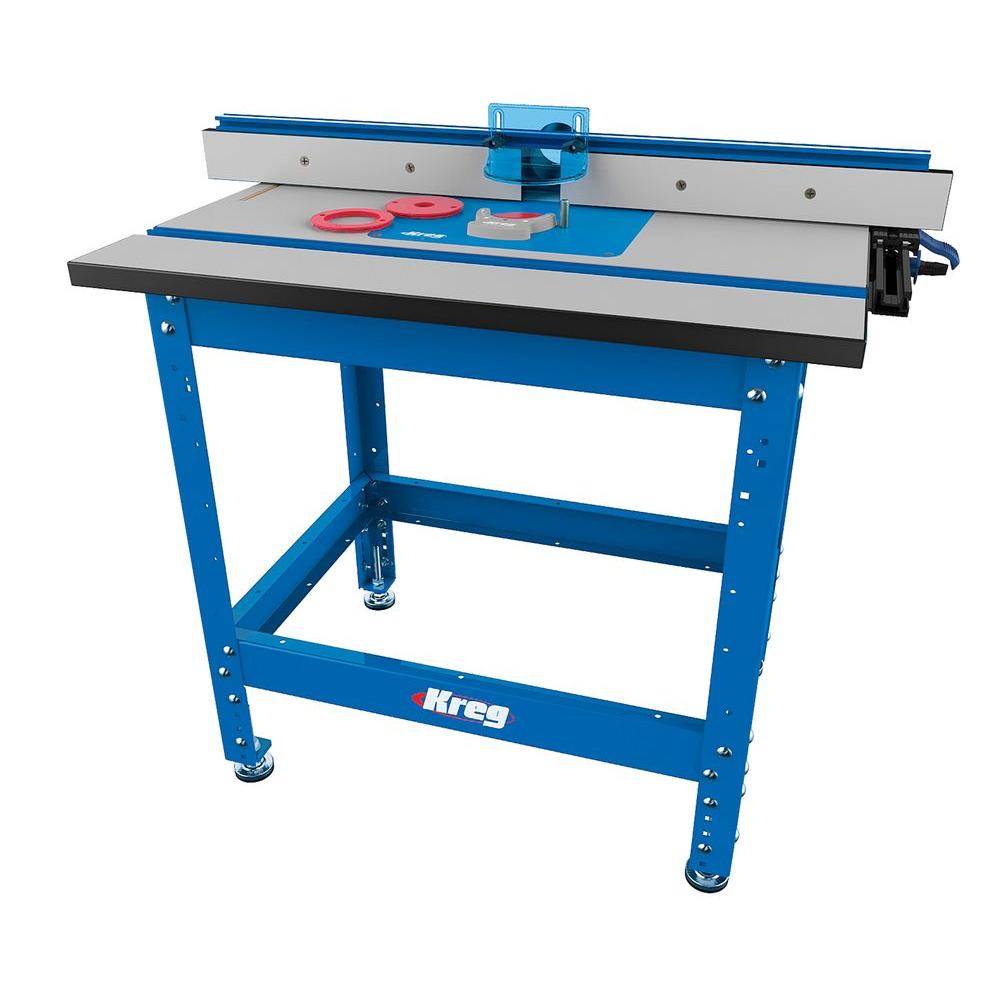 A professional-grade build that is intended for heavy-duty use on job sites and commercial shops. This build helps to ensure precision thanks to its track system that keeps surfaces parallel to the fence throughout the routing process.
A stand out with the fence is the enclosure that helps to trap debris, making dust collection easy. It has adjustment knobs that are easy to use while providing a very secure purchase. This design is intended for professional contractors and serious hobbyists. That makes this an item that can not be recommended for most DIY builders or casual hobbyists.
Pros
Its MDF top helps to reduce noise and vibrations when the router is in use
The laminate surface is smooth, allowing pieces of wood to move even across them
There is an automatic squaring feature that improves your accuracy and speed
Cons
The high price tag will be out of reach for many woodworkers
Its 85-pound frame will require a lot of shop space compared to other router tables
9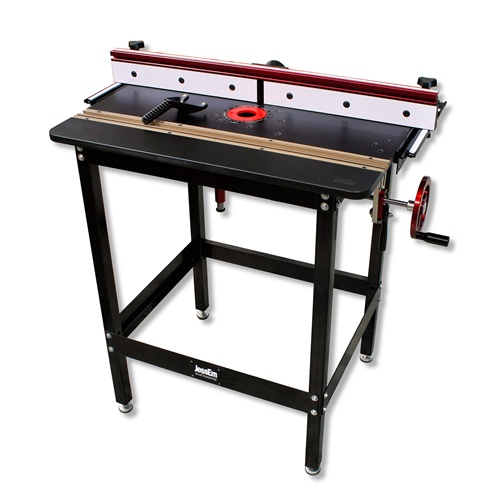 This table includes the Mast-R-Lift Excel II, a design feature that should allow most cylindrical routers to mount onto the table without issue.
A remote power switch and digital readout are available for use with this router table.
It comes with a steel stand that provides plenty of rigidity while the router is being used. That stability is increased with a multitude of stretchers. Solid metal dials allow for smooth adjustability that is also very accurate. An extruded aluminum fence offers a solid platform for the adjustable faces.
The price will prevent novice woodworkers and casual hobbyists from buying this router table. However, this product can be recommended for fine woodworkers with experience, as well as professional joinery shops.
Pros
The larger table area measures 24 x 36 inches includes both miter and T-track
It has fully adjustable fence faces that can be adjusted for each piece that you work on
Upper and lower stretchers help to increase the stability of this router table
Cons
The design elements may be overkill for beginning woodworkers and casual hobbyist
It has a high price tag that does not include a router in the package
10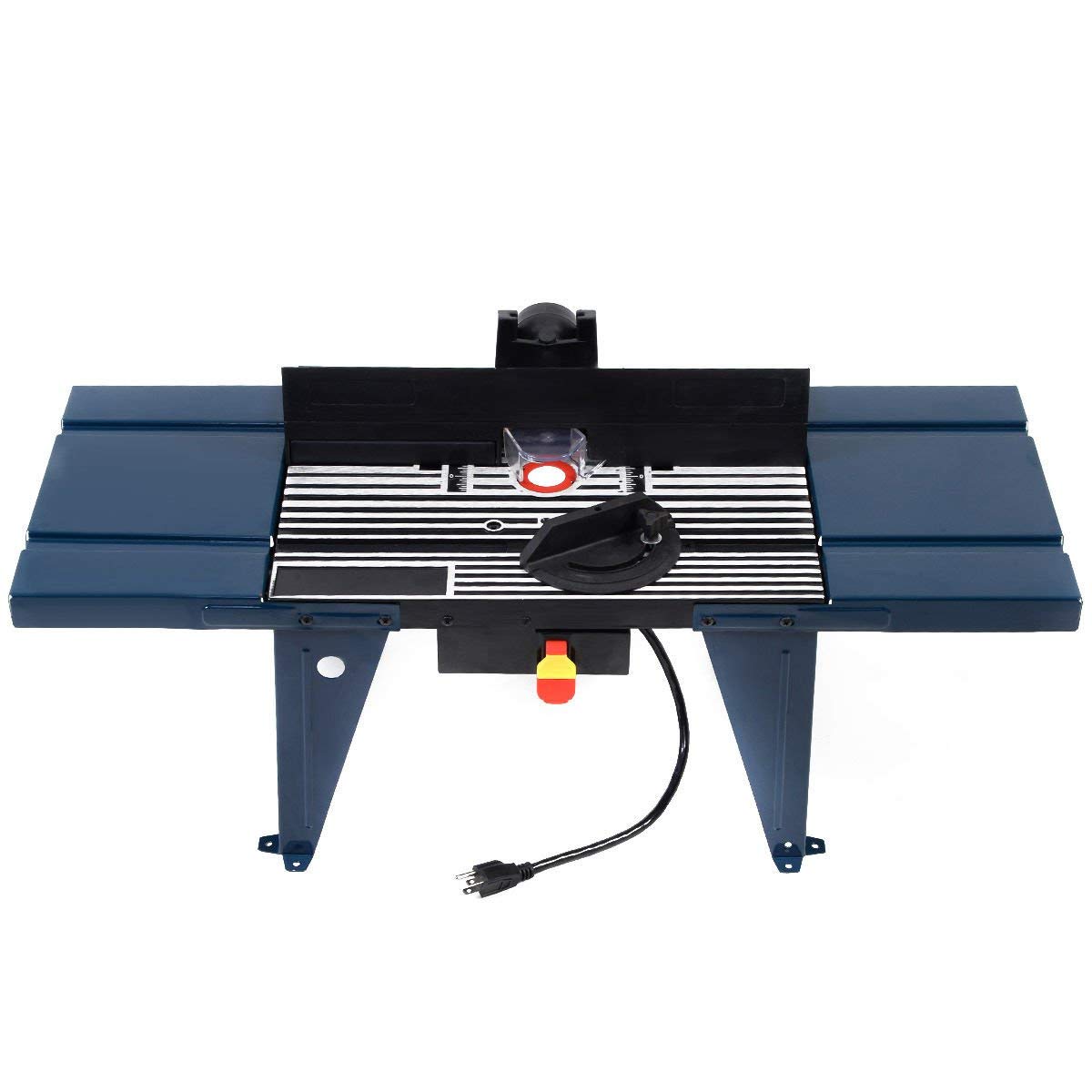 Goplus has provided a compact and lightweight router table that is designed for light and medium workloads. The table is short, allowing to be a candidate for mounting directly to workbenches that sit lower to the ground.
The small table will allow users to make cuts with most router bits, but will not provide adequate support without the extensions that located on each side. It has a fence that is also small. That will provide you with enough surface for smaller projects, but it might be lacking for bigger pieces.
For those with router experience and those upgrading from a previous table, this product will probably be of limited use. With a budget-friendly price point and small footprint, this router table could be recommended for someone who is just building up their woodworking shop, as well as those who have limited table router experience.
Pros
The small footprint of this table will fit almost anywhere your woodworking
It comes to a very budget-friendly price point that is geared towards new or casual users
This also includes table extensions for each end that allow it to come in at a more respectable size
Cons
This table might be too small for those larger projects requiring round overs
The materials used to build this table are not of the highest quality
It has a shorter fence that does not make a lot of contact with long pieces of wood
Router Table Buyer's Guide
Before you can shop for a router table with confidence, you will want to familiarize with the features that can influence the quality of this power tool.
Router Table Surface
The table surface might be one of the most important aspects to consider when shopping for a router table. The surface needs to be completely smooth to prevent scratches along the wood surface. A smooth surface will also allow you to push the wood along the fence and bit without snagging.
Gaps between the fence and the table should not affect the stability of the wood piece on the table. Gaps between the table surface and the plate that the router is mounted onto should be small, and the surfaces need to be flush.
The table surface needs to be large enough to support the sizes of wood that you usually work with. It should also be made from materials that are solid and help to dampen vibrations generated when the router is on.
The Table Base
While some table designs are meant to be fixed onto a workbench, many products will include a base that the table will sit upon. The structure should be robust enough to handle the weight of the table, router, and projects that you will be working on.
The connectors for the legs and shelves should lock properly so that they do not work loose during use. Finally, the legs should be placed in a way to secure the table while providing stability.
The Fence
The table fence needs to provide support in a straight line after the locks are secured in order to prevent variations in the cuts. The fence needs to have a large enough hole to accommodate the bit as well as room for wood debris to move.
The dials or levers used to lock the fence need to be easy to use and should provide a strong lock to prevent movement when the project is pushed on it during the router session.
Dust Port
Most models will include some type of opening for the wood chips and dust to move through. With an open table, a dust port should be mounted in a way that can attach to the vac tubs while collecting a large portion of the dust. With a closed table, the chamber that the debris is pushed into should be easy to clear out with the vac system pressure. This area needs to be easily accessible so that you can also clear it out by hand.
Miter Gauge and Track
With router tables that include a miter gauge, you should test it to verify that it performs as intended. If the miter does not move easily through the track, or will not offer proper angles as you move the wood across the bit, you may want to consider replacing it.
The track on the table needs to be recessed so that it will not stand above the tabletop. It should provide a smooth movement for the miter and needs to be easy to access and clean.
Mounting Plate
The plate that the router connects to should offer a secure hold no matter what RPMs are set at. There needs to be plenty of clearance between the bit and the plate opening to prevent the head or shaft of the bit from rubbing against the plate.
All connections to the table must be secure and also need to be flush to keep this surface even with the rest of the table. All mounting plates should be located near the center of the table and not along edges of the table.
Router Compatibility
If you are buying a table for a router that you already own, it is important to verify that the router can mount to the table properly. Many tables now come with multiple plates that match up with the common router body styles in the market. If you are buying the router along with the table, matching table and router brands help to eliminate many issues.
Router Table Space
The tables available on the market vary in size. One brand's table may have a footprint that is twice the size of another brand. Keep in mind the space available in your shop or garage.
If your table will be mounted on a workbench surface, make sure to use the proper fasteners, as well as bolts and washers.
Frequently Asked Questions
Final Pass
The router tables discussed previously offer a variety of options that should cover most of the woodworker's budgets and needs. Keep in mind the materials that the table is made from, as stability and durability are critical when routing. Table fences and miters should provide correct angles for the wood pieces to sit, and these components should move smoothly and lock down securely.
Many accessories, such as feather boards, can be made or purchased for your router table. These accessories and jigs will allow you to work safely and can speed up your workflow greatly. Keep an eye out for future additions to router table functions, including adjustable tables that can be placed at an angle with accuracy with the addition of built-in digital components.