WoodRoutersReviews is supported by its audience. When you purchase through links on our site, we may earn an affiliate commission.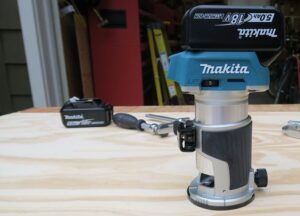 Choosing the best woodworking routers ensures that your cutting tasks are effectively performed. However, it is not always easy to choose the right option when presented with two very good quality models. Our comparison of the Makita XTR01Z vs DeWalt DWP611 will help you breakdown their similarities and difference so you can make the correct choice.
As two popular brands, Makita and DeWalt are known for manufacturing exceptional power tools – the Makita XTR01Z and DeWalt DWP611 being among them. In this comparison, Makita XTR01Z vs DeWalt DWP611, you will learn just how each of this top-rated woodworking router can help make your woodworking and cabinetry work a success.
The Comparison
The Makita XTR01Z router features a slim profile and compact construction yet, it serves as a perfect tool to have in your home or workshop for quick woodwork. The Dewalt DWP611 boasts a dual fixed and plunge base design; allowing for more comfortable home routine work.
Yet, this is not all these trim routers offer, below, we will breakdown each model to discover their most prized feature to help you determine the best option amongst the Makita XTR01Z vs DeWalt DWP611 comparison.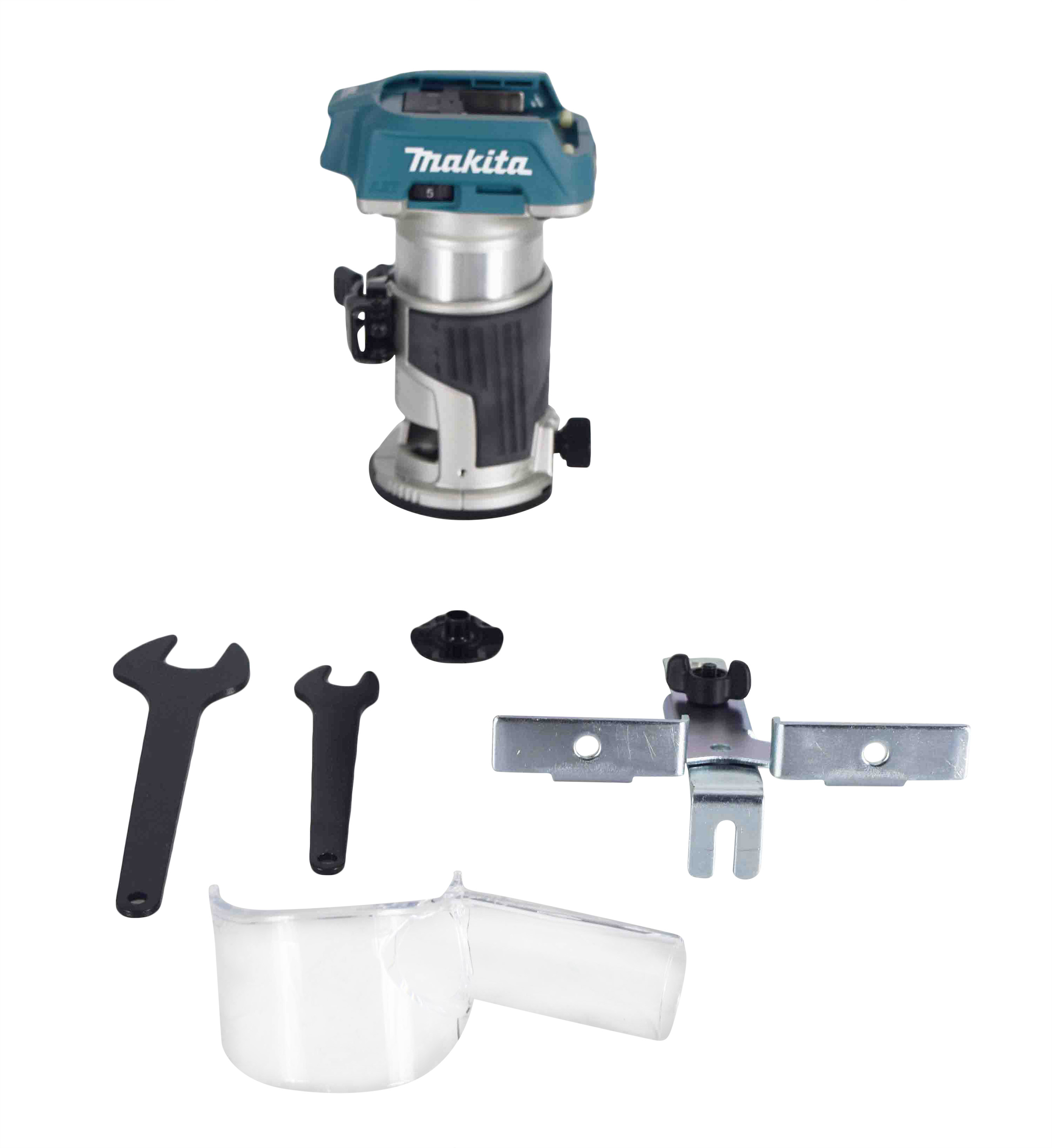 The Makita XTR01Z boasts a slim and compact body, however, it features a super powerful motor and variable speed for enhanced versatility. Whether you are working with softwood or hardwood, this compact router guarantees exceptional accuracy and quick results.

Features
<1.0 horsepower motor
10,000 to 30,000 RPM
Full charge in only 45 minutes
90 watts
Motor And Speed
Makita router cuts through any wood in no time. Thanks to the variable speed control, you can set the speed between 10,000 and 30,000 RPM to match the needs of the application.
Additionally, with the electronic speed control and stable design, the router guarantees maximum cutting accuracy under load as it maintains the speed throughout. Its soft-start feature on the other end makes the process smooth and prevents any hiccups.

Housing
Built from heavy-duty aluminum housing, the router offers increased durability and reduced weight. Its double insulation complements its durability and protection. It's slim and ergonomically designed body makes it easier to control and handle. Furthermore, the router is built with a quick-release cam lock system.
Thanks to this lock system, you will enjoy convenient depth adjustments and easy base removal and installation. A smooth rack and pinion fine depth adjustment system on the other end provides more precise settings.  To ensure easy and quick bit changes, a shaft lock is fitted to the router as well.

Use
Thanks to the router's decent power motor, you will able to perform a handful of tasks. Using this router, you can perform trim jobs, cuts, and boreholes. Integrating a high-speed rating, you can use this router for softwood and hardwood.
Pros
Built with a high-speed load to allow it to work with both softwood and hardwood and to deliver smoothly polished surfaces
The lightweight body makes it easy to move and handle
The router is constructed with aluminum and features double insulation for optimum durability
Will work with most industry-standard template guides
High visibility base design makes the router easier to handle
The base is removable; allowing you to interchange them
Designed with a durable flat top which adds convenience when changing bits
A base piece insert helps to protect the piece you are working on
Fitted with easy to read depth scales
It can easily be fitted to a router lift
Cons
The electric cord is not very long
The motor size is not enough for heavy-duty and professional work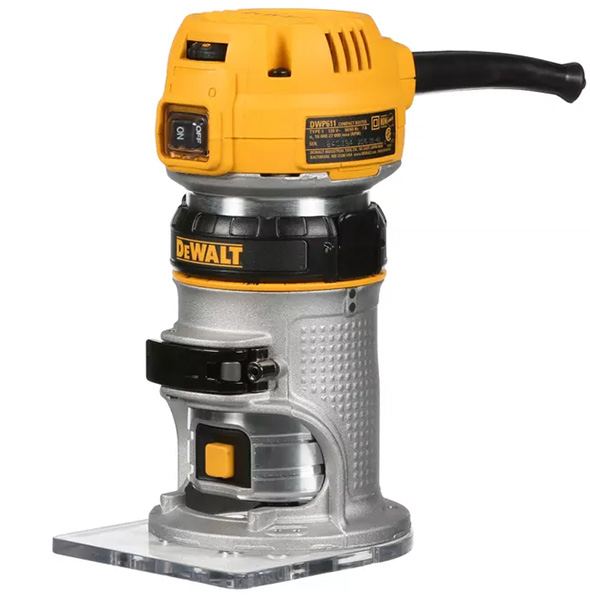 What makes the DeWalt DWP611 router special is its built-in LED lighting and increased amperage. Thanks to this design, this router can withstand more workload and offer better lit working conditions.

Features
7 amp/1.25 horsepower motor
16,000 to 27,000 RPM
10.25-inch collect
Fixed and plunge base
8 feet corded length
Motor And Speed
The Dewalt DWP611 router is built with a 7 amp 1.25 HP motor which offers enough power to meet even the toughest applications. Incorporating a variable speed control, the motor features a no speed load of between 16,000 and 27,000 RPM.
The full-time electronic speed control helps to regulate the speed during the cutting process. The soft-start feature on the other end ensures the router fires up smoothly without any power complications.

Housing
Constructed from durable aluminum hosing and base, the router guarantees longevity. Thanks to the high tensile and rugged aluminum construction, the router weighs only 4.6 lbs.; making it easier to handle. However, when you compare Makita XTR01Z vs DeWalt DWP611, both models enjoy a durable and lightweight aluminum construction.
Yet, it is only the DeWalt router that is fitted with dual LED lighting. Thanks to this lighting design, you can now work in even low light conditions thanks to the maximum visibility it offers. Furthermore, the Dual LED lighting is complemented by the clear sub-base which enhances visibility as well. During work, the extended sub-base offers extra space to give you better user control.

Use
Featuring a two in one design, the DeWalt DWP611 router delivers its functions as both a fixed and plunge base router. This allows you to use it for a wider range of woodworking applications. Some of these applications include small bevel cuts, large edge profiles and even, heavy flush trimming
Pros
Fitted with low pressure and large spindle lock button for guaranteed security
Comes with both a fixed and plunge base
A clear sub-base design helps to enhance visibility
Fixed and plunge bases are ergonomically designed and comfortable on the hand
The plunge base comes with an adjustment rod for the accurate depth setting
Dual LED lighting increases visibility in dim light working spaces
The extended sub-base provides increased working space which guarantees user control
The depth ring and clamping mechanism are adequately sized and fitted to leave the motor properly locked in position
The adjustment ring offers a bit depth change of up to 1/64 inches
Designed with spring-loaded release tubs which makes it easy to remove the base
Cons
The 12 amp 1.25 HP motor is perfect for woodworking but not shaving or cutting metal
It has a small collet size and cannot be paired with the 0.5 inch one
Which is Better?
In this Makita XTR01Z vs DeWalt DWP611 comparison, these compact, slim, and lightweight routers appear to boast incredible woodworking functions. However, due to their slim profiles and small-sized motors, they may not be the best option for professional and heavy-duty work. Additionally, they are not the best choice for working with metals either.
Yet, each router thrives in its intended function. As a fixed and plunge base router, the Dewalt router is perfect form tasks such as small bevel cuts, large edge profiles and even, heavy wood trimming. The Makita router on the other end performs tasks such as trim jobs, cuts, and boring holes.
Furthermore, each router boasts advantages over the other depending on your needs. For example, the Makita has a powerful motor with a wider selection of working speed of up to 30,000 RPM – this makes it ideal for smoother and polished woodworking.
The DeWalt router on the other end boasts a slightly lower working speed but higher amperes which guarantee efficient motor cooling and the ability to withstand longer-lasting workloads. Additionally, the DeWalt router features dual LED lighting which makes it perfect for use if your working space is dimly lit.
So, whether you are a skilled worker or an amateur, you will definitely find the ultimate router from this Makita XTR01Z vs DeWalt DWP611 comparison.