Last updated January 12, 2022
WoodRoutersReviews is supported by its audience. When you purchase through links on our site, we may earn an affiliate commission.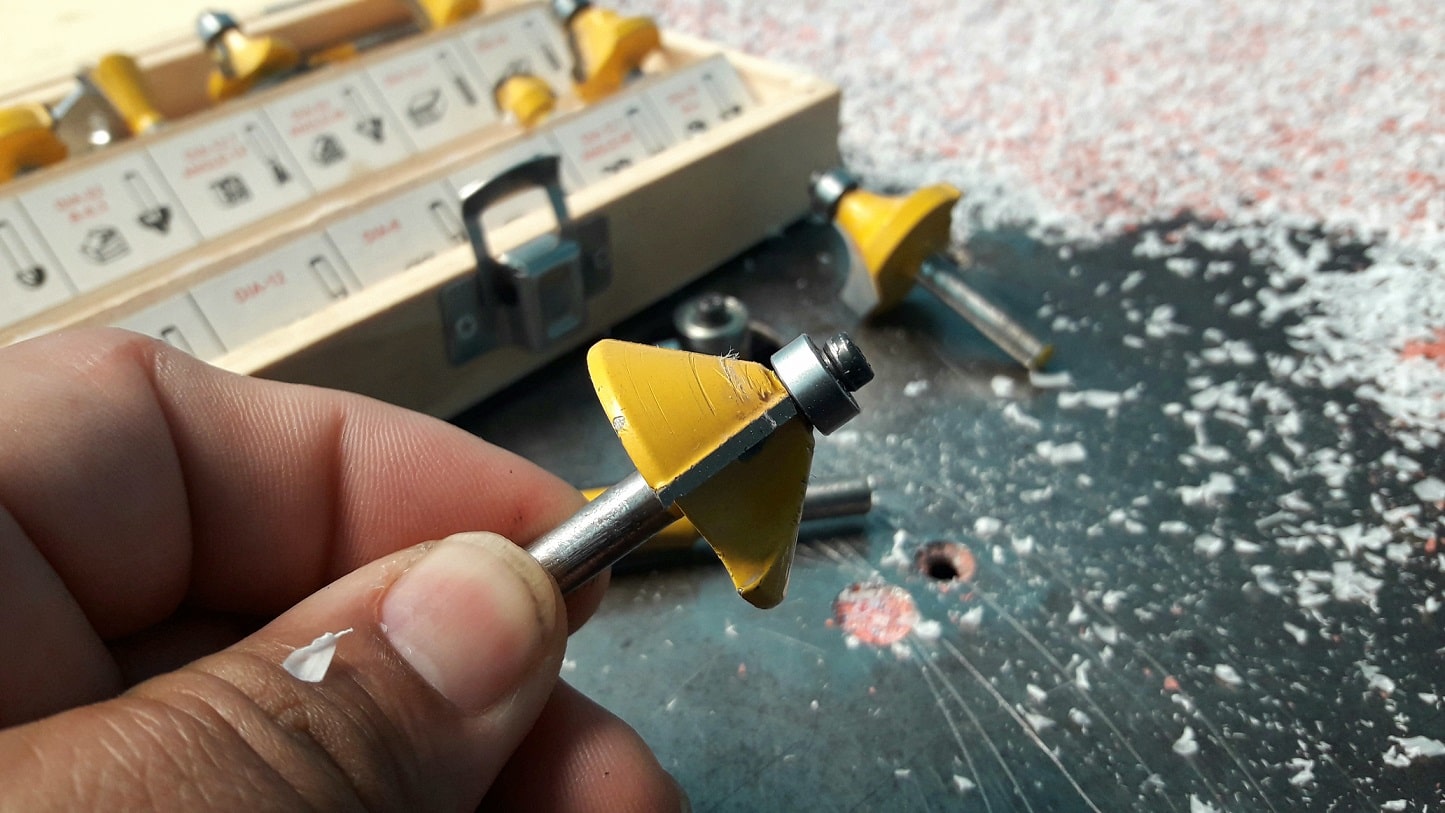 It can be challenging to find the best bits for your wood router. There are a huge number of bit types to choose from and it can be easy to find yourself intimidated. You need to understand the different types of profiles they cut out and which projects each is better suited for before you decide to buy any. Here are a few tips on what to look for in the best router bits and a few reviews to help you start shopping.
Best Router Bit Buying Guide
Routers are one of the more versatile tools that you can have in your workshop allowing you to trim veneer and laminate and create decorative edges. There are literally hundreds of styles and sizes when it comes to router bit that can help makes these cuts but it can be hard figuring out which bits you should buy. The following are essential router bits for either a beginner or a professional.
Types of Router Bits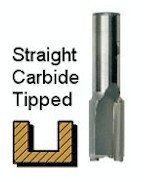 Straight-Cutting – Providing straight and square-bottomed grooves, you can purchase this bit in a range of diameters but is most common in a ¾, ½, and ¼ inch sizes. With this bit, you can cut grooves, dadoes, and rabbets.
Rounding-Over – This is the correct bit when you want to shape an edge on a chair arm, tabletop, or shelf. Rounding over sharp edges, this bit is equipped with a ball-bearing pilot which will direct a cut's width. You can change the cutting depth when you adjust the base of the router. These bits are available in a variety of sizes and are labeled by the cut's radius. Most commonly, you will see rounding-over bits in 3/8 and ¼ inch sizes.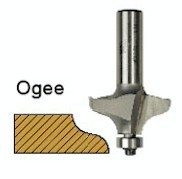 Roman Ogee – One of the more popular bits that shape edges, the Roman ogee bit cuts classic decorative detailing with its distinctive profile into an edge of a horizontal rail, vertical stile, picture frame, and tabletop. With a ball-bearing pilot fixed to the bit's end, you can control the cut's width. Most commonly, Roman ogee bits are found in 3/8 inch, ¼, and 5/32 inch sizes with the 1/4-inch bit able to serve most of your needs.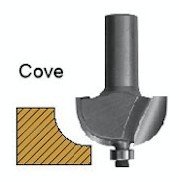 Cove – The exact opposite of the rounding-over bit, the cove bit makes a concave radius in an edge instead of rounding it. Providing a decorative but simple edge that can enhance a bookshelf, cabinet door, and furniture leg. The cove bit is available from 1 to 1/6 inch radius sizes but the 3/8 and ¼ inch bits are the most common.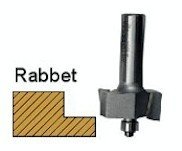 Rabbeting – Creating a basic L-shaped notch cut on a board or panel edge, a rabbeting bit allows you to form a rabbet joint. Using a rabbeting bit is one of the easiest ways to cut a rabbet. Designated by the depth and width of cut created, the most common bits are ½ and 3/8 inch bits. You will see rabbet joints most often when building drawers for cabinets, installing cabinet backs, or joining cabinet sides to the cabinet top.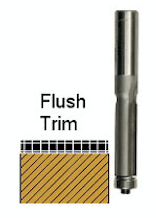 Flush-Trim – When working with wood or laminate veneer, you need a flush-trim router bit. This straight-cutting bit lets you trim surfaces the hangover even with the underlying layer. This bit is good for making drawer faces, cabinet doors, cabinets, tabletops, and plastic-laminate counters. It is also helpful when you need to flush-trim wood veneer. Although there are several sizes available, the most commonly used is the 1/2 inch diameter with a one-inch-long cutting flute.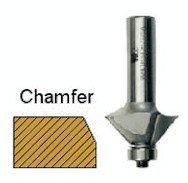 Chamfer – Cutting an angle at 45-degrees into the edges of panels and boards, the edge-shaping router bit is also known as a chamfer. Most often used to take out sharp, square corners from vertical posts, countertops, picture frames, and shelves, chamfer bits can also be used to make groves in a V-shape in between boards. Available in several different sizes, the most commonly used chamfer bit is the 1-1/4-inch diameter.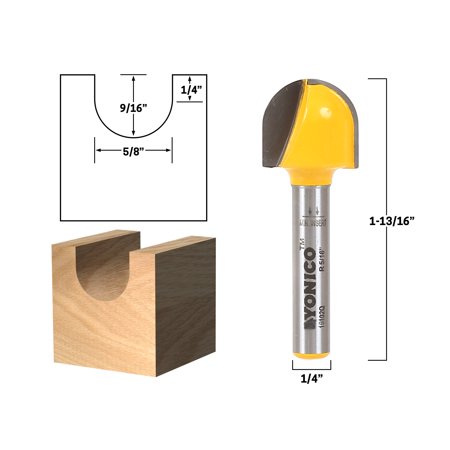 Core Box – The Core Box Bit is one of the non-piloted router bits that are good for cutting round-bottomed grooves. Commonly used for routing flutes in vertical stiles and columns, this bit is handy when carving wood platters and plates or routing a decorative groove in a door panel. Available in diameters from 1 ½ to 1/8 inches, the most commons sizes used are 3/8 and ¼ inch diameter bits.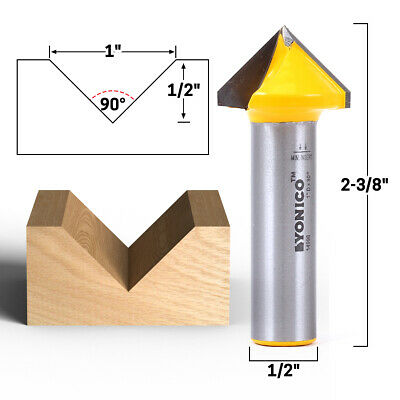 V-Groove – This bit can cut a decorative V-shaped groove in wall paneling, table legs, drawer faces, and cabinet doors. This is a non-piloted bit that is available in a wide range of V-groove angles and diameters with the ½ inch diameter bit with a ninety-degree cutting angle most commonly used a bit.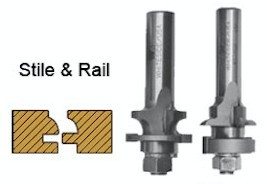 Slot-Cutting – Giving you a fast and precise way to cut grooves and narrow slots into the edges of drawer parts, picture frames, floorboards, and cabinet door frames. Perfect when you want to cut spline grooves for a spline joint, this bit features two "wings" that each has a sharp tungsten-carbide tooth. How thick the cutting teeth are will determine the width of the slot that can range from ¼ to 1/16 inches thick.
The depth of the slot is dependent on the space from the cutting teeth to the ball-bearing pilot.
Most commonly, you will see bits that are 1/4-inch wide and 1/2-inch deep. Keep in mind that many slot-cutting bits feature interchangeable pilots with different diameters that let you alter the depth of cut by switching it out ball-bearing pilots.
Other Considerations When Choosing Router Bits
Router Bit Shanks
The solid, cylindrical area of the router bit is called the shank. This is the part that goes into the router's collet. You will find that there are two common sizes the ½ and ¼ inch shank. Most routers will have collets that are interchangeable so that either of the sizes will fit, but there are some that only use the ¼ inch shank.
Try to always use bits that have a ½ inch shank since they give you more stability and less vibration.
They also usually have a longer cutting life and give you a smoother cut. Typically, router bits are found in either of these shank diameters unless they have very large or very small profiles.
Router Bit Cutting Edges
Typically, you will find that most of the router bits have cutting edges with either carbide tips or high-speed steel fused to the bit. Profile bits usually are equipped with carbide cutters that are more durable than steel and hold the edge 10 to 25 times longer, however, they tend to be more brittle. Make sure you store and handle carbide-tipped bits carefully to prevent the cutters from chipping.
Quality
When choosing router bits, look for high-quality router bits with carbide cutters that feature a sharp to a fine edge and are thick enough to endure severe regrindings. You should also see even brazing joining the bit with the carbide tip and it should include a design that lessens the possibility of kickback. You will find that the anti-kickback bit has a higher body mass to stop bits from catching on the material and biting too deeply. With the higher body mass, you will also see heat-dissipating and it will keep the bit sharper longer. You can also tell the quality of the bit from its price.
Other Things to Keep In Mind When Choosing Router Bits
When choosing a bit, if you have a project in mind, make sure the bit matches the project.
When putting together a starter set, buy a few straight bits, a few round-over bits, a rabbeting bit that has an interchangeable bearing with different sizes, a chamfer bit, and an ogee bit.
It is more economical and convenient to buy a whole set instead of buying the bits individually.
Our Top Pick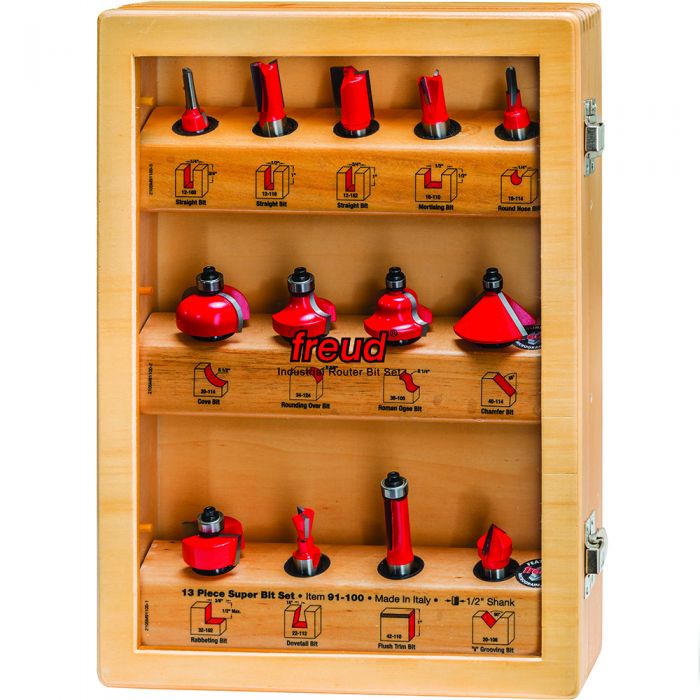 Freud 91-100 13
1/2-Inch Shank
Cutting Angle String: 90 Degrees
Set contains 13 super bits
The Freud 91-100 13-Piece Super Router Bit Set with 1/2-Inch Shank and Freud's TiCo Hi-Density Carbide is for customers who do require anything but the best construction quality and most outstanding performance. When compared to other router bit sets, it is much more professional and the tips of the router bits are accurately set. When users order for the Freud 91-100 13-Piece Super Router Bit Set with 1/2-Inch Shank and Freud's TiCo Hi-Density Carbide, it comes in a special shadow case that contains all the router bits valuable in the set.
One of the features users like about this product is that no matter the type of wood you are working with, be it hardwood, softwoods, or even plywood, no wooden material will pose a threat to this router at all. The company simply called it the router built by professionals for professionals. The piece of bits found in this router set can fit both table-mounted and handheld routers without much hassle. Also, the Freud 91-100 13-Piece Super Router Bit Set with 1/2-Inch Shank and Freud's TiCo Hi-Density Carbide can be found among the best top router bits for the money. This means that they can be used in a normal household and also for the toughest industry-wise jobs.
Pros
It is perfect for beginners.
It comes with a lifetime warranty.
It gives off a smooth finish.
It is known to be one of the best bits in the market.
The perma-shield feature makes the bit resistant to wear and tear.
It comes with a paddle wall-mounted storage where users can easily hang their router set.
Cons
It is quite expensive.
Sometimes the package may be missing additional bearings.
Overall impression
The Freud 91-100 13-Piece Super Router Bit Set with 1/2-Inch Shank and Freud's TiCo Hi-Density Carbide is no doubt a perfect choice for newly recruited woodworkers who want to achieve a professional result with the tip. They are made of high-quality materials and the tip is covered in TiCo's high-density carbide for easy cutting, I recommend.

Best Set with Bearing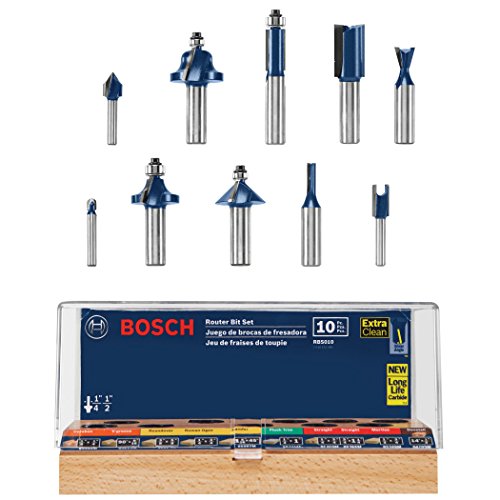 Bosch RBS010 Router Bit Set
The 10-piece set is an all-purpose set
1/2 In.-shank bits, 1/4 In.-shank bits
6.0 Amp motor
Coming in with our second pick is the Bosch RBS010 1/2-Inch and 1/4-Inch Shank Carbide-Tipped All-Purpose Professional Router Bit Set. Looking at this set of router bits, you would find out that judging from its appearance, it looks no different than its competitors. Just as the name implies, the Bosch RBS010 1/2-Inch and 1/4-Inch Shank Carbide-Tipped All-Purpose Professional Router Bit Set are basically made to be all-purpose. This set includes both a ½" and ¼" shank which users can easily use on a collection of woodworking projects to produce a professional result.
The tips of the Bosch RBS010 1/2-Inch and 1/4-Inch Shank Carbide-Tipped All-Purpose Professional Router Bit Set are very thin and as a user, avoid making use of this bosch product if you want to work with router bits that have thicker styles. The tips, on the other hand, are coated with long-lasting and industrial-grade Micrograin carbide tips for more durability. Carrying around router bits can be risky sometimes because users can lose their materials every time, that's why the company provided a box in which the Bosch RBS010 can be transported or carried around.
Pros
It is very easy to carry around.
It generates very little vibrations during use.
It includes both ½" and ¼" shank for versatility.
Bosch provided a convenient case for storage and more safety.
It contains a wide selection of router bits.
It is affordable.
Cons
The learning curve is kind of steep.
Overall impression
The best advantage of selecting the Bosch RBS010 1/2-Inch and 1/4-Inch Shank Carbide-Tipped All-Purpose Professional Router Bit Set over other router bit sets is that you get the best variety of all the router bits used by professionals and beginners for their project. Being provided with about 10 different router bits in one set, save money, time, and energy searching for each of the bits yourself.

Best Start Kit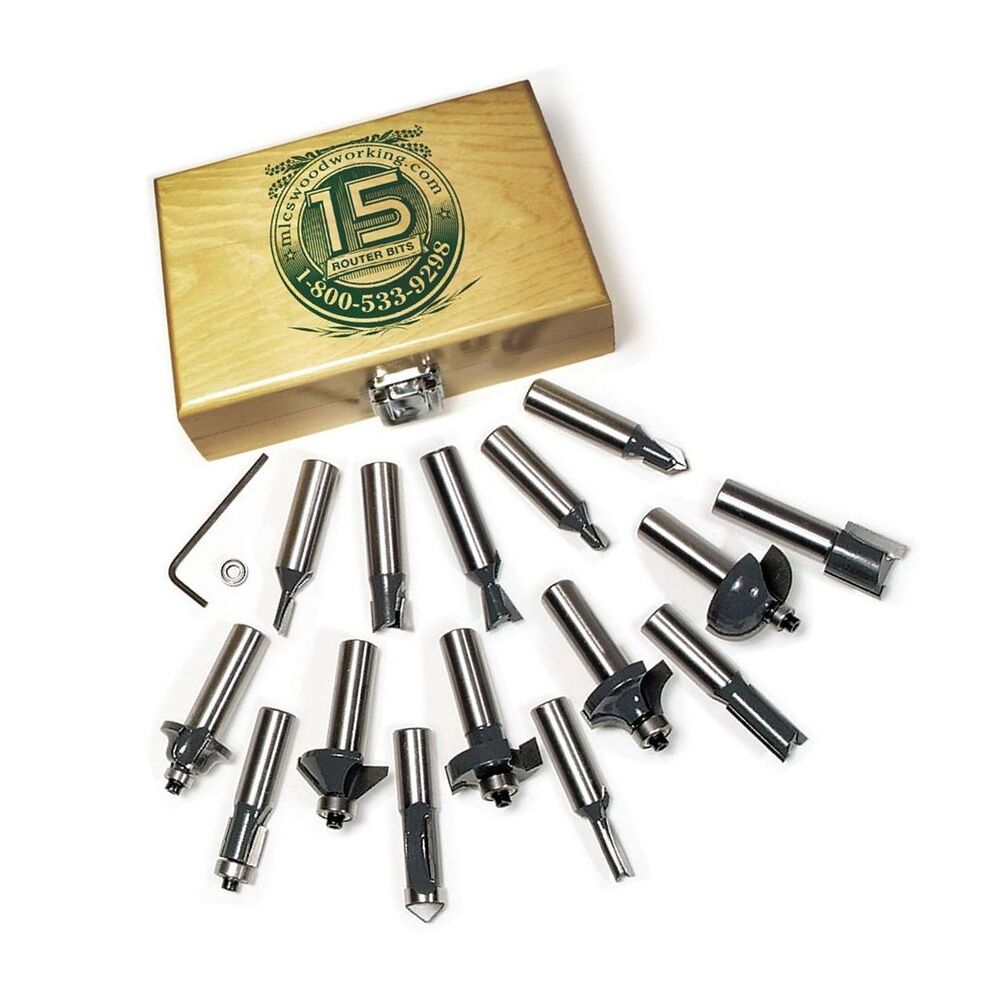 MLCS 8377 15-Piece Router Bit Set
The 10-piece set is an all-purpose set
1/2 In.-shank bits, 1/4 In.-shank bits
6.0 Amp motor
Since the MLCS router bits are available in sets, they are a lot more affordable than buying them individually. Available in sets of 15, 30 or 66, you can get an entire set for a pretty low cost. These sets are good for beginners who don't want to spend a lot of money on a bit set.
Using carbide tips, the MLCS router bits provide less wear and vibration while retaining their strength and sharpness.
You also get a lot of versatility with the different profiles these bits give you so you can work on a wide range of projects. When handled correctly, these bits can last you a long time.
With MLCS router bits, you can use them to learn different cuts to help you get to the next level or to even start woodworking professionally. These bits work really well on softwoods giving you a flawless cut while they are just average on hardwoods providing a cut that requires a sander or edge to be trimmed. However, if you take care of the bits with proper maintenance and handling, these bits will work well on hardwoods as well.
Pros
Works well as a starter kit.
Good price on a set that performs well.
Covers most of the basics pretty well.
Cons
Would be nice if the box was labeled for each bit.
Bits don't stay sharp for very long.
Best Tongue and Groove Router Set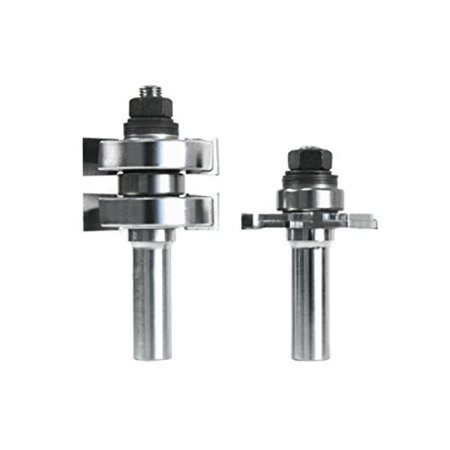 Freud Tongue & Groove Bit Set
Stock thickness of 1/2″ to 1-1/4″, groove widths of 7/32″ to 3/8″
1/2-inch shank, 2-11/16 inches overall
Cuts all composition materials, plywoods, hardwoods, and softwoods
Known for great quality, unparalleled precision, and incredible cutting life, the Freud Router Bits are constructed with the highest quality materials. The Freud features a red Perma-SHIELD and Hi-Density Carbide coating. This tongue and groove set is adjustable so it can create tongue and groove joints that fit perfectly.
With an exclusive design, the Freud includes a tongue cutter that uses opposing shear angles to guarantee a finish that is flawless. The bits are adjustable in .002-inch increments to give you a stock thickness of 1/2 to 1-1/4-inch and 7/32 to 3/8-inch groove widths. of 7/32 to 3/8-inch.
These bits allow you to cut all kinds of materials including softwood, hardwoods, and plywood to make projects like a Shaker-style cabinet, plus you can use them on portable routers that are table-mounted.
Pros
Great for woodworkers.
Makes smooth cuts and good shaper cutters.
Makes clean joints that fit perfectly.
Cons
Doesn't come with instructions.
Not great for those just starting out.
Best for Smaller Projects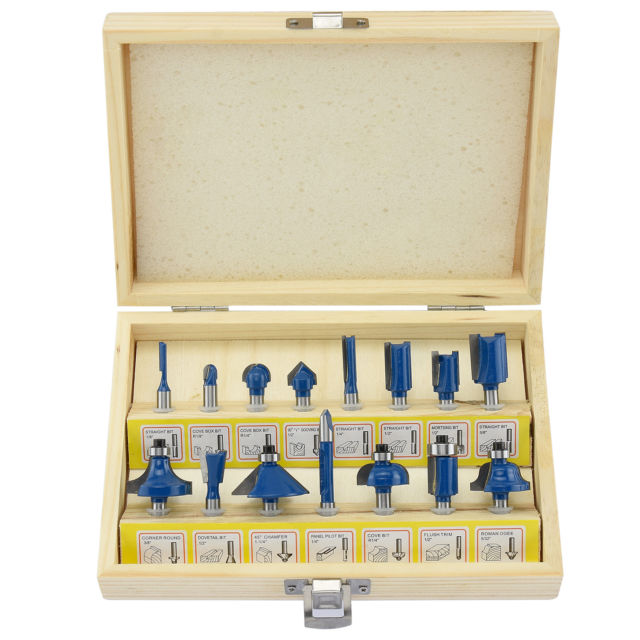 Hiltex 10100 Tungsten Carbide Router Bits
Material: Carbide, Alloy Steel
Shank Type: Round
Hardened solid alloy steel main construction
Made from tungsten carbide steel, the Hiltex 10100 Router Bits make accurate and clean cuts each and every time. With great heat resistance, you can use these bits to cut any type of wood. For extra durability, the other part of the bit is constructed with a hardened steel alloy.
Enclosed with a bearing roller, each bit has a smooth and aligned operation with all of the bits features a ¼ inch universal shank to will fit easily and attach to any type of router.
The Hiltex set comes in a wooden case that is labeled with the bit-type and includes an image for easy portability and storage.
For added durability, the Hiltex bits are powder coated giving them an added layer of protection so you can use them several times without worrying about compromising their quality. This set is great for grooving, veining, trimming, and edging and is perfect for DIYers or professional carpenters.
Pros
Inexpensive and great for small projects.
Good for beginners as a starter set.
Nice and versatile with smooth operation.
Cons
If you are using the bits to trim veneer, they will get gummed up.
Don't work well on large projects.
Best to Make Trim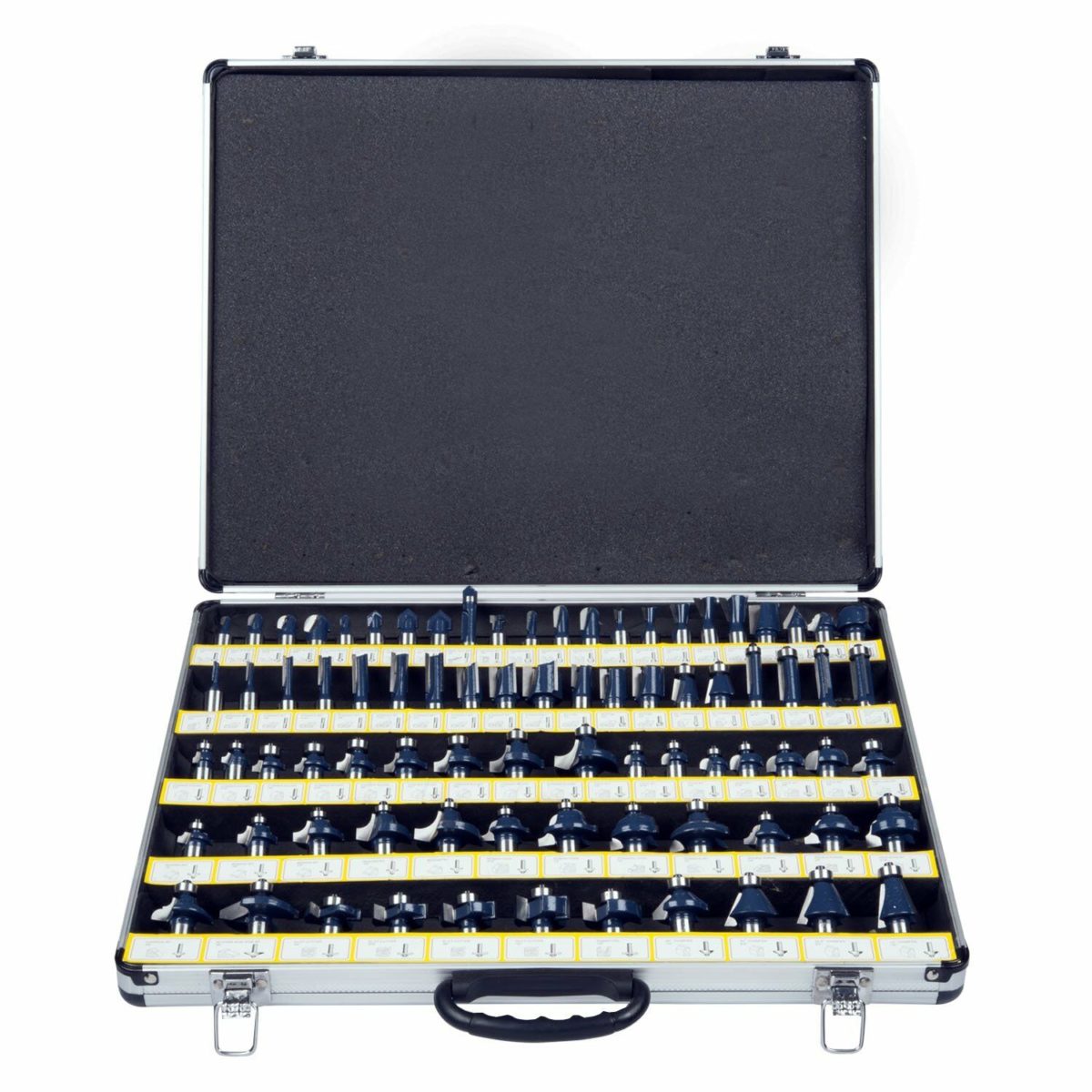 Neiko 10115A Premium Tungsten Carbide Router Bits
Premium 1/2 inch universal shank fits
All bits have a 1/2″ universal shank to easily fit
Material: Tungsten carbide
As a woodworker, the market is packed with different types of router bits but only a few selected products have what it takes to satisfy the needs of a professional. One such product is the Neiko 10115A Premium Tungsten Carbide Router Bits which is a practical high-performance and reliable router bit. The Neiko company over the years is a highly reputable establishment that has established its name in the industry as a provider of woodworking products that can be used on a variety of woodworking projects both industrially and domestically.
During manufacturing, the company made use of hardened solid alloy steel in the making. This means that users can make use of the Neiko 10115A Premium Tungsten Carbide Router Bits for hours without worrying about wear and tear or the factor heat. The set comes with about 80 different bits. There might be a problem storing and organizing this amount of router bit that's why the company provided its users with a casing to safely store this router bit.
Pros
It comes with about 80 different router bits.
It comes with a safe carrying box for easy transportation.
It is resistant to wear and tear as well as heat.
It is quite affordable.
There are various sized bearings.
The padding found on the box makes sure the router bits are safe.
Cons
The box which the company provided for storage seems small.
It has a 1-year short warranty.
Overall impression
The Neiko 10115A Premium Tungsten Carbide Router Bits is perfect for the enthusiast, homeowners, and professional carpenters that need bits that can perform a series of tasks such as trimming, growing, edging, and veining on both hard and softwood. The set includes about 80 router bits which include all the bits a woodworker would need. I highly recommend it.

Best for Lettering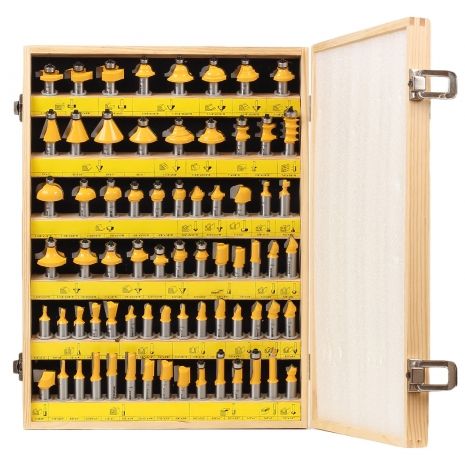 Yonico 17702 70 Bit Router Bit Set
Now with longer shanks
The bits come in a handsome wooden box with 2 keyholes drilled
70 Bit Set – 1/2″ Shank
The Yonico 17702 70 Bit Router Bit Set is for woodworking enthusiast who wants to use router bits comfortably and confidently on woodworking projects at both an industrial and domestic level. It is durable, affordable, and easy to use. The idea behind the Yonico 17702 70 Bit Router Bit Set is that instead of spending time, money, and effort trying to buy or gather the different types of router bits available separately, the set features router bit pieces which are essential and most frequently used in both industrial and domestic applications. No matter the size of the router bits, you won't have any problem identifying and picking our choice.
One major factor we noticed in the Yonico 17702 70 Bit Router Bit Set is that, unlike other versions and models, this one came with a ½" shank which is considerably long. The tip of the shank is also covered with industrial-grade carbide for more longevity. When users buy this product, it comes with a case or box for safekeeping and easy transportation. The box is coated with thick high-density foam which provides a soft case.
Pros
The beatings are enclosed.
It comes with only ½" shank.
It is resistant to wear and tear as well as heat.
It has a very low level of vibration.
It has micrograin carbide tips for durability.
It has a versatile collection of router bits.
Overall impression
The Yonico 17702 70 Bit Router Bit Set is perfect for woodworkers or enthusiasts who are strictly on a budget but require or desire hassle-free and premium operation. Compared to the price range it is a bit expensive but this product is nothing like you will see. It implements the use of high-grade carbide for the tips and this results in longer shelf life and more durability. It can be used on any type of wood whether it's hardwood, plywood, or softwood. I do recommend it.

Best for Sign Making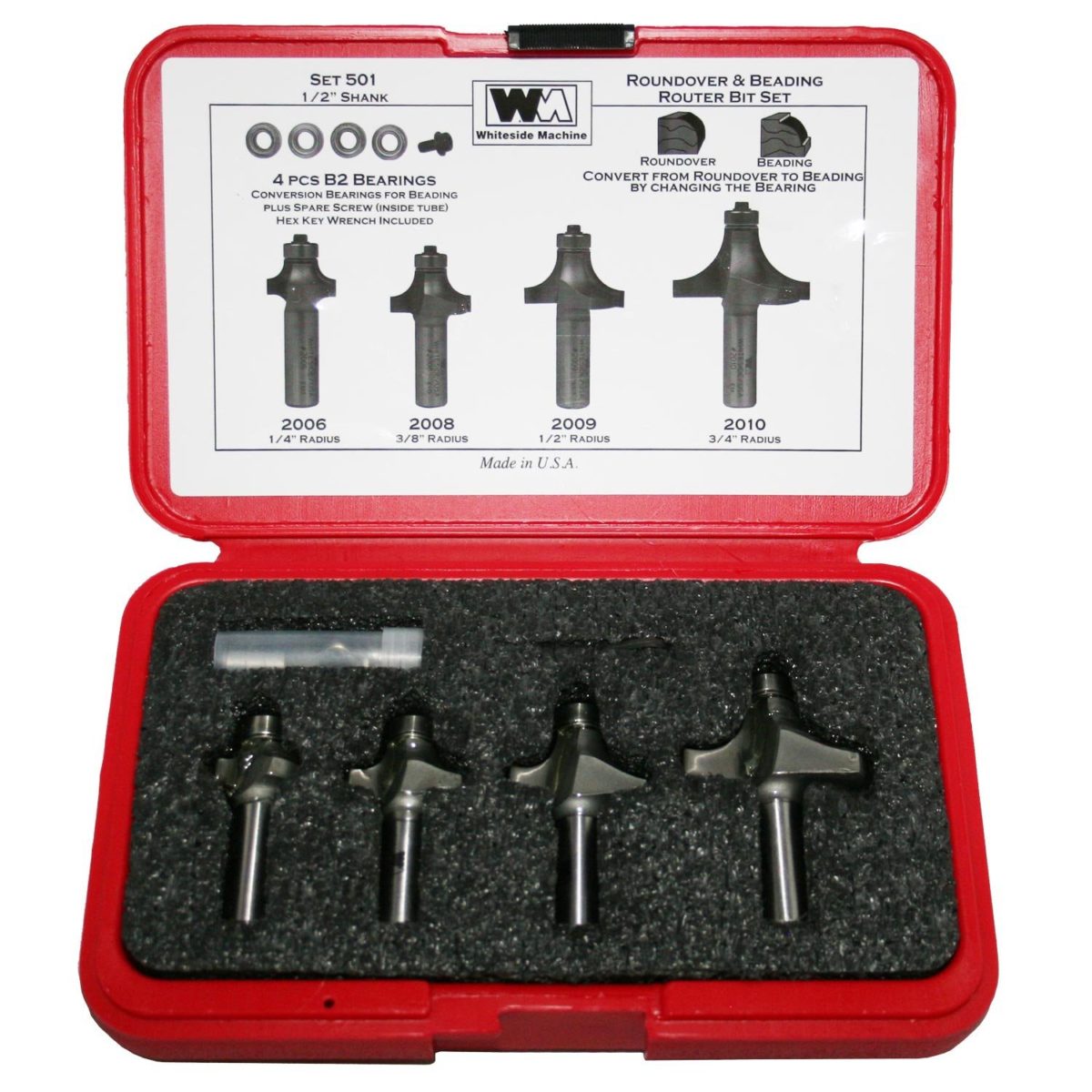 Whiteside Router Bits 401 Basic Router Bit with 1/2-Inch Shank
Whiteside Router Bits are made with Premium Carbide
Precision ground for proper balance at high RPM
Industrial Quality
Although they may not boast of countless products or a reputation built by years of constant service, the Whiteside company still makes one of the best router bits that deserve a spot on this list. Whiteside Router Bits 401 Basic Router Bit with 1/2-Inch Shank will provide woodworking enthusiasts and users the privilege of ironing out every woodworking project that comes around. It can be used on both soft and hardwoods and the router bits are suitable for both newbies and professional woodworkers. The consistent distribution of weight around the router bits guarantees users an effortless and accurate result.
When users purchase Whiteside Router Bits 401 Basic Router Bit with 1/2-Inch Shank, there are about seven router bits in the package. These router bits are the same type of router bits professionals use on a daily basis and the package contains all the necessary router bits you need for any woodworking project. So no need of pouring your income on products that have about 100 pieces when you just need a few regularly. When it comes to construction, Whiteside Router Bits 401 Basic Router Bit with 1/2-Inch Shank is totally different from other routers bits. Instead of a carbide tip, each of the seven router bits is constructed with high-grade industrial carbide making it robust and durable, much more durable than most products in the market.
Pros
It comes with ½" shank for effortless operation.
It is a little resistant to heat.
Totally made with high-grade carbide.
It comes with a sturdy and safe case for easy transportation and safekeeping.
It is perfect for industrial uses.
Cons
It is still quite pricey for a product with few bits.
The package does not have a size labeling.
The router bits are very few.
Overall impression
The conclusion is that despite Whiteside being a barely recognizable brand, Whiteside Router Bits 401 Basic Router Bit with 1/2-Inch Shank is no doubt one of the best router bits in the market. It is made from high-grade industrial carbide which makes it able to resist temperatures and friction with ease. I totally recommend Whiteside Router Bits 401 Basic Router Bit with 1/2-Inch Shank.

Most Affordable Router Bit Set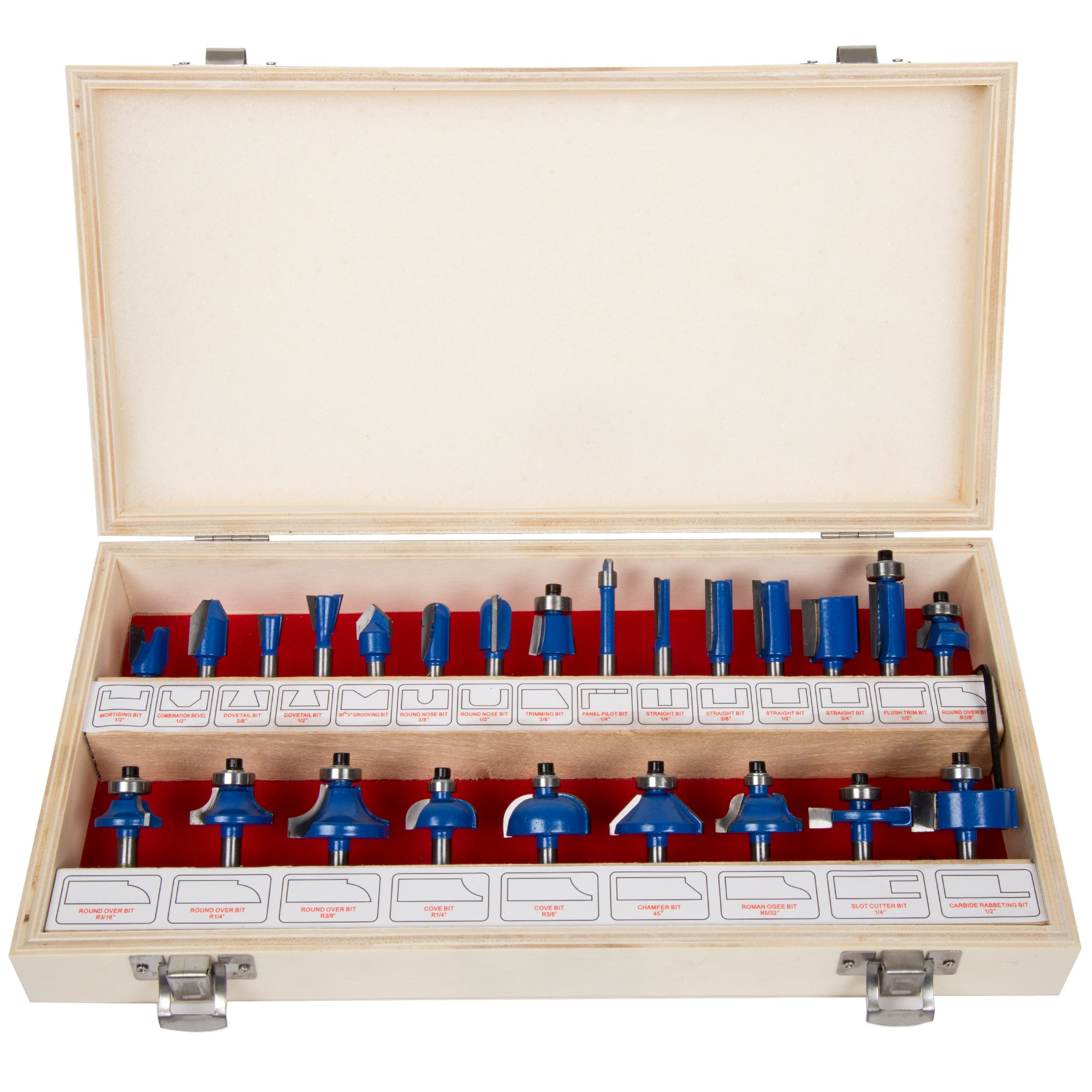 Stalwart's Router Bit Set
Durable Construction
Set With 24 included pieces
Featuring 15 different bits with ¼ inch shaft bits that fit all routers
Perfect for beginners or professionals, the Stalwart's Router Bit Set is available with fifteen different bits that each have a ¼ inch shaft bits so they fit any type of router. This is a great commercial quality set of bits for an affordable price. With durable construction, the Stalwart's router bits have carbide tips that are made to last and use high-quality materials.
The Stalwart's Router Bit Set is great for setting tongue and groove wood doors like shaker doors. This is a multi-functional set that is good for a lot of uses including veining wood projects, grooving, trimming, edging, and woodworking. You also get an Allen wrench to remove bearings and a sturdy wooden case to store your bit set.
Pros
Great price on a decent set.
Bits are sharp enough to power through the wood.
A versatile set that you can use on a lot of different projects.
Great for hobbyists.
Cons
The case is not very good quality.
Best for Dremel Routers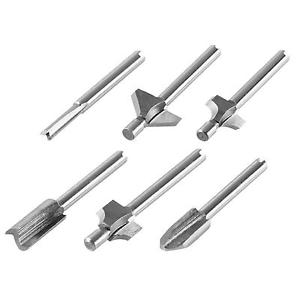 Dremel 692 6-Piece Router Bit Set
Rout, edge, inlay, and mortise in wood
Constructed of high-speed steel
Do not run in excess of 30,000 RPM
Made from high-grade steel, the Dremel 6-Piece Router Bit Set is a great addition to any woodshop. This a great set for mortising, inlaying, and routing wood that works well on softwoods. Perfect for medium to light renovation, repair, and hobby jobs and guarantees that you have the right bit for the job.
With durable steel construction, this high-speed router bit set is perfect for rotary tools and you get great versatility with the straight bits while the piloted edge bits allow you to add details and personality to molding and wood frames.
With a user-friendly design, the high-quality construction of the bit set lets you make precision cuts the first time making it perfect for detailed work like model trains and dollhouse furniture.
The Dremel insertion process gives you tons of shank for the chuck or collet to hold onto. For the most precision and longest life, make sure the object is secure on a stable surface while you work. You also get a plastic storage case that is reusable to store all your bits in.
Pros
Bits rout really well in softer wood.
Great deal for high-quality bits.
Made of stainless steel and very sharp.
Cons
Not good for harder wood like maple and oak.
Not made of carbide.
Comparison Table
Frequently Asked Questions
Conclusion
Since a router is one of the most convenient and versatile power tools you can own, you need to make sure you have the right router bits to go along with it. With all the router bits on the market, it can be confusing to know which size and shape are the right ones for what you are working on. Make sure to do your homework and learn the difference between all of the bits that way when you hit the stores you will have a pretty good idea of which ones to buy.