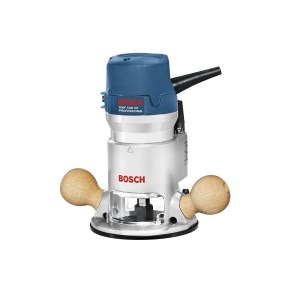 WoodRoutersReviews is supported by its audience. When you purchase through links on our site, we may earn an affiliate commission.
A router is probably one of the most important woodworking tools to have in your arsenal. It has multiple purposes and often it cannot be substituted with ease and accuracy by any other tool that you might have lying around. For anyone in the market for hand routers out there, the Bosch 1617EVS is definitely one to check out. This is a fixed based router meaning that it can hollow out areas on surfaces horizontally and has been on the market for quite some time. It has competed well with many newer tools that have come up. For this reason, the tool is timeless and still quite popular.
There are many factors to consider when purchasing the best router for woodworking to find one that is right for you and fulfills your needs. Check out some of the information put together in this review to help you figure out whether the Bosch 1617EVS is the power tool your workshop needs.
Features
This 2.25 HP router packs quite a punch and ensures that any strong pieces of wood don't get in the way of your work. The wood router is a variable speed router that can be adjusted from 8000 to 25,000 revolutions per minute. This can be matched to any kind of wood that it needs to be used on, promising versatility in use.
The variable speed can also be helpful when employing large bits with the router that often require slower cutting speeds to prevent the bit from being burned off; this cannot be achieved with single speed routers.
This tool accommodates both ½" diameter shaft bits and ¼" diameter shaft bits thanks to the ½" S.R Collet chuck and the ¼" S.R Collet chunk included with the wood router. These are common bit sizes and so both are accommodated for. Alternatively, it also allows the use of 3/8" and 8mm collets maintaining that the system is multi-functional and convenient.
With a Constant Response Circuitry the router has does not change speed giving it the ability to make leveled products that are consistent all the way through. It also ensures that the system has a smooth startup which is soft to the users touch.
Without control of the wood router, it is not possible to produce a good product no matter how efficient the internal mechanism of the machine is. For ease in use, this machine has rounded hardwood handles that provide a control of the entire machine and are ergonomic in nature.
This system uses the Bosch Precision Centering Design that makes sure the router bit is centered and the cut is precise even without any template guides attached to it. The system assures micro-fine bit-depth adjustment, a promise it delivers upon with the help of the machinery's micro adjust scale that can be found on its rack-and-pinion depth system. It is also notable that the system has an integrated router so that it can be mounted upon a router table. To add stability in this process, the tool also has a threaded three-hole base pattern.
Pros
Smooth startup and consistency in the resulting product.
Versatility in use with optional speeds, collet diameters.
Rounded hardwood handles for better control.
Powerful motor can be used on hard surfaces.
Precision with micofine depth adjustment.
Ease in changing collet sizes.
Long power cord for distanced uses.
Can be mounted on router tables easily, threaded base hole pattern built in.
Dust sealed power switch ensuring longevity.
Soft start.
Double insulation discourages any dust from entering the machine.
Wrenches included changing the bits.
Great usage for the price.
Cons
A little noisier than most wood routers.
Black base plate can affect visibility.
Needs power cord.
Using the wrenches provided to change bits is found to be difficult for some.
Some reports that the product did not work on purchasing so needed to be replaced.
No spindle lock for changing bits so it is more difficult.
Adapter for template guide not included.
In table mount, sawdust can enter bushings.
Changing from a fixed to a plunge base can be difficult at times.
Not all the bases purchased have been reported to being even.
Specifications
Rounded hardwood handles.
Base Opening: 3-3/4". 2" subbase opening.
Motor: 12 Amp.
Collet Capacity: ¼", 3/8", ½"and 8 mm.
Includes: 1/4" S. R. collet chuck, ½" S. R. collet chuck, 16mm shaft wrench, collet nut wrench, chip shield, T-Handle hex height adjustment wrench and pack of 3, 10-24 screws.
Constant Response™ circuitry.
Micro-fine bit-depth adjustment.
Rounded hardwood handles.
Right or left switch location.
Dust sealed power switch.
One piece armature shaft.
Threaded three-hole base pattern.
Double insulated.
Optional quick-change template guide adapter sold separately.
Conclusion
Over all, this is a great machine to have if you want one system that can cater to many uses. Bosch is a company that has made a name for itself in power tools and the 1617RVS has been available for a while, making it one of the more tried and tested products that could be exactly what you are looking for.
Bosch 1617EVS not only has versatility in use but it also appeals to different kinds of people. All those who consider woodworking as a hobby and anyone else who might employ it as a professional endeavor can find that this tool will ultimately suit their needs.
The system combines accuracy and versatility making it a must-have for any woodworking enthusiasts, those who have been in the game for a while and those who have just gotten started. So if you are considering purchasing this product, look no further!