WoodRoutersReviews is supported by its audience. When you purchase through links on our site, we may earn an affiliate commission.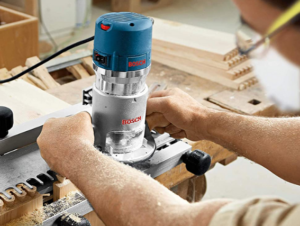 During woodworking, the best quality router goes a long way to improving the overall performance. However, it is not always easy to choose the right option amongst top quality routers. Comparing the Bosch 1617EVSPK vs Dewalt DW618PK router allows you to choose the best router kits.
Doing so means that you don't have to distinguish between a fixed wood router or a plunge wood router, especially if you are a beginner. Opting for a combo router kit doesn't only offer you the functions of both types of routers but gives you the best value options as well. So check out this Bosch 1617EVSPK vs Dewalt DW618PK router comparison to find out which model is the best for your needs.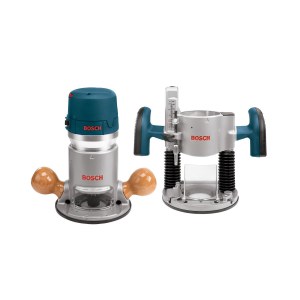 The most prized features of the Bosch 1617EVSPK router are perhaps its large motor and RPM rating which deliver incredible power. Built with a 2.25 horsepower motor, the router is amongst the most powerful available on the market.
Features
15amp/ 2.25 HP variable speed router
1400W power rating
8,000 to 25,000 RPM rating
Microfine/Macro depth adjustment system
Above table depth adjustment
1 piece armature shaft
Spring lock plunge release lever
Motor And Speed
The Bosch 1617EVSPK is built with a large motor designed with variable speed. This design prolongs the lifespan and durability of the router because you don't have to settle on a single speed. Unlike variable speed motors, a single-speed motor can risk burning if used too long on thick wood.
With the variable speed, you can adjust the setting based on what you are working on. The router offers a versatile speed range of between 8,000 and 25,000 RPM. Furthermore, it is built with an adjustable speed knob that is ergonomically positioned to make it easy for single-hand operation. Its flashing red and blue indicators make it easy for you to know if the router is ready for use.
Its built-in constant response circuitry on the other end ensures that you receive optimum and accurate results as it helps to maintain constant speed through the cutting process.

Construction
The router boasts a durable full aluminum housing that will last you a while. Aluminum is not only favored for its high tensile, rugged, and long-lasting build. This material helps to significantly cut down the router's weight, thus, making it easier to handle at only 18 lbs. Additionally, the router features dual ergonomic wooden handles on a fixed base for easy use. However, you will find soft-grip handles that allow you to plunge base it as well.
Use
Designed with rounded hardwood handles, the router optimizes user control and offers incredible versatility. You can use it for a wide range of applications such as precise bit plunging, edge forming, slot cutting, and laminate trimming.
Pros
Built with an ultra-smooth plunge action
Features a powerful motor construction
The speed control dial facilitates personalized cuts
Long-lasting and rugged aluminum construction significantly reduces the overall weight
The wood handle offers an ergonomic and comfortable grip
Versatile design allows you to use it in a cross-section of applications
Variable speed allows you to choose the right settings for each application
Built-in circuitry helps to maintain a constant speed for accurate cutting
Built with a large collection capacity of up to 3/8 of an inch
Cons
The fixed base handle can be quite slippery
Requires frequent readjustments
It doesn't come with a dust hood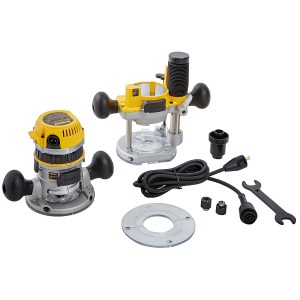 The DeWalt DW618PK router is built with a powerful motor that is not too overpowering on your materials or hands. In addition to its powerful motor, the Dewalt DW618PK functions as a 2-in-1 fixed base and plunge base router for all your woodworking needs.

Features
12 amp/2.25 HP variable speed router
1/2 inch and 1/4 inch collect size
8,000 to 24,000 RPM rating
Adjustable 5 position plunge base turret stop
Micro-fine depth adjustment ring
Electronic variable speed
Integrated through the column dust collection
Motor And Speed
When you compare Bosch 1617EVSPK vs Dewalt DW618PK Router, you will notice that they both boast a 2.5 HP motor, however, the Bosch model boasts a 15 amp motor whilst the Dewalt model boats a 12 amp model. Nevertheless, the Dewalt DW618PK router still delivers incredible power and variable motor speed to cut through different types of materials, whether it's smooth thin wood or the roughest thick woods.
The electronic speed control offers a range of between 8,000 and 24,000 RPM and maintains constant speed through operation to ensure smooth cuts. Furthermore, the electronic speed control boasts a soft start to reduce start-up torque for optimal control. As you continue to work, the quick-release motor latches make it quick and easy to remove bits and to make base changes.

Construction
Featuring a sturdy metal housing with precision machined brass brushings and case hardened steel guide rods, the Dewalt DW618PK router guarantees long-lasting durability. When using this router, you will notice the smooth and accurate plunge strokes. Additionally, the router features rubber over-molded handles and a low center of gravity design which improves comfort, balance, and control.
For easy maintenance, the patented through the column dust collection system collects all by-products of the cutting process. Furthermore, this dust collection system allows a vacuum to be attached to the router without blocking your line of sight during woodworking.

Use
Thanks to its 2-in-1 design, the Dewalt router can be used for functions of a fixed and plunge router. For example, you can use the router as a plunge type to cut the middle of your workpieces when making decorations. Alternatively, you can use it as a fixed router for small trims and edge work.
Pros
The plunge base is fitted with an adjustable five-position turret stop for accurate repeated plunge cuts
Ergonomically designed plunge release lever and switch for easy access during cuts
Dust sealed switch design prolongs the router's durability as it protects against dust ingestion
Spindle lock button design allows for single wrench bit changes
Quick-release motor latches make it easy and quick to remove bits and change bases
Proprietary clean LEXAN sub-base enhances base longevity and improve bit visibility
Patented through the column dust system at the base makes it easy to clean out the router
Electronic variable speed makes it easy to set and regulate the router's speed
Designed with easy to clean and high grip handles
Cons
Limited cord length of only 8 feet long
The router doesn't come with a varied choice of mounting options
It has a lower speed RPM compared to the Bosch router
Which Is Better?
In this Bosch 1617EVSPK vs Dewalt DW618PK Router, we've already proven that each option offers superior performance. However, you must choose the best model for the work you intended to do. Therefore, if you intend on performing professional and heavy-duty work, the Bosch 1617EVSPK router is a better option.
Not only does it deliver accurate and quick results, but it is also designed to take on a wider range of larger materials. The Bosch router is built with a more powerful 15 amp 2.5 HP motor whilst the Dewalt motor boasts a 12 amp 2.5 HP rating – making the Bosch model a stronger option. Additionally, the Bosch router boasts an accurate plunger, and lighter manageable body when compared to the Dewalt Router.
Dewalt boasts a versatile combo design, however, it is no match for heavy-duty work when looking at the Bosch 1617EVSPK vs Dewalt DW618PK router. However, for lighter and DIY tasks, the Dewalt DW618PK router is a better choice. You will enjoy the same accuracy, plunge power, and powerful motor speed when using it for smaller tasks. If you have small decorations and home improvement tasks, the Dewalt router is the way to go.